Relationship Advice Every Couple can Benefit From
Every couple wants relationship advice.
This is why it is so sought after. Many go to friends and family but quite often, the most beneficial advice is one from an outside source. It is even better when the advice covers the major aspects of a romantic relationship which include communication, trust, respect and affection.
Here are 10 pieces of useful relationship advice to reach a breakthrough in your relationship.
1. Communication is the key
Improving communication is the best and most common piece of relationship advice you will ever receive. A couple that is unable to communicate effectively will run into problems down the line.
Whether you are simply talking about your day or discussing something serious, the secret is listening, processing what the other person is saying and then sharing your thoughts. Being able to do this sets an extremely strong foundation for a relationship.
2. Trust is everything
Establishing trust is also vital.
If you have to worry about what your partner is up to or vice versa, that is a problem.
Fortunately being a trustworthy person is much easier than being an untrustworthy one. To establish trust both parties involved must be upfront, reliable, and genuine. In addition to that, both persons involved must have faith in their partner. Here are some trust building exercises all couples should know.
As for situations in which trust has been breached, willingness to admit mistakes is the first step to getting it back.
What makes a relationship strong is trust. If you decide your relationship is worth saving even after being betrayed by your partner, there are some concrete steps you can take to restore broken trust in a relationship.
Here is what you do in a relationship where trust has been broken.
3. Relationship advice on respect
One of the key relationship advice is mutual respect in relationships.
Respect is absolutely crucial!
Kindness and consideration makes love thrive and being respectful to your partner is so simple. Disrespect on the other hand can build resentment among other things. Just remember that respect is a two way street.
You must treat your partner the way you want to be treated.
4. Affection maintains the spark
Lastly, never neglect affection as a crucial piece of advice that will yield lasting happiness and fulfillment in relationships.
Non sexual displays of affection like kissing, hugging, holding hands and gentle touch during a conversation has a special way of connecting two people and maintaining that special spark.
Although these displays of affection are not amorous they will improve sexual relations by promoting closeness.
5. Love yourself
So, what are you looking for in a relationship? Healthy, happy and respectful dynamics between you and your spouse. Right?
But, how to make your relationship strong if you allow someone else to dictate the happiness parameters in your life? The truth is you are the creator of your own happiness.
When you are at peace with yourself, and feel whole and complete all by yourself, you will be a happier partner in relationship. A half fulfilled person with a lack of self esteem can not enhance the relationship quality.
Also, follow the best relationship advice that advises against depending on a relationship for satisfaction, happiness, fulfillment, validation, and self-worth.
Work on a relationship to build a strong foundation, but before that focus on yourself, work on self-love and self-care, and that's the good relationship advice on how to have the best relationship.
One of the strong relationship tips and advice is to learn to love yourself before you even get into a relationship.
According to relationship experts, what makes a good relationship is two secure, confident and self assured individuals feeding positive energy into the relationship.
6. Give each other some space
Whether you are looking for first relationship advice or advice on love and relationships after having been in a couple of relationships, it is a common relationship advice to learn to give each other some space.
Tips for a perfect relationship include drawing a fine balance between a couple's time and spending time following your interests or spending time with friends and family.
7. Champion each other
Tips for a good relationship with your boyfriend or girlfriend include supporting them unconditionally and when your partner does something great or achieves a victory, big or small, champion them!
On how to make your relationship work, one of the best tips for a healthy relationship is to be a good team mate in your marriage.
Be each other's champion, irrespective of how significant or seemingly insignificant the desire or goal is. Be each other's rock.
Make it explicitly clear that no matter what you will always extend support to each other and hear them out, no judgments, whatsoever. This also answers the question, what to talk about in a relationship.
Having said that, one of the important things to work on in a relationship here is to not overwhelm your partner with a barrage of unsolicited advice or offers of support. Give advice only when requested.
8. Let's talk about sex
To enjoy intimacy and satisfaction in your relationship, it important to have a thriving sex life. Talking openly and honestly about sex is paramount to having a healthy relationship.
In a quest to spice up the things between the sheets, don't forget to factor in your partner's consent, comfort levels and safety. While talking about what makes a perfect relationship, intimacy constitutes as an important boulder.
Removing sex and intimacy from your partnership would leave you as roommates. Intimacy creates and solidifies the love bond and that's why you need to assign high priority to intimacy and sex in relationship.
9. Forgive and let go of
Common healthy relationship tips for couples include not sweating the small stuff in marriage or in a committed, serious relationship.
Be willing to own up your mistake and apologize to your partner and be equally gracious in forgiving them for their oversight.
It is the unsung contribution to a healthy marriage when you follow the golden rule of letting go of the small stuff and choose to have a good laugh over the little things that could have led to bickering.
Make concessions and don't let insignificant peeves over household chores or forgotten anniversaries frustrate you.
10. Be empathetic
Empathy is essential to the success of marriage. The power of empathy in relationships can not be underlined enough.
It is the practice of understanding your partner's standpoint from their perspective.
Empathy in marriage can be a game changer. It fuels compassion, understanding and harmony in relationships.
It makes your spouse feel understood, and forges a stronger connection between the couple.
Every couple can benefit from the relationship advice above. The key to a successful relationship is following the relationship advice along with perfecting the basics.
Lasting love requires a strong foundation.
Share this article on
Want to have a happier, healthier marriage?
If you feel disconnected or frustrated about the state of your marriage but want to avoid separation and/or divorce, the marriage.com course meant for married couples is an excellent resource to help you overcome the most challenging aspects of being married.
More On This Topic
You May Also Like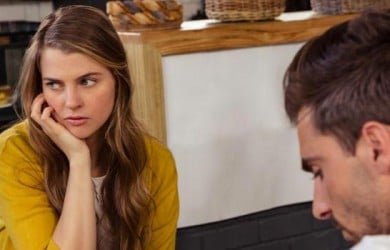 Popular Topics On Married Life