How to Stop Assuming Things in a Relationship
One thing that makes us unique as humans is our ability to interpret a situation differently from another person. This means that five people can have a distinct perspective about something, and the only way to know if they are right or wrong is when the progenitor of that situation makes a clarification.
In relationships, making assumptions can be dangerous because you might end up being wrong when you confirm with your partner. This article promises to teach you how to stop assuming in a relationship. You will also learn the common reasons or causes of assumptions in a relationship.
What does assumption mean in a relationship?
Assumption refers to the act of believing that something is true when there is no proof or confirmation. This could mean that when people notice something about you, they might make some conclusions that may not be true. Until they confirm whether their deductions are true, their opinions are merely assumptions.
When it comes to assumptions in relationships, it means relying on your thoughts and feelings instead of communicating directly with your partner. Assumptions can greatly affect a relationship, especially when you don't find out the facts for yourself. In addition, it can weaken the bond between you and your partner, which might harm the union.
To gain a broader perspective on what assumption means, check out this well-detailed research study by P S Delin and other authors titled What is an Assumption? You will learn how the concept of assumptions develops and how to tackle it from a psychological standpoint.
5 ways that people can stop assuming things in a relationship
When partners make assumptions in relationships, they convince themselves that something is true without needing to confirm for themselves or ask each other. If you keep making assumptions in a relationship, it can affect the dynamics of the union. Here are some ways on how to stop assuming in a relationship.
1. Take a mental note of when and why you make assumptions
To know how to stop assuming in a relationship, you can begin by recognizing when you make them. You need to be more conscious about noting the things you like assuming, even to the point of journaling them. When you write them down, it becomes clear that some of your assumptions have not been confirmed.
You should also pay more attention to different types of assumptions, no matter how small or big they are. Small assumptions can cause equal damage, just like big assumptions, so you should not sidestep anyone.
To learn how to stop assuming in a relationship, Bob Schoenberg's book titled Stop Assuming is an eye-opener. In this book, you will find tips that will help you to stop assuming so that you can make significant positive changes in your life.
2. Give your partner the benefit of the doubt
Another tip on how to stop assuming in a relationship is to give your partner the benefit of the doubt. Before you ask for clarification from your partner, ensure that you don't think the worst of them or their opinions.
If you trust your partner, you can make excuses for them knowing they have your best interests at heart, even if mistakes are sometimes inevitable. Furthermore, when you give your partner the benefit of the doubt, it prevents you from pointing accusing fingers at them when seeking clarification.
You will notice that your approach to understanding what they meant would be more constructive and healthy.
3. Communicate with your partner for clarification
Another way on how to stop assuming in a relationship is to clarify with your spouse. When you reach out to your spouse, try not to use an accusing tone. Instead, learn to communicate from the angle of someone who seems confused and needs more enlightenment.
You can tell your partner about what you think they meant and wait for them to explain in their words. If you don't communicate with your partner, your assumptions might turn into a conclusion, creating an unhealthy relationship cycle.
Also, you might make the wrong decisions based on your assumptions which can affect you and your partner in the long run.
4. Deal with your insecurities
When you find yourself making too many assumptions, it might be that you have some insecurities you're unaware of. If you are insecure about something, you may always end up misinterpreting your partner's words and intentions.
One of the ways to deal with your insecurities is to practice open communication with your partner. Always converse regularly with your partner to remain on the same footing. With time, you might discover that some of the things you're worried about were not really a problem.
Another way to handle insecurities is to focus objectively on your relationship. For example, if you have conflicts with your partner, look at these challenges to become a better spouse and improve your relationship.
Additionally, learning to practice self-love can help you learn how to stop assuming in a relationship. You can practice some self-care activities that will improve your self-confidence in the relationship.
To learn more about insecurities in relationships that can cause assumptions, check out this study by Fatahyah Yahya and other authors titled Attachment Insecurities and Marital Satisfaction. This study reveals how insecurities develop and how they affect relationships and marriages.
Related Reading

: 

16 Signs of Insecurity in Relationships
5. See a relationship counselor
Assumption is a dangerous trap that should be treated with caution in a relationship. If you are finding it difficult to stop assuming in your relationship, one of the ways on how to stop assuming in a relationship is to consider seeing a counselor. When you undergo counseling, it helps you uncover the root cause of some problems you might face.
You will understand the reasons for your assumptions and learn healthy steps to help you stop assuming. Relationship counseling also helps to quell some of your fears and doubts about your partner and the relationship.
Related Reading

: 

Know How to Choose Your Relationship Counselor Carefully
What are the common causes of assumptions in a relationship?
When people assume in relationships, there is often a reason for it, and most times, the possible causes are deeply rooted in their past or the present. To learn how to stop assuming in a relationship, it is important to know what causes them.
Here are some of the causes of assumptions in relationships
1. Poor communication
If communication is not up to par in a relationship, it can breed assumptions. The presence of poor communication is more likely to allow partners to make unfounded conclusions about each other. It is vital to mention that poor communication causes relationship anxiety, depression, blame, and resentment, which might increase the chances of separation or permanent divorce.
When left unchecked, poor communication can make both parties stop being interested in the affairs of each other, which can make assumptions a prominent feature in their relationship.
2. Personal trauma
Another major cause of assumptions in relationships is personal trauma. Someone who has experienced traumatic events might be used to expecting negative incidences like betrayal, danger, etc.
So, when their partner does or says something they are not used to, they may make assumptions. This usually happens because certain situations make them feel unsafe and confused. It becomes more difficult to trust their partner when they are not sure of their intentions.
For instance, someone who has been a victim of cheating in a relationship may find it hard to learn how to stop assuming. If they see their partner spending several hours on their phone, they might begin to think that they are being cheated on.
Related Reading

: 

Trauma Dumping What Is and How to Handle It
3. Lack of intimacy in a relationship
When a relationship lacks intimacy, it only takes time before both parties begin to struggle. They may not feel secure or happy in the relationship, which could further complicate it. When partners do not feel secure with each other, they might start assuming different things and may not bother to confirm whether their assumptions are true.
For instance, if one of the couples prefers to spend time with friends rather than their spouse, the affected partner might be fully convinced that they are not loved or cared for.
Here's a video on how to create deep intimacy with your spouse:

FAQ
Let's look at the most asked questions about assuming things in a relationship.
How do assumptions affect relationships?
When assumption creeps into a relationship, it can prevent partners from being receptive and open to each other. They might also become less intentional about making things work because they have unconfirmed ideas about each other. When assumptions are interpreted as facts, it can create a gap between both parties in the relationship.
Partners may never experience full security, satisfaction, or happiness because it is impossible to achieve growth and positive change when an assumption is in the picture.
Takeaway
Having read this article, you now understand how to stop assuming in a relationship so that you can build a healthy and happy union. Additionally, since assumptions destroy relationships if care isn't taken, learning what causes assumptions in a relationship is essential to being proactive when you're likely to assume.
If you need more insights on what assuming means, or you want to learn how to stop making assumptions, you can see a relationship counselor or take a course related to this.
Share this article on
Want to have a happier, healthier marriage?
If you feel disconnected or frustrated about the state of your marriage but want to avoid separation and/or divorce, the marriage.com course meant for married couples is an excellent resource to help you overcome the most challenging aspects of being married.
More On This Topic
Recent Articles
You May Also Like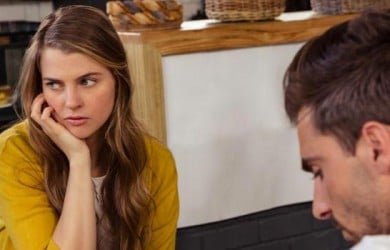 Popular Topics On Married Life