15 Proven Tips on How To Make Your Relationship Better
When you're in a romantic relationship or a marriage, the desire to work on the relationship to make it fulfilling and satisfying are common. If you're curious to know how to make your relationship better, know that it takes the effort of both partners.
Keeping up with responsibilities related to work, social life, family, kids (if you have any), etc., can be pretty tiring. So, a lot of the time, the desire to make the relationship better doesn't often materialize.
Keeping this in mind, it's important to acquaint yourself with things to make a relationship better that are simple and easy to execute. So, continue reading if you want to learn about the key things to make a relationship work and find some much-needed answers to basic relationship questions.
Related Reading: 

How to Make a Relationship Work: 15 Ways to Help
What makes romantic relationships better?
Before directly delving into how to make your relationship better, it's important to answer the fundamental question- what makes relationships work?
Thanks to extensive social sciences research on love and romantic relationships, narrowing down what makes a relationship work is possible. Relationship experts have opined that trust and security improve relationships.
Any healthy romantic relationship will have partners who firmly trust each other and consider the relationship a haven. Your partner should be a source of strength and security for you.
Although the grand romantic gestures have a time and place, those aren't necessary to implement when learning how to make your relationship better.
A strong sense of respect is another one of those fundamental things to make a relationship work. A relationship lacking mutual respect can be quite a passionate and sexually intimate one, but it will be ridden with recurring conflicts which can crumble it.
The important elements in a romantic relationship
When you think about how to make things better in a relationship, you're thinking about improving important elements in your romantic relationship. So, before learning how to make your relationship better, it's essential to learn what you're trying to improve in a romantic relationship.
It's important to understand the 'what' before getting into the 'how.' When you understand what you're trying to work on in your romantic relationship, the relationship's motivation becomes stronger.
Without understanding the fundamental elements of a healthy relationship, it'll be difficult to understand the things to do to make your relationship stronger. You'll also understand how a better relationship can be a more fulfilling experience for you and your beloved.
Here are some of the most important elements in a healthy romantic relationship:
● Safety
One of the pertinent characteristics of any healthy romantic connection is a strong sense of safety. Safety is one of the most basic needs of any human being. Building a long-term committed relationship with anyone won't be possible without a strong sense of security.
An excellent romantic relationship allows both partners to be themselves fully. In a healthy romantic relationship, you ultimately feel like yourself with your beloved. You are expressive and vulnerable. There is a strong sense of intimacy (both physical and emotional).
Related Reading: 

Keys to a Happy Relationship: Being Strategic and Open
● Shared interests
A strong sense of friendship and viewing one's beloved as their go-to person is characteristic of a fulfilling romantic relationship. You will view your beloved as your closest friend. So, the will to learn how to make your relationship better will always be there.
Shared interests in a romantic relationship from this sense of a deep-rooted friendship. You find your partner to be a fascinating person. There's always a desire to keep learning new things about each other and be interested in the significant other's passions or hobbies.
Related Reading: 

How Important Are Common Interests in a Relationship?
● Love
In Maslow's hierarchy of needs theory, the need for belongingness is a basic need. Human beings are wired to feel a sense of belongingness to other people. Your significant other is the one with whom you feel one of the most vital connections.
This need for belongingness is manifested in the form of love. Although there are many types of love, according to Sternberg's Triangular Theory of Love, a healthy romantic relationship is characterized by consummate love. It's the type of love characterized by intimacy, passion, and commitment.
● Mutuality
Partners in a fulfilling romantic relationship have an even playing field. What does this mean? Although couples go through phases where one partner is more supportive than the other, such couples always find ways to reciprocate to even out the playing field.
This act of evening the playing field is called mutuality in a romantic relationship. A healthy romantic relationship is characterized by mutuality.
Related Reading: 

4 Essential Ways to Build Mutuality in Marriage
How to make your relationship better: 11 proven tips
So, what does it take to make a relationship better? The well-being of a relationship is based on several factors. Let's finally get into how to make your relationship better. Here are 11 proven fool-proof ways to make your relationship better:
1. Have positive thoughts
One of the biggest takeaways of how to make your relationship better is to have positive thoughts in the relationship.
This is not to advocate for toxic positivity, where you ignore your relationship problems and brainwash yourself into a false sense of positivity. No. However, positive thinking can do wonders for your romantic relationship.
Check out this video to understand how a positive mindset can boost your relationship:
2. Words of encouragement
Words of encouragement or affirmation can be quite an underrated love language. However, when you become a cheerleader for your beloved, the overall relationship satisfaction increases!
Using words of affirmation and encouragement like "Great job," "You're amazing," etc., will help the relationship become a supper system for both partners. When you're supportive and loving, your beloved will feel safe in the relationship.
3. Practice healthy conflict resolution tactics
Arguments are unavoidable in any romantic relationship. It's important to have some arguments here and there with your beloved.
Therefore, healthy conflict resolution tactics are essential. One of the best ways you can incorporate the mindset of "it's us against the problem" is through couples therapy and doing courses on healthy conflict resolution skills.
Related Reading: 

The Challenge of Conflict Avoidance in Relationships
4. Have fulfilling friendships (outside the relationship)
The importance of valuable social relationships is unparalleled when learning how to make your relationship better.
Your friends and loved ones are also a great source of fulfillment and happiness in your life. If you're solely relying on your relationship to feel satisfied, you'll put too much pressure on the relationship.
Related Reading: 

Importance of Friendship and Marriage
5. Don't rush (into) anything
If you've recently gotten into a romantic relationship and wish to learn how to make your relationship better, this tip will probably be your biggest takeaway.
Don't try to rush commitment in the relationship. Wait to pop the marriage question or move in together. It'll be way too much, a little too soon. Your romantic relationship can crumble if you rush.
6. Spend quality time together
Try to spend a few hours every week with your beloved. This time should be gadget-free and distraction-free.
Planning date nights regularly, spending half an hour having breakfast together every morning, and having other ways to enjoy each other's company daily.
Related Reading: 

11 Ways to Have Quality Time With Your Partner
7. Avoid arguments about money
One of the biggest reasons for divorces and break-ups is money issues. One of the most important things to remember in learning how to make your relationship better is to deal with money problems tactfully.
Instead of having explosive arguments about money, try to solve the financial issues without bringing up past mishaps and other baggage.
8. Practice sexual intimacy
This is one of the most direct ways to implement when learning how to make your relationship better. Sexual intimacy is a fundamental element in a healthy relationship.
So, try to be sexually intimate with your beloved at least once a week. Find ways to keep your sex life exciting.
Related Reading: 

Importance of Sex in Relationships: 15 Benefits
9. Share new experiences
Sharing novel experiences with your beloved is another excellent practice for learning how to make your relationship better.
When you try out new activities with your beloved, you make unforgettable memories together, which brings you closer to your beloved.
10. Be happy first
It is essential to be fulfilled and happy with yourself before getting into a relationship. If you aren't satisfied with yourself, you'll rely too much on your relationship as a source of fulfillment.
This will create too much pressure on your significant other. You'll be unsatisfied irrespective of how much your beloved does for you. So, be happy first.
Related Reading: 

Relationship Advice Every Couple can Benefit From
11. Create rituals together
Having rituals like game nights, movie nights, going on walks together, having coffee together, etc., are beautiful ways to stay connected and close to your beloved.
Feel free to create your rituals together as a couple. It can be any of the examples mentioned above. Find your rituals.
12. Communicate
It's important to open up and communicate with your partner. This will help you build trust and understanding between the both of you. If you're having problems communicating, it's a good idea to try meeting face-to-face and having a conversation where you both get to talk.
This is better than texting or calling each other all the time because it's hard to have an actual conversation over the phone. It's also important that you listen to what your partner has to say and not keep interrupting them and telling them what they should do.
Being a good listener will also help build your relationship.
13. Be open to your partner's ideas
Being open about your own feelings and ideas is also important in a relationship. It shows that you respect your partner by listening to what they have to say. If you disagree with something your partner says, try to have a conversation with them about it instead of arguing over who said what first.
This will show that you are willing to accept and respect their point of view even if you think it's wrong. It also shows that you are interested in what your partner has to say, even if you don't agree with it.
14. Be trustworthy
A good relationship is based on trust. It's important to trust your partner and to let them trust you in return.
This means being honest with them and not trying to hide anything that might hurt their feelings. It can sometimes take a long time before your partner is able to trust you fully, so it's important to be patient and give them time to warm up to you.
Try not to judge them and just accept that they might not trust you right away. Having a strong bond of trust will make you and your partner better friends, and that will make it easier for the two of you to build a loving relationship together.
Related Reading :- 

15 Ways on How to Build Trust in a Relationship
15. Have fun together
While it's important to have a strong bond with your significant other, you shouldn't let it take over your entire life. It's important to enjoy your free time with your friends and family as well.
Having fun with your significant other is an important part of building a long-lasting relationship so make sure that you schedule some quality time with your partner to go do something fun together every once in a while. This will help bring you closer together and strengthen your relationship.
Related Reading: 

35 Fun and Romantic Games for Couples
How to improve understanding in a relationship
When it comes to relationships, we all want them to be as fulfilling and understanding as possible. But oftentimes, we find ourselves in situations where our understanding is lacking. For instance, when your partner does something, you don't agree with, or you simply disagree with them and can't see their point of view.
If you feel that you could benefit from improving your relationship, check out this article for some great tips on how to have a better relationship!
Related Reading: 

How to Improve Understanding in a Relationship
How do I fix my relationship better?
There are many ways that people can improve their relationships, but the most important thing is, to be honest with one another. Communicate honestly, listen attentively, and be supportive of one another. Also, it is important to treat each other with respect and be kind to one another.
That will show that you care about your partner, and they will respond by doing the same. Keep in mind that no one is perfect, and sometimes arguments and disagreements will occur in a relationship.
The important thing is to work through these issues and figure out how to resolve them so the relationship can continue to grow and strengthen over time.
Related Reading :- 

21 Ways to Keep Your Relationship Strong, Healthy, and Happy
Takeaway
Remember, a relationship is a two-way street. So, it always requires the effort of both partners. Now that you're well aware of ways to improve your relationship don't wait any longer! Try out any of the tips mentioned above and make your relationship more fulfilling!
Share this article on
Want to have a happier, healthier marriage?
If you feel disconnected or frustrated about the state of your marriage but want to avoid separation and/or divorce, the marriage.com course meant for married couples is an excellent resource to help you overcome the most challenging aspects of being married.
More On This Topic
Recent Articles
You May Also Like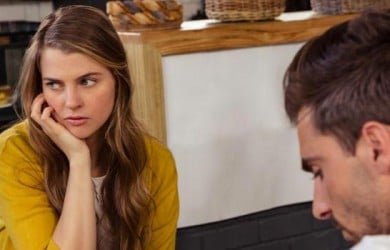 Popular Topics On Married Life