20 Signs Your Relationship Is Moving Too Fast
If you ever caught yourself at the start of a relationship thinking, "he is moving too fast," then you're not the only one. And you are probably right. Relationships moving too fast is not good for either of you.
Moving too fast in a relationship can be a massive turn-off. No one likes to feel pressured or to feel trapped, right? Yet, so many of us have the tendency to rush the relationships if we feel "the spark."
There are some obvious signs a relationship is moving too fast, but sometimes we just don't like to acknowledge these signs.
Is moving too fast in a relationship, not a good sign?
There is a reason why the honeymoon effect is called a phase. It doesn't last forever, and this is exactly why you shouldn't make fast decisions while having the rose-tinted glasses on.
It is hard to control yourself when you're falling for someone, but if you don't give the relationship time to grow and develop on its own, you're set up for disaster.
Relationships are like roses: you can't use force to open them. If you force it, you kill it. Roses unfold at their own pace. Good things come to those who are patient, so take it easy and enjoy the journey.
20 signs your new relationship is moving too fast
Is it time to slow down and let things happen in their own time? If you ever asked yourself, "is my relationship moving too fast," read on, and you will get the answer.
1. You see only perfection in your partner
Isn't this great? They are perfect! It just feels like "it's meant to be," and this is great, but this first stage of the honeymoon phase too often brings vague promises of the future that might get your hopes just a bit too high.
If all you can think is how perfect he/she is, your relationship is moving too fast.
2. Making the partner feel like the center of your world
Guy moving too fast emotionally can really turn us off and frighten us away. The same is for women. Why is this? Because no one likes being pressured into relationships if one of the reasons.
The second one is we want to be with someone who has a life outside the relationship too and have fun, spend time together but never let other aspects of our life suffer.
3. You already know you want kids
If you already talked about getting married and having kids, and it's been only 2 months since you started seeing each other, you definitely need to pull the brake.
A relationship moving too fast can make us feel like we want a family with this person straight away, and sometimes we are doing this just because we are afraid we will end up being alone.
4. You are together all the time
Humans are social beings, and we, in general, like to be around others, but we also need our own space.
Just because you're in a relationship, it doesn't mean your job, friends, family, Zumba group all disappear. Workaround it and see how your partner fits into this picture.
5. You are affecting each other's financial or personal decisions
This is a huge no-no. If you are telling him/her what to do with their income or how to talk to their family member, it means you are way over the line, and things are definitely going too fast.
Research has consistently found an association between your social relationship and physical and mental wellbeing. Hence, it is important that you get to know each other and build trust in each other before you feel entitled to influence important decisions in your partner's life.
Don't allow a relationship moving too fast to potentially ruin your life and business affairs.
Related Reading: 

Link Between Marriage & Psychological Well-Being
6. Your parents are having a BBQ already
If you have been dating for only a few weeks and your mom is organizing a barbeque, it's very clear this is a relationship moving too fast.
If it is him trying to get you to meet his folks too soon, keep a guy from coming too fast into your family life by explaining the importance of getting to know each other better before meeting family members.
7. Things are too smooth
It's great when things are smooth, but it's also very unrealistic to expect there won't be any fights. Maybe in the first couple of weeks, but it is inevitable you will have a disagreement sooner or later.
If it's been more than 2 months with no conflict, it might be a sign you are overseeing things in order to make both of you think how this relationship is the one.
8. You're not over your ex
"Am I going too fast? I am still thinking about my ex a lot and feel awkward. I am seeing someone already." – is this you? How can a relationship moving too fast make us feel false security and love?
Too many times, people rush into relationships thinking how meeting and dating someone new will help them overcome past love and break up. You need time to heal, to forgive, and to rediscover yourself after a relationship.
How can you get to know yourself if you're always seeing someone? A new relationship moving fast can leave us drained and emotionally unstable, so take it easy.
9. The romance is overwhelming
We all love gifts and being lavished with attention, but there is such a thing as "too much." There is a point where we ask, "Is this all fake?" There are gentlemen who are genuinely like this all the time, but most guys are not like this 24/7.
Romantic gestures can be a way of manipulating and drawing your attention from other behavior that might be a problem in the future.
10. Obsessing about where they are
How fast is too fast in a relationship? Well, this is a red flag for sure: If you keep thinking where are they when they are not with you,
you are poisoning your relationship with jealousy which leads you to a dead end. A relationship moving too fast can cause us to feel obsessive and possessive. Your partner had a life before you, and this life continues on.
You can't expect someone to drop everything just because they met you. Life is like a puzzle, and we are all pieces that fit into the big picture.
A puzzle piece on its own has little or no meaning, so think about this next time when you ask him to cancel his game night with boys to spend time with you (although you saw him last night).
11. You are an open book
A relationship moving too fast can get us to spill all the beans about our exes on the first date… Honesty is desirable, but no one wants to know all your past lovers and all the family issues you were facing while growing up.
Take it easy and let them get to know you first. Stop for a second and think: are we rushing in, or are we going steady and step by step? If there is a bit of doubt if you should share some personal things with him, maybe there is a reason your intuition is telling you to slow down.
12. You trust them unconditionally for no reason
To trust someone is to know them deeply, and to know them deeply is to spend enough time with them to see their personality in different situations.
Don't trust people easily; let them earn your trust. If you rushed into a relationship too fast, and you're not sure whether they are right for you, don't panic. You don't have to stop seeing them, just find the balance and don't trust them too much; take everything with a pinch of salt.
Also watch: The psychology of trust.

13. Try to keep up with others
He's moving too fast if he is already talking about double dates with his brother and his girlfriend, and you've been seeing each other for a week.
Love is beautiful and pure, don't tarnish it by trying to copy someone else and outrun them in a game that has no winners because we're all running a different race.
14. You're labeling each other
A relationship moving too fast makes us label each other very quickly. Don't rush it; it will come when it comes. "Is this your girlfriend?", "How's your relationship going?" – questions like this can rush us into labeling, so think twice before you answer.
15. It's suffocating one of you
This is very clear: the relationship is moving too fast. If you feel overwhelmed or you have a feeling that this whole "thing" leaves you with no breathing space, it's obvious you need to slow down.
Sometimes partners don't understand each other well at the start and think the other person likes seeing them often or texting all the time when it's actually the opposite: they like having their space which is absolutely ok too. Talk about
He mentioned he likes Europe, and it, honestly. If he/she is the right one, they will surely understand.
16. You are planning future
You're already packing bags and telling all your friends you'll live in France? Maybe your partner said it on purpose, maybe not, but don't create future plans without having built trust in each other.
The worst thing in the world is when we create this vision and get our hopes high, and all of a sudden, there is a change of tides, and we end up disappointed when it was actually only a misunderstanding.
17. He/she is your +1
Fast-moving relationships can really mess up your social life BIG time. You've been invited to an event in a few months' time, and you have declared publicly you're going with your +1. Is this relationship moving too fast? YES.
Slow down before you have to embarrass yourself and cancel your attendance just because after a couple of days, you realized you're not meant for each other, after all.
18. You are fighting with your family and friends over him/her
Very common thing happens when we start seeing new people, and our family sees changes in us, they try to protect us.
They want for us what they think is the best, and they try to save us from being hurt (again) and protect us if they can. Bear in mind you are in a new relationship, and the last thing you want is to fall out with your family over something that might have an expiry date.
19. Goals have changed
Only two weeks ago, you had your summer planned, your ideal job, and basically, your life all laid out. Then you met Mr. Perfect, who swayed you off your feet, and now your head is spinning.
You decided to re-evaluate your plans for the future, and all your goals have now disappeared in thin air because you have only one real goal – to be with him.
20. It doesn't feel right
How fast should a relationship move? There is no correct answer. Tune in into your intuition, listen to your gut, and don't let the novelty of the moment mute your inner voice. Is this it? Does it feel right?
If not, are you forcing yourself and rushing into this because you want to have someone? Don't be afraid to say no and stop seeing people who don't make you feel extraordinary and special.
A relationship moving too fast can really turn on our intuition. Tune into your intuition and trust your gut.
Conclusion
Time will show, but don't ignore these signs. We are all cooped up, and we feel careless in the honeymoon phase, but rushing things can actually harm you more than you think.
Talk to your closest friends and see if you have changed drastically since you started seeing this new person. It's always good to get feedback from people you care about. If it's meant to be, it will happen no matter what, so slow down and enjoy the journey.
Share this article on
Want to have a happier, healthier marriage?
If you feel disconnected or frustrated about the state of your marriage but want to avoid separation and/or divorce, the marriage.com course meant for married couples is an excellent resource to help you overcome the most challenging aspects of being married.
More On This Topic
You May Also Like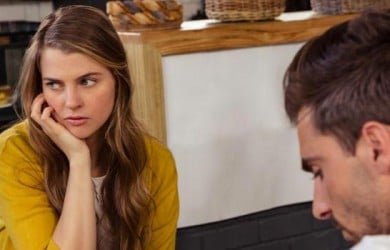 Popular Topics On Married Life