How the Fear of Being Alone Can Destroy Potential Love Relationships
If you asked 100 people on the street, if they had a fear of being alone if they were single, not in a relationship, 99% would say they have no problem being alone or have no fear of loneliness.
But that would be an absolute, intensely deep lie.
For the past 30 years, the number one best-selling author, counselor, master Life Coach, and Minister David Essel's been helping people to get to the root of why their relationships are not as healthy as they could or should be.
Below, David shares his thoughts on the simple fact that most people are scared to be alone in life.
A major destroyer of potential love relationships
"For the past 40 years, 30 years as a counselor, master life coach, and minister, I've seen belief systems about love and relationships change.
But the one change that has not occurred, and to the demise of our love relationships, is the fear and anxiety of being alone in life.
I know, I know if you're reading this like right now and you're single you're probably saying "David doesn't know me, I'm never alone in life, nor do I have a fear of being alone, I'm always comfortable with my own company, I don't need other people to be happy… Etc. etc."
But the truth is quite the opposite.
Most people can't stand being alone. There's so much pressure, especially for women, to be in relationships, engaged, or married that for a woman over the age of 25 who is single is looked at as "there must be something wrong with her."
So when I work with women who are looking to get into the world of dating, to find that perfect partner, I will ask them first to consider taking some serious time off after their last relationship to do the work necessary to release their resentments.
I would ask them to look in the mirror and to see the role they played that led to the dysfunction of the relationship and get to know themselves a little bit more. To get to know themselves as a single woman or a single man.
And the answer is always the same: "David I am so comfortable being on my own…", But the reality is quite different; let me give you examples.
Also watch:
In our newest, top-selling book, "Love and relationship secrets… That everyone needs to know!" We give the following reasons for how people deal with being alone, while not in a relationship in life, that are not healthy at all.
How people deal with being alone
Number one. People who have a fear of being alone on weekends will find a way to distract themselves, either through drinking, smoking, overeating, massive time spent on Netflix.
In other words, they're really not comfortable being alone; they have to distract their mind instead of just being in the present moment with themselves.
Number two. Many individuals, when they're in a relationship that is not healthy, are looking for a wingman or wing girl, someone to have on the side, so when this relationship ends, they won't be alone. Sound familiar?
Number three. When we bed hop i.e., when we end a relationship and go into another one, or we end our relationship, and 30 days later, we're dating someone new… That's called bedhopping, and it's a great sign that we have a fear of being alone in life.
About 10 years ago, I worked with a young woman who had everything going for her: she was smart, attractive, took care of her body in the gym… But she was so insecure she always needed to have men around her.
She was dating one guy who came right out and said he really wasn't interested in anything other than having sex with her… But she knew she could change his mind.
It didn't work.
And as she sensed that he wasn't interested and wasn't going to change his mind regarding a relationship, she immediately started talking to another guy, while she was still with man number one, to make sure that she wouldn't be alone.
She even told me that she's a different type of woman, that she has to be in a relationship to feel good about herself.
That's called denial. No one has to be in a relationship to feel good about yourself, and if you have to be in a relationship, you are called a "100% codependent human being."
And when the second guy told her that he wasn't interested in anything other than just being friends with benefits, she continued to see him while she looked around for someone else to fill his space in bed.
That might sound crazy, but it's extremely normal, unhealthy, but normal.
Here are some tips to look at that would prove you are healthy, happy, and do not have a fear of being alone:
Number one. On Fridays, Saturdays, Sundays, when everyone else is out on dates or partying… You are comfortable enough to sit in, read a book; you don't have to numb your brain with drugs, alcohol, sugar, or nicotine.
Number two. You create a life filled with hobbies, volunteer opportunities, and more so that you feel great about yourself, giving back, being part of the solution on this planet versus being part of the problem.
Number three. When you love your own company, you don't have a problem taking 365 days off after a long term relationship ended, because you know you need to clear up your mind, body, and spirit in order to be ready for the next relationship.
Follow the above tips on how to deal with being alone, and you will start to see a totally different life, a life filled with powerful self-confidence and self-esteem as you no longer have a fear of being alone, on your own in life.
Share this article on
Want to have a happier, healthier marriage?
If you feel disconnected or frustrated about the state of your marriage but want to avoid separation and/or divorce, the marriage.com course meant for married couples is an excellent resource to help you overcome the most challenging aspects of being married.
Learn More On This Topic
You May Also Like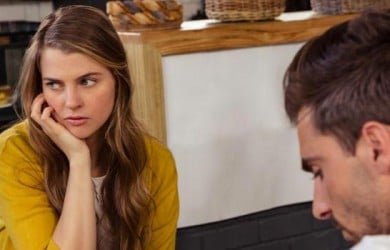 Popular Topics On Married Life