12 Red-Flag Signs of a Selfish Partner
Some people are perfect for relationships. However, some are not at present. Being in a relationship means being selfless and compassionate. Unfortunately, many people do not realize that they are with someone too selfish to be committed. Continue reading to understand the signs of a selfish partner better.
Is selfishness a red flag?
Yes, it is until your partner can work it out. Being selfish means having too much concern for oneself and being inconsiderate of other people's welfare. This concept contradicts the idea of getting into a relationship.
That is because being selfless is required to be with someone. That person needs to be ready to share, compromise, and sacrifice for their partner. Selfishness has no place in relationships.
Sadly, many selfish people do not realize that they can be self-centered and selfish. They are under the impression that they are the ideal partners. Though it is the opposite, they think that they are generous and kind to others, even when they exhibit the signs of a selfish partner.
Being selfish is a red flag since they only care about what is directly or indirectly beneficial to them. They would not have second thoughts of using other people to get what they want.
This results in genuinely kind and caring partners accepting how this kind treats them of partner. It is best to avoid being in a relationship with a selfish person because it can lead to disappointment, manipulation, and abuse.
When can you say that a person is a selfish lover?
So, how can you tell if your partner displays the signs of a selfish partner? Here are selfish partner signs to watch out for.
1. Never compromising
One of the signs of a selfish partner is not trying to meet halfway with you. This means that they do not want to exert any effort. They do not want to feel inconvenient because of others. Therefore, they will always try to make their partners come to them all the time.
Related Reading: 

6 Compromises in a Relationship Needed for a Healthy Marriage
2. Not attempting to fix or change things that upset you
If there is any problem in a relationship, couples work it out so that no one will feel hurt or upset again. However, when your partner is selfish, they will not consider your feelings and continue hurting you.
Related Reading: 

20 Useful Tips to Repair an Unhappy Relationship
3. Making plans without considering you
One of the signs your partner is selfish is when they do things convenient for them but not for you as a couple. You'll notice that this person lets you know their schedule at the last minute since something more interesting might pop up. Even when you are there, they will not care except when it makes them feel good.
Also Try: 

Do You Have a Selfish Partner Test
4. Good at making excuses
Giving a lot of excuses, such as being too busy or tired to respond to you, is another sign of a selfish lover. They do this to give a reason for not doing anything beneficial. They do not want to do things that they have to give something in return.
12 red-flag of selfish lovers to watch out for
So, what are the other signs of a selfish partner? You might have a self-absorbed partner if you notice the following red flags on them:
1. They prioritize your achievements over you
A telltale red flag is when a partner feels that you are never good enough for your partner. You can sense that they are more interested in your career than your character.
This person gives more importance to your status, such as your appearance or professional accomplishments. They do not show interest in your personality because they cannot connect emotionally and empathize. As a result, you often sense that you are invisible.
Related Reading: 

11 Ways to Deal With a Selfish Partner in a Relationship
2. "Me" is more important than "we"
Your partner needs to consider and put value to your opinion when deciding. A good partner cares for your happiness the same way they care about your happiness.
So, one of the signs of a selfish partner is when your partner doesn't give importance to your happiness if they do not consider your choices. A possible breakup can happen since you are disconnected and dissatisfied.
3. They are controlling
Selfish people are narcissistic, so they expect a lot from others. If these expectations are not met, they make judgments most of the time.
If a self-centered partner has many rules, this is to ensure that expectations are met. For instance, your partner wants you to notify him a day before you go out with your friends, but they are spontaneous in making plans with their friends.
Feeling anger and hate and not having a real, honest, and respectful relationship stems from unequal relationship rules.
Related Reading: 

25 Signs You're in a Controlling Relationship
4. They never check how your day was
Nothing feels better than being home after a very long day at work. A quality partner asks you how your day went after you arrived home. They give their full attention to what you are saying even though you are just complaining most of the time.
You can feel unimportant when the person you talk to tries to take control of the conversation. This is a red flag because you are left unhappy and unnoticed.
Related Reading: 

20 Signs He Doesn't Care About You or the Relationship
5. They ruin your achievements
A selfish man in a relationship can be happy with your success. However, the problem comes in when your success overpowers theirs. They will undermine your success once you become better than them.
One classic example of this is your partner demanding a lot of attention from you on the day before your promotion interview. They can also throw tantrums to keep you distracted from achieving your goal.
6. They interrupt you when you talk
Self-centered people in relationships tend to enjoy hearing their voice more when they talk to someone. When you argue, they talk over you to defend their side instead of accepting what you have to say.
To feel loved, you need to feel that you are heard. A relationship becomes emotionally one-sided when one does not consistently listen well.
Related Reading: 

The Importance of Art of Listening in a Relationship
7. They want you to beg
One of the most important aspects of relationships is compromising. A partner who makes you feel guilty when you make decisions, expects you to agree all the time, and does not care about what you have to say is alarming.
You should not beg your partner to have things your way. What you need and want are as important as theirs. You cannot have balance in your relationship if you hate this trait of your partner.
8. They take everything until you have nothing
Selfish partners will take everything from you, such as attention and care until you have nothing left. This partner will likely leave you once you give up because they will see the need to give. Because they only care about themselves, giving something does not benefit them.
9. They decide when the relationship progresses
This means the relationship grows when your partner is ready. They do not reflect or ask for your opinions on where you are currently at in your relationship. They make the call on when and what happens next in your relationship. That is because they assume you are all in.
10. They dismiss or belittle your needs
When you express your needs once in a while, a selfish partner is not interested to hear about them. They do not see how your concerns can help them. As a result, you feel that you and your partner are not a team.
11. They do not take responsibility
Selfish partners do not see anything wrong with their behaviors and actions. They blame you and never apologize.
Related Reading: 

How Do I Make My Partner Realize Their Responsibilities?
12. They act impulsively
They do this because they think about what is best for you and the relationship. When you get sad, jealous, or angry, this kind of partner disregards you because they do not think first before acting or speaking.
Related Reading: 

What Is Impulsive Behavior: Causes, Types, Signs & How It Hurts the Relationship
How to deal with a selfish partner in a relationship
Now that you know the different signs of a selfish partner, let's discuss how you can deal with them, as mentioned in this video.
Here are some tips on dealing with a selfish man or woman:
1. Treat your partner the same way
You can be drained and hurt emotionally if you give all your energy, attention, and love to a selfish person. So, how to deal with a selfish person in a relationship?
You can deal with this kind of partner by diverting these to yourself. For instance, you can care for yourself more by trying new hobbies and attending to your needs.
Related Reading: 

5 Tips to Teach Your Partner How You Want to Be Treated
2. Tell your partner the advantages of changing
Instead of being very straightforward with your partner, when you start noticing the signs you have a selfish partner, you can tell them to change by explaining its benefits. By doing this, they can better understand how the relationship can be better when they change.
They can also picture a better version of themselves when you emphasize the benefits. Helping them realize how simple changes in themselves can make the relationship better.
Related Reading: 

How to Make a Relationship Work: 15 Ways to Help
3. Share your opinion
It can be challenging to communicate with a selfish partner. They do not often realize that they act selfishly, even when there are already indications or signs he or she is selfish, until someone tells them. Therefore, one of the ways to deal with a selfish partner is to share your opinion. You need to remember to be careful about communicating it to prevent fighting or arguments.
Related Reading: 

Open Communication In a Relationship: How to Make it Work
4. Decide if you want to continue the relationship
In instances when people do not change, it is best to reflect if it is time to give up. After all, selfish one-sided relationships usually don't work out. This is especially true if you have tried your best to deal with it.
This can also benefit them since you can make them realize their behavior by not tolerating it. They can feel pressured to improve themselves the moment you end the relationship.
Conclusion
Finally, you understand the 12 signs that you are with a selfish and inconsiderate partner. You do not need to panic if you see that your partner exhibits some signs of a selfish partner.
While loving a selfish person can be tough, you can try communicating with them and considering counseling, especially once you notice the signs of a selfish person in your partner.
Suppose they want to have a healthy relationship with you. In that case, they will be grateful for your honesty and do something to improve your relationship.
Share this article on
Want to have a happier, healthier marriage?
If you feel disconnected or frustrated about the state of your marriage but want to avoid separation and/or divorce, the marriage.com course meant for married couples is an excellent resource to help you overcome the most challenging aspects of being married.
More On This Topic
You May Also Like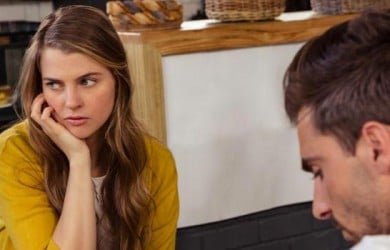 Popular Topics On Married Life