11 Ways to Deal With a Selfish Partner in a Relationship
Regardless of how much you might love your significant other, at times, that isn't enough for them to take a moment and think about your feelings in a particular situation. At one point, you will have to deal with a selfish partner, be it intentional or accidental.
This doesn't mean that they are outrightly selfish – it is highly likely that your better half does some thoughtful and caring things most of the time. However, every now and then, they will slip up when it comes to caring for your needs.
Most probably, there are some selfish tendencies that you would like your significant other to address—for example, always expecting you to prepare dinner even when you are working late or not paying attention at all when you are complaining about something.
Fortunately, there are some things that you can do to improve the one you love. Before going any further, it is essential to note that the aim here isn't to change that person entirely, as you should never aspire to change people you love to fit your vision of them – it never ends well. The point here is to try and improve your relationship.
Rather than just yelling at them and starting up an argument, there are better and more effective ways of bringing up the delicate request. The following are 11 ways of how to deal with selfish people, especially if it's your partner.
1. Give yourself the attention you were giving them
It is the high time that you divert the excess love and attention that you give to your selfish partner towards yourself. If you ignore your needs and invest all your attention and energy into a self-absorbed person, rather than this being virtuous, it will only hurt you and drain you emotionally.
Why not just show yourself some love, spare time for self-care, engage in hobbies, give more attention to your own needs, and keep theirs on the back burner.
2. Explain the benefits of changing
Rather than just shouting out something like "You need to change ASAP" at them, you need to lay out the benefits of putting in some effort to change.
This way, they will be able to understand how much better things can be. You should emphasize on the advantages of changing. Doing so will help to create their view of themselves as being better.
By assisting them to see how much a small change can make you happy and strengthen your bond, it will motivate them to change.
3. Understand why this is happening
At times, you will find that people act in a particular way due to a certain past experience. Thus, before you entirely dismiss your selfish partner, you need to understand what is causing them to behave this way.
So, how to deal with a selfish person in a relationship?
By getting to the root of the behavior and what causes it, you will be in a better position to handle it in a way that helps to lessen it. If they have been ignored or neglected in the past, it might affect their current behavior. Their behavior might also be a response to something that you are doing. It will help to find out what might be the cause of the problem.
4. Establish Turn-Taking
You will find it more beneficial to speak up about the problem with a solution already at hand. Thus, when you raise the issue of their selfishness, suggest a turn-taking idea.
You should try a 'turn-taking' experiment where each of you takes turns to talk, listen, and carry out favors. Make this a condition for your relationship and assess how things pan out. While this might feel all set up, it will help them understand what you expect from them.
5. Reconnect With Your Value
At times we allow selfish people in relationships to step all over us since we do not fully appreciate our worth. To realize that you do not deserve to be treated in this manner, you need to reestablish your worth.
Reconnecting with your value might necessitate spending less time with your selfish partner. Engage in hobbies and take care of your interests. Spend more time with the people who you appreciate and make you happy. You can also use affirmations such as
'I am an amazing person who doesn't mind giving out the last slice of pizza. Anyway, just kidding."
This way, it will be easier for you to then call out your partner for being selfish.
6. Bring Up Past Successes
In case you have been in the relationship for more than two months, then it is highly likely that you and your partner had to work together to deal with our problems to come to a compromise. When speaking up about dealing with a selfish partner and their self-centeredness, it helps to raise past successes.
In such a situation, how to deal with a selfish partner?
You should talk about what both have managed to achieve in terms of growth and change, regardless of how small they are. You should keep away from accusing each other. Doing so will help them remember how good it felt and be motivated to do it.
7. Establish What You Are Willing To Deal With
How to live with a selfish spouse?
If someone you love is behaving selfishly, you should come up with boundaries. Figure out things you can ignore and things you need the right amount of attention in. You should figure out what aspects of your life that you can no longer compromise and build a fence around them.
While having your selfish partner always eating the last scoop of pizza can be very annoying, it isn't a deal-breaker. However, if they still ignore you when you have an issue so that they can talk about themselves, this can be a deal-breaker.
8. Express yourself
At times, dealing with selfish people is tough because people fail to realize when they act selfishly until someone points it out. Thus it would be best if you spoke up. However, it would be best if you were cautious and mindful of how you do it to avoid sparking up a fight with the selfish spouse.
Rather than screaming and throwing a tantrum and saying things like
'You never listen to me; you always make everything about you,'
You should try to say something along the lines of,
"I need to speak to someone about an issue that has been bothering me. Would you be willing to listen to me?"
It is highly likely that they will be willing to listen to you and thus, you both will be able to communicate your needs and areas to work on.
In the video below, Stacy Rocklein talks about sharing the problem with loved ones and being clear about what is exactly needed from them.

9. Take Breaks And Explain Why
In case your selfish partner is exceptionally selfish in a particular week, then you should consider taking a break to focus on yourself. After a few days of not hearing from you, they will try to find out if there's something wrong.
Here you can then explain to them why taking a break from them like this is important for your wellness. This might be the hint they needed to initiate a change. While it can come out as harsh to tell your partner that you need a break from them as they are wearing you out, and they might not understand, it can prove to be an important lesson.
10. Point Out When You Need Them
It is highly likely that you will have to remind your selfish partner many times of their selfishness before they can completely break the habit. Therefore, you need to be patient. However, being very clear of what you need at the moment is an excellent way of ensuring you receive the love you need when you need it.
Rather than losing your temper and saying that everything is always about them, you should try to ask them to listen to you. Tell them that you are having an issue or a troublesome day and ask them if they are willing to listen.
11. Decide If You Should Stay With Them
At times, people fail to change, and in such cases, you need to determine whether you should move on. In case you have put in your best efforts to make them understand how their selfishness is affecting you, and they still can't change, then it can be pointless to continue.
Besides, it might have a positive effect on them. By not tolerating bad treatment anymore, you help teach others how to be kind. Walking away from your selfish partner might force them to work on themselves.
Therefore, the next time your partner acts selfishly, you should consider trying out these tips to determine if you can improve the situation.
Share this article on
Want to have a happier, healthier marriage?
If you feel disconnected or frustrated about the state of your marriage but want to avoid separation and/or divorce, the marriage.com course meant for married couples is an excellent resource to help you overcome the most challenging aspects of being married.
More On This Topic
You May Also Like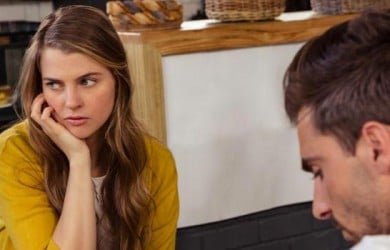 Popular Topics On Married Life