How Selfishness in Marriage Is Wrecking Your Relationship
To be honest, selfishness is human nature. No human could ever claim that they have never behaved selfishly because, at some point in our lives, all of us do.
Now, whether it is in a marriage or any other kind of relationship, selfishness does have a major impact.
Particularly in marriage, it can lead to misunderstandings and lack of understanding between the two partners. Wondering how? Let's look at the signs and effects of selfishness, as well as how to get rid of it.
Here are some signs that indicate there is selfishness in marriage.
1. Choices
When a partner makes choices and decisions that benefit them only, regardless of considering how it would affect the other partner, then they are jealous.
Also, it is extremely selfish of a partner in a marriage to always put their desires above the other.
2. Feelings
During slight arguments or a fight, both the partners must be considerate towards each other's feelings. However, it is totally wrong if one partner goes like "Oh, you are hurting my feelings," that is totally selfish of them. What about your partner's feelings? Ask them how they feel about the whole scenario as it is equally important.
3. Career
It is also no good to be lost in your career while ignoring the time in your marriage. If one partner is putting all their efforts and time for the sake of their career, it is to be noted that they are behaving selfishly.
In a marriage, family time should be a priority, but if one partner is not considering it as an important aspect only to create a fulfilled future for themselves, then, it is wrong of them.
Here are the consequences of selfishness in marriage-
1. Pushes the partner away
Selfishness leads to distances. When one partner is constantly indicating by their actions that the only one that matters to them is their own self, and what they do is always right, it creates a misconception in the mind of the other partner.
They think that their partner only has to mind their own business and has no concern for them.
In extreme cases, most partners think that they hold no value in their partner's life. Hence, they start to become distant and secretive.
2. Makes the partner feel inferior
Obviously, when a partner never asks for their spouse's opinions or choices while making a decision, they are bound to feel inferior. It makes them think that they are not good enough to have a say in family matters which is why they start to get quiet.
3. Disrupts the balance of marriage life
When one is so concerned and consumed in their own self, they forget to care about their life-long partner, their other half. Caring about each other's need and moods is a basic requirement in marriage. If one cannot fulfill that, the marriage is bound to go the wrong way.
Getting rid of selfishness in marriage-
1. Make decisions together
Making a decision should always involve agreement from both sides. Therefore, you need to prove to your spouse that their say is equally relevant as what you say so that no one feels that they have been left out.
2. Do not make everything about yourself
Do focus on your partner. In an argument, ask them if they are okay and in case if you unintentionally hurt their feelings, apologize before things may get worse.
Get out of your self-centered bubble and try to view things from your partner's point of view.
If you think that every wrong thing your partner says is aimed towards you, then you are acting selfishly. Always becoming defensive and hurt are not the options. Instead, talk to your partner about it as nothing works better than a productive communication.
3. Create a work-life balance
A healthy married life is only possible when both partners take out time for each other. You should be able to create a friendly and pleasurable moment for your partner. Also, do not only focus on what you want but also keep their needs in mind.
These tips should be able to help you overcome the ill-effects of selfishness in marriage. Selfishness can cause a lot of damage to a relationship, it is important for you and your partner to identify and rectify the consequences that selfishness has on your relationship.
Share this article on
Want to have a happier, healthier marriage?
If you feel disconnected or frustrated about the state of your marriage but want to avoid separation and/or divorce, the marriage.com course meant for married couples is an excellent resource to help you overcome the most challenging aspects of being married.
More On This Topic
You May Also Like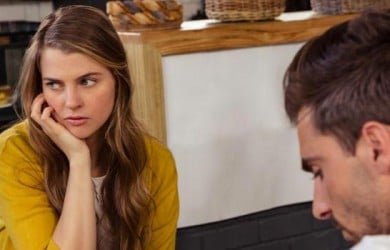 Popular Topics On Married Life