How to Stop Being Self-Centered in a Relationship: 25 Ways
You might have heard your wife say you're selfish multiple times during fights. Even your friends might tell you you're being too self-centered in your relationship. You've also started to notice that sometimes you make selfish decisions without thinking about your partner.
Making such self-centered actions can have serious consequences on your relationship. Your partner might be unhappy, which could lead to more stress, tension, and breakdowns. You might've realized this by now — it's time to learn how to stop being self-centered.
What does it mean to be self-centered in a relationship?
If you're given a chance between choosing what makes only you happy and what makes you and other people happy, which one are you picking? If you said you're picking the one that makes only you happy (who cares about other people?), then you're being self-centered.
This is a simplistic hypothetical, but in relationships, it can get quite messy. Would you willingly spend a weekend with your in-laws just for the happiness of your partner? Self-centered partners tend to see their relationships only through their perspective. If this sounds like you, then it might be time to learn how to not be self-centered.
Related Reading: 

Being Selfish in a Relationship – Is It Really Unhealthy?
How do I make myself less self-centered?
Realizing that you're a self-centered person is the first step towards working on changing yourself. It can be hard work to make some changes, but your effort can make your relationship a lot better, and can improve your life in many ways.
To work on your self-centered personality, you need to first develop an open mind. It can be common for people to think they know what's best for them, even when they don't. So keeping an open mind and listening to what the people close to you are saying can make a big difference.
Related Reading: 

20 Effective Ways to Put Effort in a Relationship
How to stop being self-centered in a relationship: 25 ways
Listed below are 25 ways on how to stop being self-centered:
1. Learn to empathize
If you're not someone who is good at understanding other people, this can be a little difficult in the beginning. But learning how to empathize with someone is very important if you're trying to stop being self-centered.
Thinking about what you would do and feel if you were in the shoes of others is a great way to develop this. Think about what you would want your partner to do for you — and do the same for them.
Related Reading: 

How to Build Empathy in Relationships
2. Ask your partner questions and listen
A common characteristic of a self-centered person is that they tend to live in their own heads. Learning to care and think about others can be challenging. You can develop this skill slowly, which can have a significant impact on the happiness of your relationship.
You can take baby steps toward this — ask your partner how they're doing, and pay attention to what they say. Giving your partner an opportunity to talk while you're actively listening to them can make your partner feel cared for and can help you in your quest on how to become less self-centered.
Related Reading: 

The Importance of Art of Listening in a Relationship
3. Learn to make your partner a priority
If you're a self-centered person, you might realize that you hardly ever choose your partner over your work.
This can be very upsetting for your partner and can have disastrous effects on your relationship. When you're forced with a decision, make an effort to choose something that will make your partner happy, so they feel like they are a priority in your life.
Related Reading: 

Prioritize your Relationship, Partner, and Sexual Connection
4. Do nice things for your partner
On the list of things on how to stop being self-centered, being a nice person is high on the list. It can be small acts of kindness like making your partner a cup of coffee or helping them reorganize their office. Doing nice things for your partner can help you grow out of being selfish.
Related Reading: 

20 Steps to Becoming a Supportive Partner

 
5. Engage in your partner's interests
If you're trying to change your self-centered behavior, then learning how to engage in and appreciate your partner's interests is important. Doing the things your partner likes can make them feel important and bring the two of you together. It can also help you come out of your comfort zone and help you grow.
Related Reading: 

How Important Are Common Interests in a Relationship?
6. Acknowledge your partner's life beyond just you
Self-centered men in relationships tend to think that the world revolves around them. You can't expect your partner to constantly do things for you. Acknowledging that your partner has a life outside of caring for you is important. This can prevent lots of conflicts and make it easy on your partner.
7. Stop demanding favors
You might be wondering if being self-centered is a bad thing. While it might not seem that big of a deal to you, the people around you tend to suffer. Demanding big, unreasonable favors from your partner can put a lot of strain on your relationship.
Demanding favors is also just a way of exploiting your partner's love for you. Research shows that relationships are built on balance; demanding too much can upset this balance and can be harmful for you and your partner. So to change your self-centered behavior, slowing down your demands is beneficial.
Related Reading: 

How to Stop Being Needy in a Relationship
8. Make compromises
Do you expect everything in your life to go the way you want?
If you find yourself blaming your partner when things don't go your way, or when they want to do something you want, stop and recognise that this is a selfish response. Relationships are a give and take. So if you want to have a healthy relationship, then learning how to compromise is essential.
Also Try: 

Do You Know How To Compromise In Your Relationship?
9. Pay attention to your partner
Many times relationships fall apart because partners don't pay attention to each other. Self-centered relationships like this block communication since both the partners are expecting the other to pay attention to them, while they don't make an effort to do the same.
Research shows that lack of attention can ruin a relationship. In a time when phones are always in our hands, paying attention can be difficult. But if you're working on how to stop being self-centered, then it's good to make changes in the way you interact with your partner.
10. Stop treating your partner like your property
One common self-centered trait in a person is that they treat their partner like they belong to them. Just because you're in a relationship with someone doesn't mean that you can lord over them; to change your self-centered behavior, be conscious of how you treat your partner and make sure that you don't make their decisions for them.
Related Reading: 

Am I Controlling in My Relationship Quiz
11. Do something thoughtful
You might be wondering why am I so selfish and self-centered? This could be because you tend to focus only on yourself. To stop feeling this way, try to do something thoughtful for your partner, like getting them the dress they've wanted for a long time, or taking them on a surprise date.
12. Ask and value your partner's opinions
Typical self-centered behavior is to speak for your partner. By diminishing your partner's voice, you're controlling them. To change this behavior, stop yourself when you're talking too much, and give that space to your partner.
Encourage them to share what they think by asking questions and showing them that you listen.
Related Reading: 

How Seeing Things From Your Partner's Perspective Can Boost Your Love
13. Be aware of your selfish actions
A key part in how to stop being self-centered is to recognize when you're being selfish. Be aware of when this behavior comes out, and make a conscious effort to hold yourself back. Being conscious of your actions can help you change them.
14. Be generous in your relationship
Selfish and self-centered behavior comes out when you're being stingy — stingy with money, time, and effort. Take a moment to think about whether you're treating your partner right.
Do you provide them with the things that they need? Do you spend quality time with them? Do you put in effort to make your partner happy? If you're not doing any of these things, then it's time to start.
Also Try: 

Quiz: Do You Have A Generous Relationship?
15. Cater to your partner's needs
A good way to stop being self-centered is to care for other people. When you're taking care of people you need to be thinking about what they want or might need, or what makes them happy. This can help you make connections with another person on an intimate level
16. Stop displacing your anger
When things don't go your way, you get angry. And when you get angry, you might've noticed that you get into more fights with your partner or that your relationship worsens. This is probably because you're displacing your frustrations on your partner.
Displacement is a very self-centered thing to do because you're ruining your partner's mood and making them feel bad for something they didn't do.
17. Take on additional responsibilities
The best tip on how to stop being self-centered in your relationship is to take on some of your partner's responsibilities to ease their burden. This can involve doing some chores around the house, or picking up the kids, or fixing broken household equipment.
Taking on responsibilities can also make you more aware of what your partner goes through and can help you empathize.
18. Celebrate your partner's special days
If you're a self-centered person, it's probably characteristic of you to forget important dates like birthdays, or anniversaries. Trying to keep track of these days and celebrating them with your partner can help you be more involved in your relationship.
19. Compliment your partner everyday
You might think this is unnecessary because your partner already knows how you feel about them- but if you're trying to stop being self-centered, then complimenting them can make them more special, and can help you think about other people and not just you.
Related Reading: 

15 Awesome Ways to Create Memories with Your Partner
20. Don't use your partner
If you're looking for ways to change your personality and how to stop being self-centered, then it's time to assess your relationship. Are you in a relationship with your partner because you like them, or because you can use them for your benefit?
Maybe you're using your partner for their money, or their connections. This is a typical self-centered personality. And if you think you are simply using them, then it's best to cut things off before you hurt your partner.
21. Leave your ego at the door
A common self-centered trait is self-indulgent behavior. You might be very egoistic in your social circles, or your job role might demand a certain level of confidence. But when you're with your partner, it's time to put that aside.
Be intimate and vulnerable with your partner- it might be a great relief for your emotional health as well.
Check out this exercise to diminish ego:
Related Reading: 

When Your Relationship Is a Battleground for Your Ego
22. Don't be selfish in bed
Self-centered people tend to only care about themselves, and this also includes their personality in bed. Remember that engaging in sex is something that both you and your partner should enjoy.
So try to be less demanding and look towards pleasuring your partner more than being focused on yourself.
Also Try: 

Selfish in Bed Quiz
23. Listen to non-verbal cues
When people feel like their partners don't care about them, then tend to close up and don't express themselves openly. So if you want to help them open up, then reading their non-verbal cues is important.
Research shows that reading these cues can help you develop stronger relationships and get rid of self-centered behavior.
24. Don't keep talking about yourself
One of the characteristics of a self-centered person is that they constantly talk about themselves. If you're trying to be a better person, then free up some space for your partner to talk.
Catch yourself when you're ranting about something that happened to you, and change the topic to your partner instead.
25. Show affection
Showing affection and being intimate with your partner is a really good way to overcome your selfish personality. Showing affection means that you're actively caring about someone. This can not only increase the happiness of you and your partner, but can also help you develop characteristics of kindness, vulnerability, and empathy.
Related Reading: 

13 Easy Ways to Show Your Affection in a Relationship
Conclusion
Your journey of how to stop being self-centered is a hard one, but is definitely something that you will not regret.
If you're having a hard time incorporating changes into your lifestyle, then consider going to therapy sessions. It's not impossible to let go of your selfish behavior- you just need to make an effort!
Share this article on
Want to have a happier, healthier marriage?
If you feel disconnected or frustrated about the state of your marriage but want to avoid separation and/or divorce, the marriage.com course meant for married couples is an excellent resource to help you overcome the most challenging aspects of being married.
More On This Topic
You May Also Like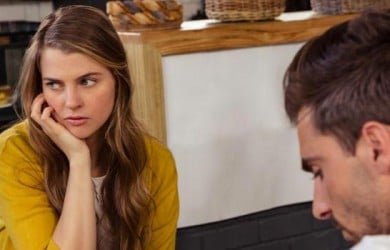 Popular Topics On Married Life