25 Relationship Deal Breakers for Women Every Man Must Avoid
When it comes to dating and relationships, men and women have different things that they can tolerate from their partners. There are also some things they consider important that can make them leave the relationship when they occur.
Hence, most people would rather look out for some of these signs before getting into a relationship, so things can easily end before they start. In this article, you will learn some deal breakers for women that men need to avoid.
What does a deal breaker in a relationship mean?
A deal breaker in a relationship is a habit or factor that you will consider when you want to leave or stay in the union. It means that if you overlook everything in your relationship, you will consider this particular thing when deciding.
Also, in answer to the question, what is a deal breaker in a relationship? These things could be characteristics, values, and behaviors of a potential partner that you don't agree with.
Peter K Jonason and other authors discussed extensively Relationship Dealbreakers. In this article titled Relationship Dealbreakers, they highlighted the traits people avoid in potential mates.
Related Reading:  

21 Deal Breakers in a Relationship That Are Non-Negotiable
25 relationship deal breakers for women to look for
While there are some important qualities that women look out for when choosing a male partner, there are some deal breakers they also check.
If they discover that some of these deal breakers could cause a red flag, they will rather not go along with the date or relationship. Check them out:
1. Poor hygiene
Women can detect this poor habit from afar; for most of them, not going ahead is a no-brainer. One of the biggest deal breakers for women is when you have poor hygiene.
For instance, when they discover that you have bad breath resulting from your poor hygiene, they can never think of kissing you.
2. Cockiness
Women love it when a man has a high dose of confidence, but many are also careful to detect when the line of humility has been crossed. They can tell when you are being cocky, which is a deal breaker for them.
Some women don't like cocky men because they tend to talk about everything. Additionally, such people are likely to spill their partner's secrets which might not bode well with their spouse.
3. Player
When it comes to the concept of having a player for a partner, it does not suit every woman. Some of them like the attention that comes with many women being attracted to him. While others don't appreciate it.
If you want to get the woman of your dreams, it is best to avoid being a player because it is one of the deal-breakers in a relationship. Remember that the full focus should be on your partner instead of giving other people attention.
4. Ignorance
One trait that puts women off is when they discover that you are ignorant about almost everything. When they see that you don't keep yourself informed about the basic things, it can put them off and take them far away from you.
Many women love it when their potential partner is like their knowledge bank, who they can always rely on for the latest data or information.
Related Reading: 

Why Do Guys Stop Putting in Effort: 30 Reasons
5. Being unkind to others
No matter the level of kindness you show a woman, she might never be satisfied until she sees you show kindness to other people. When she notices this, it assures her that your default nature is kindness, and you will not likely switch up on her anytime soon.
However, it is a deal breaker for her when you are not kind to other people, as she might not want to move ahead with the relationship.
6. Overcontrolling
Being overcontrolling is one of the deal breakers for women that most of them cannot put up with. Even though most of them like being under your supervision, they appreciate it when you give them a chance to express themselves.
Hence, if you always want to make every decision without considering their input, it can become a red flag for them. Of course, they can allow a man to control them in the relationship, but it should not be excessive.
7. Unreliability
Many women don't want a partner they cannot depend on when needed. Therefore, they look out for signs that you are reliable. For instance, women rarely forget if you promise to do something for them and don't live up to your world.
They might not talk about it, but they will always remember that you cannot be trusted in dire moments. This quality is one of the signs they look out for when opting for any man.
8. Selfishness
Selfishness is one of the common deal breakers for women. Many women will not want to be with you if you are not generous. They need to be sure that even when you don't have much, you will be able to do the barest minimum.
For many women, being selfless, especially when it comes to giving, is one of the ways to prove that you love them. If you claim to love a woman and don't back it up with giving, she will not trust your words.
Related Reading: 

20 Signs You Are Being Selfish in a Relationship
9. Jealousy
Jealousy can be a normal feature in a relationship, but it can sometimes be overboard. It is important to mention that this jealousy can come in different forms. Some men are usually jealous of a woman's achievements because they feel threatened.
Some men cannot be with a woman who earns more than them because they fear the unknown. Also, they may be jealous when a woman is getting close to someone other than themselves. This is where it begins to look like a competition.
Related Reading: 

15 Tips on How to Stop Being Jealous in Your Relationship
10. Unemployed
Unemployment is one of the deal breakers for women in a relationship. There is only a limit to how much they can tolerate having unemployed men as partners in their lives.
When a woman sees that you are not putting in much effort to get yourself a job, she can become discouraged.
The average woman wants to be sure that you have a means of taking care of both of you. This is why men need to avoid being unemployed, so they won't scare off women.
11. Addiction
Addiction is a compulsive and obsessive disease that is one of the deal-breakers for women. If you are struggling with a substance or behavioral addiction, it can piss any woman off.
Some women view addiction as a sign of irresponsibility, especially if they are not taking steps to help themselves improve with addictive habits. So, even if they are willing to be in your life, you need to show signs that you want your addiction to be over.
12. Infidelity
Many people in relationships can tolerate several things until it comes to infidelity. This is because they cannot imagine the thoughts of their partner being with another person. If you are someone who does not value the idea of having one romantic spouse, it is one of the deal breakers for women.
These women want to be sure that you will not cheat on them with another partner when they are with you. So, they must be convinced that you will be faithful to them beyond all doubt.
13. Being possessive
Another trait that is one of the deal breakers for women is being too possessive. Most women love the idea of flaunting them to the world. However, it is important to apply wisdom because they sometimes crave independence.
Hence, it should not get to the point where you act like you own their lives. It might look cute at first, but it can become burdensome, and they will be forced to leave the relationship.
14. Liars
For some women, being a liar is one of the deal breakers for dating. They might not easily trust you again if they discover that you lie to them. Therefore, you will need to work twice as hard to regain their trust.
Every strong relationship has trust as one of its crucial ingredients. If you keep lying to your woman, she will find out eventually, which might be the end of the union.
15. Timidity
Almost every woman wants a bold man and not someone who is timid. They want a man who will be able to stand up for himself.
Also, they don't want someone who will run away from challenges while his mates are facing them. Similarly, they believe that when you are not timid, there is no situation or person you cannot look in the face.
16. Clingy men
Being clingy is one of the deal breakers for women. This habit is quite close to being obsessive when you are in love with someone. Clingy men don't know when to give room for personal space because they always want to be with their partners. Some women are usually put off by this.
17. Dishonesty
Most times, dishonesty does not end well for anybody. If dishonesty abounds in a relationship, it can make the union unhealthy. When a woman discovers that a man is dishonest and cannot be trusted, she might find it hard to continue to avoid hurting herself more.
Watch this video on how to have an honest marriage:
18. Pride
Pride is one of the common deal-breakers in dating because some women see it as a negative trait that cannot be tolerated.
When someone is proud, they are likely to look down on others because they have a better status. A woman might be unable to cope with a proud man because he might rub his achievements all over her face.
19. Still close with their ex
When some people part ways with their ex-partners, they cut all communication. While others still reach out once in a while. If a woman notices that a man is still very close with his ex-spouse, it can be one of the deal breakers in a relationship.
Related Reading:

 

The Danger Behind Talking to an Ex While in a Relationship
20. Bad dining habits
Dining habits are the way people behave when they want to eat. It involves how they hold their cutleries, how they eat, their posture, etc. Some women watch out for a man's dining habits before deciding to go on with the relationship or not.
21. Too adamant and opinionated
Being overly opinionated and adamant is one of the deal breakers for women. Sometimes, it portrays you as being abrasive and arrogant because you're trying to ascertain your point. If she notices that you want to force your opinion down her throat, it can put her off.
Related Reading: 

25 Signs You're in a Controlling Relationship
22. Extreme social butterfly
A social butterfly is someone who loves to be at different social gatherings. Such a person is great at meeting other people with little or no difficulty. However, some women do not like it when they are dating an extreme social butterfly because it takes them out of their comfort zone.
23. Abusive men
When it comes to abuse in relationships, some common forms are physical and emotional. This means that a man can abuse his partner without any physical contact. When a woman notices that a man has the tendency to physically or emotionally abuse her, she can begin to keep her distance.
Related Reading: 

Best Ways to Protect Yourself From an Abusive Partner
24. Still controlled by parents
One of the deal breakers for women is when a man is still controlled by his parents. If he still lives with them and takes instructions from them, it can piss some women off.
Therefore, when a man shows signs that his parents are actively involved in the affairs of his life, it can be one of the deal breakers for girls.
25. Obsolete views of women
When someone has obsolete views concerning the female gender, it means that they share some archaic ideologies about women which have changed. One such view is when people think that some specific domestic duties are specially for the woman.
In Evelyn Ernst's book titled What Women Want, you will learn the traits that naturally attract women to men. This book is also helpful for men who want to become Alpha Males so that women can't resist them.
Takeaway
Having read this article on deal breakers for women, you now know some unpleasant relationship habits to avoid if you want a woman. If you have done some introspection and you need help letting go of some of these habits, you can see a counselor or take a course.
Dr. Bethany Marshall's book titled Deal Breakers is an important book that helps you know when and how to work on a relationship. This masterpiece also teaches you the right time to walk away from a relationship.
Share this article on
Want to have a happier, healthier marriage?
If you feel disconnected or frustrated about the state of your marriage but want to avoid separation and/or divorce, the marriage.com course meant for married couples is an excellent resource to help you overcome the most challenging aspects of being married.
More On This Topic
You May Also Like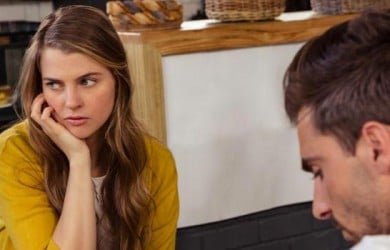 Popular Topics On Married Life