10 Reasons Why Men and Women Avoid Emotional Intimacy
There are many reasons why people can be afraid of emotional intimacy. There have been reports that people have been married many years before they found out about their spouse's identities or families that they never knew about.
Later in hindsight, it was reflected that the spouse seemed to have avoided deep emotional intimacy in the marriage or relationship.
In this article, we will explore a few of the observed reasons why men and women prefer avoiding emotional intimacy in marriage.
1. Dysfunctional family
Let's face it, and we are a product of our environment. If you come from an unloving home, there are some psychological blocks to intimacy.
Men and women both can be victims of dysfunctional families. They never saw models of healthy expressions of love. Therefore, they may possess a fear of emotional intimacy, and in turn, avoid emotional closeness on levels they are not comfortable with.
But, avoiding intimacy is not the solution to this problem. Also, you must not try to do it alone.
If there are years of abuse to uncover, don't be afraid of seeking professional help.
2. Fugitive
Believe it, or not many people were found to be married when a policeman showed up on the door, looking for the missing spouses of twenty years.
These fugitive men or women do not want to get close to anyone because they never know when they will have to catch the next flight out of town!
They could also be bigamists – married to more than one person at the same time.
3. Low-down
These types of men and women perhaps have done something that their guilty conscience does not allow them to relate well to others emotionally. They avoid emotional intimacy because they fear trusting people and spurt out the hidden secrets.
The apprehension of divulging the hidden secrets makes these people keep a certain amount of distance with their spouses. Such a husband or wife avoids emotional intimacy because their current spouse may be their next victim or meal ticket.
Sometimes, women or men who avoid intimacy might not be even criminals but could be only keeping a low-down because they feel that their past could hurt their spouse.
These people do not hide anything intentionally but fear that they might lose their partner if they get to know about their dark past.
4. Mental problems
Certain mental health issues are leading to a wife or husband, avoiding intimacy with their spouse.
There are certain developmental issues that can begin in childhood and continue right until adulthood. Such problems can arise because of some developmental flaws or even traumatic experiences, such as a car accident.
So, if you observe any abnormal fear of intimacy in men or women, seek professional help immediately.
5. Inadequate social skills
At times you see men who avoid women or even the women who atypically avoid men. They tend to behave awkwardly, which is different from the normal.
These men and women are just not good at expressing themselves. They are the typical introverts who prefer to stay in their shell and avoid socializing with people.
Some people belonging to this kind might even feel that since they came from a particular social class, they did not learn the skills needed to relate well with others. To hide these inadequacies, they avoid deep emotional intimacies.
6. Personality
Believe it or not, some men and women with demure personalities are just comfortable at having a certain amount of distance emotionally with others. Remember, connecting emotionally depends on the acceptance of both parties.
Each relationship degree of emotional intimacy is decided upon by the bride and groom. That is the reason why people should find a match emotionally and physically.
7. Rejection
Many men and women have had at least one bad relationship experience in the past.
They may have been robbed, betrayed, or physically hurt as a result of trusting and connecting emotionally with another person.
It is even possible that they might have been emotionally involved in their previous relationship and faced a hurtful rejection. This is also one of the possible reasons for people to distance themselves from everyone around them emotionally.
8. Shy
This spouse may just be shy. They do connect emotionally but appear to not connect to their partners on a profoundly emotional, intimate level.
Their spouses need to learn to read the shy spouse's body language and facial expressions to understand they are connecting and not rely on conversation. They may express themselves well but find it a little embarrassing to talk on deep emotional, intimate levels.
9. Substance abuse
Mind-altering substances can keep men and women from connecting with emotional intimacy in relationships. The sensors that let them feel emotional are blocked.
Therefore, they miss those emotional intimacy moments to touch or flirt with their spouses. They may also think the relationship is good because they are high.
The truth or reality of the situation could be the opposite of what they think.
10. Trust issues
Many men and women have been victims of investment fraud schemes orchestrated by a friend or ex-spouse. These experiences create trust issues in connecting emotionally with a spouse on a high degree of emotionally intimate levels.
Or, the trust issues could be a past failed relationship in which they must have put their heart and soul, but their ex-partner could have cheated on them with someone else.
As it's commonly said- once bitten, twice shy!
Such people tend to have trust issues and would always prefer to stay guarded by avoiding emotional intimacy with their present partner.
Watch this video to learn about the psychology of trust:
In conclusion, there are many reasons why men and women can be afraid of emotional intimacy: personalities, trust, low down character, substance abuse, rejection, inadequate social skills, etc.
Sometimes, there isn't any reason a person is not connecting emotionally with others, other than they just don't' want to. The feelings are just gone, and the person might not be even aware, when, how, and why.
Share this article on
Want to have a happier, healthier marriage?
If you feel disconnected or frustrated about the state of your marriage but want to avoid separation and/or divorce, the marriage.com course meant for married couples is an excellent resource to help you overcome the most challenging aspects of being married.
Learn More On This Topic
You May Also Like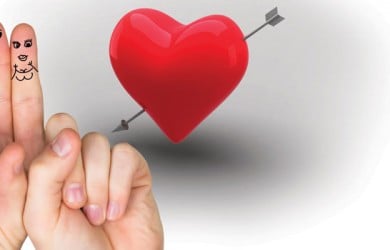 Popular Topics On Married Life