How Unemployment Affects Relationships & Ways to Cope
Job loss is about so much more than losing money. A change in income can put stress on a marriage and take an emotional toll.
"My husband's job is ruining our marriage!"
"I'm losing respect for unemployed husband/wife"
These are not uncommon thoughts when your spouse can't seem to stay employed.
Money matters can be a source of unhappiness in many marriages. Research conducted for 748 instances of marital conflict between 100 couples found that money was the most repetitive and prominent topic. It was also the most likely to go unresolved.
Learning how unemployment affects relationships can help you understand how to handle job loss in your marriage. Keep reading to find out why a job is important to marital happiness and learn what you can do if your husband or wife is suddenly unemployed.
Is a job important for marriage?
When looking at how unemployment affects relationships, it's important to note that there is more than just a financial loss within the marriage.
Unemployment creates both psychological distress and economic hardship in a marriage. This can put marriage on shaky ground.
You didn't likely marry your partner because you liked their job. You married them because you love who they are as a person. They make you laugh and share your interests.
Yet, research indicates that sudden unemployment can change how you look at your spouse. One study found that after losing their job, your unemployed spouse becomes less attractive to you.
Why is having a job so crucial to a marriage? Three key reasons
1. It helps things run smoothly financially
The most obvious reason "stress job loss" or "stress of spouse losing job" may be in your search query is that it allows your household to function financially.
Your daily needs (bills getting paid, groceries filling the fridge) are met because you have the money to take care of your family.
Related Reading: 

How To Avoid Financial Problems in Your Marriage
2. It allows you to do fun things
One perk of being financially stable is that it allows you to treat yourself every so often.
Planning elaborate trips, saving for big purchases, and going out on fun date nights are all exciting parts of marriage that can negatively impact job loss.
3. It brings stability to family life
Children aren't cheap. With little ones constantly growing out of clothes and sporting ravenous appetites, a suddenly unemployed spouse can throw off the precious stability in your role as a parent.
Related Reading:

 9 Tips for Building a Healthy and Stable Relationship
What to do when your spouse becomes unemployed?
Learning how unemployment affects relationships is a tough lesson. What should you do when you suddenly have a husband out of work or an unemployed wife?
Don't panic. Here are a few suggestions about what to do when you and your spouse are experiencing job loss grief.
1. Pick up the slack
The first thing to do when you find yourself with an unemployed spouse is to start working.
If you are working part-time, ask your boss if there is any way you can grab a few extra shifts for the next few months.
If you are already working full-time, you'll need to create a strict budget that you and your family can follow until you're back in a two-income household.
2. Try not to overreact
It can be significantly stressful when you don't know where your next paycheck comes from. Finding out your spouse lost their source of income may have your mind reeling with such questions as:
How are we going to pay rent?

What will we do about our debts?

How could they have been so careless to do (X, Y, Z) and get fired?

When will they be employed again?
Just know that whatever you are thinking, your spouse has already thought about it and likely dreaded coming home to tell you about their loss. Overreacting and adding to their stress will not help them to get a job any faster.
While the news is shocking and upsetting, letting them know that you're feeling unemployed wife resentment or arguing with them about how they could have done better at work won't help.
Be a team. Figure out how you will stay financially afloat for the next little while and tackle the problem together.
Related Reading: 

How to Stop Overreacting in a Relationship: 10 Steps
3. Avoid belittling your spouse
If your husband keeps losing jobs and you are the primary breadwinner in your home, it may shift the way you think.
If you and your partner share a bank account, you may start to feel protective over the money you've earned. You may feel like your spouse should no longer have access to spending your hard-earned income.
It's only natural to feel protective over money when you're the only one financially supporting your family. Your budget is likely much stricter than before, and you want to ensure everything is for your bills.
Just be careful about the way you're speaking to your spouse. Try not to come off as though you are the big boss of the house or treat them like a child with an allowance.
Check out this video to learn some common signs of disrespect in relationships that should not be ignored:
Related Reading: 

What to Do When Your Husband Belittles You: 15 Tips
4. Don't broadcast their loss
Job loss grief is real, and it can be incredibly embarrassing for your close friends or family to know that your partner has been fired or left their job.
While it's important to have a support system during times of emotional turmoil, talk to your partner about who they are comfortable sharing the news with, and don't broadcast your loss to everyone who will listen.
5. Find support
Do you find yourself searching "losing respect for unemployed husband"? If your spouse's unemployment has been lasting longer than expected, it can start to take an emotional toll on you.
Don't let yourself become overwhelmed with bearing the brunt of your family's finances. If you or your spouse aren't comfortable sharing your money troubles with a trusted friend or family member, try keeping a journal.
Research published by psychologists from the University of Texas at Austin and Syracuse University found that journaling can boost immune functions and, this is key, reduce stress.
Related Reading: 

20 Steps to Becoming a Supportive Partner
How do you help your partner when they lose their job
Don't let job loss make your marriage a hostile place. Here's what you can do to help your spouse after they've lost their job.
1. Look for the good
One way how unemployment affects relationships is by reducing morale. The APA reports that low income couples are more likely to suffer from mental health stress than those who are more financially stable.
How can you turn your financial depression around? By looking for the silver lining in your otherwise tricky situation.
Trials can make or

break a marriage

. By sticking close together and communicating regularly, you are proving that you love each other "for richer or poorer."

Job loss can bring families closer together. Your children are now spending more time with their dad than ever before.
2. Be their cheerleader
One way to help how unemployment affects relationships is to be your partner's supportive cheerleader.
A wife or husband not working can make them feel awful about themselves. They may feel they don't deserve you and bring nothing to your family.
Cheer them on and banish negative thinking. Remind them that they are a wonderful person with a lot to offer you and the working world.
Do something to get the laughter flowing. Research shows that couples who laugh together report feeling more satisfied and emotionally supported in their marriage.
Cheer them on when they apply for a new job, head out for an interview, or entertain switching job fields.
Your support will mean the world to them.
3. Offer your help
If you are losing respect for an unemployed husband or are feeling unemployed wife resentment, it's time to reconsider your thoughts.
Is there anything you can do to help your spouse? Yes!
You can lovingly help them look for jobs that interest them.

You can look over their resume to make sure they are presenting themselves in the best way possible

You can give them personal space to deal with their job loss grief

You can encourage them by giving them compliments and reminding them of their wonderful qualities
Change how unemployment affects relationships by offering your partner your loving support during an otherwise stressful time.
Related Reading: 

How to Encourage Your Husband
4. Be a listening ear
Sometimes all your unemployed spouse needs to hear is that you are there for them. They don't need you to find them a new job or solve all their problems. They just need to know that you're there whenever they need to talk.
5. Encourage them to be productive in other ways
If your partner is having trouble landing an interview, encourage them to be productive in their downtime. Examples include:
Exercise. Getting your heart rate up releases endorphins, which make you feel happier and

reduce anxiety

, stress, and symptoms of depression.

Clean the house

Find ways to make other people feel good about themselves

Take care of the garden

Do a new activity with the kids each day
Encouraging your spouse to stay active will prevent them from getting stuck in an unproductive rut.
6. Suggest counseling
Do you feel "my husband's job is ruining our marriage" because he can't seem to stay working? If so, you may want to seek therapy to find out why your spouse can't keep a job.
Therapy can help your spouse get to the bottom of their commitment issues and teach them how unemployment affects relationships on an emotional level.
Are you feeling resentful of your spouse? Couples counseling can also help you and your spouse learn how to communicate your issues healthier and more productive.
Takeaway
Learning how unemployment affects relationships can help you navigate any feelings of losing respect for an unemployed husband/wife that you may be feeling.
Financial stability helps you keep your life together.
If your spouse becomes unemployed, do your best to support your family financially until they can get a new job.
Try not to overreact or belittle your spouse.
If your partner is embarrassed about losing their job, you may want to avoid telling your close friends and family for a little while – all while making sure you still have the emotional support YOU need during this time.
In the meantime, help your spouse look for new employment opportunities and cheer on their efforts.
If your "unemployed wife resentment" prevents you from enjoying your marriage, seek couples counseling. A trained professional can help you and your spouse get back on the same page as a loving, supportive team.
Share this article on
Want to have a happier, healthier marriage?
If you feel disconnected or frustrated about the state of your marriage but want to avoid separation and/or divorce, the marriage.com course meant for married couples is an excellent resource to help you overcome the most challenging aspects of being married.
More On This Topic
You May Also Like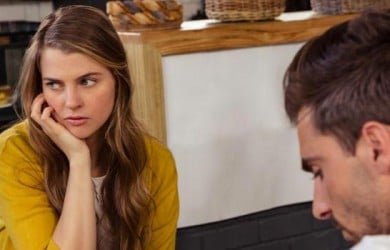 Popular Topics On Married Life