15 Ways on How to Stop Being Possessive
Do you want to learn how to stop being possessive? If so, you're taking a step in the right direction.
Possessive behavior will only hurt your relationship and drive your partner away from you, which is the exact opposite of what you want. Being overly jealous and possessive can make your partner feel:
Disrespected

Belittled

Trapped

Emotionally abused

Afraid
If you love your spouse, you probably don't want them to experience any of the feelings listed above. You want them to feel safe, respected, and loved.
But, how do you stop being possessive and not let the green-eyed monster take over when you feel upset? Don't worry as it is possible to overcome this bad habit. Keep reading to find out the most prominent signs of possessiveness and learn how to control your jealousy.
Related Reading: 

How to Stop Being Jealous in Your Relationship and Live Happily Ever After
What is possessiveness?
Possessiveness is the desire to possess or own something or someone. As an example, consider a child who refuses to share any of their toys. They are possessive of their belongings and don't want anyone else to play with them.
Similarly, a possessive husband or wife will go to great lengths to ensure that their partner stays theirs exclusively – even sabotaging their spouse's friendships and family relations to have them all to themselves.
Learning how to not be possessive is important, especially if you are trying to save your relationship and grow personally. But you can't change what you don't acknowledge, and taking a look in the mirror is crucial when figuring out how to stop being possessive in your relationship.
Signs of possessiveness
Jealousy is a common human trait; however, when it advances in relationships and takes the form of possessiveness, it can be extremely harmful. The possessive person gets entangled in their insecurities so that they are not aware of the impact of their behavior.
Possessiveness makes you harm your relationship while endangering the confidence and mental stability of your partner. Instead of making your partner feel valued, possessiveness makes you the reason for their unhappiness. Therefore, it is beneficial to take a hard look at your behavior to understand whether you are possessive.
Here are 10 most common signs of possessiveness:
You've asked for your partner's passwords

You want to be in constant contact with your partner

You are overly jealous

You want to control your partner's social circle

You have trouble recognizing boundaries

You try to control how your spouse looks

You have used guilt to try and manipulate or control their decisions

You have sudden mood swings

You are always afraid of losing your spouse

You become easily defensive
Do you relate to any of the signs of possessiveness listed above?
If you fear becoming a possessive girlfriend or possessive boyfriend to your partner, take an honest look in the mirror. Listen carefully to your partner when they tell you what traits bother them, and consider your role in their discomfort.
It is not easy to hear bad things about yourself, but it says a lot about your character when you are willing to put your ego aside and overcome possessiveness.
Also Try: 

Is My Boyfriend Too Possessive Quiz
15 steps on how to stop being possessive
Jealousy isn't always a bad thing. Consider this. Jealousy is simply the emotional response to protecting essential bonds. However, the expression of jealousy can either help or hinder the growth of your relationship.
A negative expression of jealousy can have a controlling and emotionally damaging effect on the partner. But when expressed properly, jealousy can help a spouse appreciate their partner and take positive steps towards treasuring them with love and respect.
Here are 15 tips on how to stop being possessive and jealous in your relationship:
1. Stay grounded
In reality, that is.
Possessiveness is the tendency to overthink what your partner is doing when you're not around. If you want to learn how to stop being possessive, you need to start living in the present. If your partner has not given you grounds to suspect them, don't start doubting them needlessly.
2. Be open about insecurities
It is vital to share with your partner how you feel, but don't blame them for what's going on in your life. If you tell them why you behave in specific ways and acknowledge that you're trying to change your habits, they can do their part by avoiding situations/behavior that may trigger you.
Check out this video to learn more about dealing with insecurity in relationships:

3. Think before you make requests
Do any of these comments sound familiar?
"I don't want you talking to XYZ anymore."

"I'd feel more comfortable having a tracker app on your phone, so I know where you are."

"Why are you friends with (so-and-so) on social media?"

"I want the password to your phone."
These are all common requests made by overly jealous spouses.
When trying to decipher "Why am I so possessive" ask yourself if you would be comfortable if your spouse made similar requests of you.You should never violate your partner's privacy or try to control them.
Related Reading: 

What Is Really Behind Jealousy in a Relationship
4. Open the lines of communication
Just because you are using many words doesn't mean you're doing an excellent job communicating with your spouse. Communication will help your relationship thrive, but only if you know how to do it well. Communicating the wrong thing in the wrong manner might hurt your relationship.
In her book, "Effective Communication in Relationships,"Julia Arias discusses communication as something every couple can improve by taking the proper steps. It is possible to train yourself to communicate in healthier ways by practicing better communication skills over time.
Healthy communication is one where you:
Speak openly and honestly with your spouse about how to be less possessive.

Ask open-ended questions about how they feel about your behavior.

Keep your cool. It hurts hearing negative things about yourself, but you can overcome possessive tendencies by keeping a level head and listening without interruption.

Pick up on nonverbal cues and act to correct behavior that makes your spouse uncomfortable.

Set aside time to communicate and bond regularly.

Reassure your partner that you want to change.
Related Reading: 

How to Communicate Respectfully with your Spouse
5. Focus on your own life
Instead of obsessing about your partner's actions, banish toxic behavior by focusing on your own thing. Excel in your work situation, spend time with friends and have fun with your partner.
Keeping your mind occupied with positive things in your life will help you avoid dwelling on any insecurities you have in your relationship.
6. Figure out your jealousy
If you want to change your possessiveness, you must start by questioning yourself. Your insecurities may stem from a betrayal in the past or a childhood experience. By asking yourself some hard-hitting questions, you'll be able to get to the root of your problems and learn to overcome possessiveness.
7. View independence as a positive
Instead of viewing time apart from your spouse as a slight, learn to appreciate your partner's independence. Being apart makes it more exciting when you are together. Time apart will also help you and your spouse get a greater sense of self, learn to draw boundaries, and explore your interests.
8. Work on building intimacy
Healthy emotional intimacy is essential for a strong relationship. Research shows that emotional intimacy releases oxytocin that increases trust among humans. The more confident you are, the less jealousy and possessiveness you will exhibit towards your partner.
Related Reading: 

The Importance of Emotional Intimacy
9. Hang out with friends together
What is possessiveness? It is being suspicious of everyone else's intentions in your partner's life.
One tip on how to stop being possessive is to meet each other's friends. Getting to know each other's social circles will make it easier for you to see that there isn't anything nefarious going on when you're not around. Knowledge of their true dynamic might help quell your fears.
10. Don't change your spouse
One tip on being less possessive is reminding yourself why you fell for your partner in the first place. You loved that they were independent, fun, playful, and amiable. Psychologists have observed that demanding change from your partner can significantly damage their confidence and relationship in the long run.
11. Own up to your mistakes
As a possessive wife or husband, you need to acknowledge your role in your relationship woes. Taking responsibility for your mistakes will show your spouse that you're serious about learning how to stop being possessive. It will also be a chance for growth based on self-reflection.
Related Reading: 

Why Is Accepting Responsibilities in a Relationship Important?
12. Don't spy on your spouse
Studies have revealed that thoughts and behavior based on lack of trust hurt relationship satisfaction and commitment. If you want to rebuild your relationship and learn how to stop being possessive, you have to stop spying digitally, or otherwise, on your partner.
13. Work on building trust
Building trust will help you banish this possessive person you've become and focus on having a healthy relationship.
But, how do you build trust?
Start by putting the past behind you. If you want to change, you need to make a fresh start with your partner.

Listen and communicate with your spouse and show that you're not afraid to be vulnerable.

Responsibly address real concerns in the relationship.

Acknowledge and validate your partner's feelings.

Respect your spouse's boundaries and show that you care about their feelings.
Established trust can help couples deal with any problem that comes their way. Psychologist John M. Gottman, in his book "The Science of Trust," has observed that emotional attunement based on mutual trust helps in the long-term success of a relationship. It gives couples a solid foundation to tackle any hardship that comes their way.
Related Reading: 

7 Important Tips to Build Trust in a Relationship With Your Partner
14. Seek therapy
If you are questioning your behavior, then therapy might be an excellent avenue for you.
Therapy can help you figure out the root of the problems you're facing. Your therapist will help you decipher why you are exhibiting possessiveness and guide you to overcome it.
Still apprehensive? Check out this video to understand what you can expect from couple's therapy:

15. Give time for self-love
Jealousy and possessiveness in relationships have a lot to do with your self-esteem.
Insecurity makes people hold tightly to the things they treasure, even if it means holding on way too tight.
Learn to love yourself by:
Spending time alone doing things that bring you joy.

Getting to know who you are deep down.

Learning to thrive outside of your relationship.

Journaling.

Going to therapy

Taking care of yourself physically (eat well, exercise, meditate, and get plenty of rest!).

Celebrating your small victories.
The above might be easier said than done, but following these steps will take you in the right direction of learning how to stop being possessive in a relationship.
Relate Reading: 

5 Steps to Help You With Learning to Love Yourself
Conclusion
By working on yourself, you can get to the root of your possessiveness. And even though it may feel impossible now, you can overcome possessiveness in love. By implementing the steps mentioned here, you can learn how to stop being possessive and banish the negativity it brings into your relationship.
Share this article on
Want to have a happier, healthier marriage?
If you feel disconnected or frustrated about the state of your marriage but want to avoid separation and/or divorce, the marriage.com course meant for married couples is an excellent resource to help you overcome the most challenging aspects of being married.
More On This Topic
You May Also Like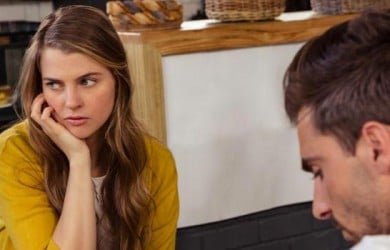 Popular Topics On Married Life