15 Ways to Overcome Pride in a Relationship
Pride can have a disastrous effect on your relationship. It is impossible to see things from your partner's perspective if you're prideful, which can lead to several problems in the relationship.
So, what is pride, and how to overcome pride in a relationship? Let's jump into what pride is.
What is the meaning of pride in a relationship?
Pride is a sense of satisfaction towards yourself. According to the Cambridge dictionary, pride is the belief that you are better or more important than other people. It is also a status-related self-conscious emotion.
The presence of pride in a relationship can be destructive as it makes you uncompromising. In addition, if you are prideful, you are likely to be self-centered, which can cause a rift in your relationship.
So, what does it mean to have too much pride? Here are some signs of pride in a relationship:
You're beyond making mistakes

You always find fault in orders

Your partner can't positively influence you because you are always right

You ignore the needs of others

You want the spotlight to remain on you consistently
How is your pride ruining your relationship?
Is your pride ruining your relationship, and is it necessary to learn how to overcome pride in a relationship?
Allowing your pride to come between you and your partner can negatively affect you as an individual and your relationship. Therefore, it's necessary to know why pride is terrible and how it can ruin relationships. This will help you know how to overcome pride in a relationship.
1. You're never grateful
Too much pride in a relationship is unhealthy, and if you don't keep your pride in check, it becomes easy to take your partner's actions for granted. As a result, you become less grateful and feel entitled when your partner goes out of their way to care for you.
You put less effort into the relationship and stop caring for your partner. It's safe to assume most people won't want to remain in such a relationship and will likely walk out of it.
2. You never say please
Why plead when you can order? Pride puts you on a pedestal and everybody else under you. If you don't handle your pride, you will order your partner around without asking for their opinion.
Your respect for them might dwindle, and you might not find anything wrong in that. Unfortunately, this can most likely lead to the end of your relationship.
3. You will ignore your partner's needs
A prideful person is likely to ignore the needs and feelings of others. You are likely to become self-centered, and your partner's feelings won't be on your radar. Your actions might even hurt them, but you won't be bothered; they make you feel good and important.
This can lead to conflicts in the relationship, and if you don't change, it isn't very sure that such a relationship can survive.
4. You're never wrong
It is impossible to be right all the time, and in some situations, there is never a wrong or right side. But as a prideful person, you're interested in coming out on top regardless of who you hurt to get there.
You never apologize for your mistakes or admit you are wrong.
Related Reading: How to Apologize to Someone You Hurt?
Is pride in a relationship good or bad?
Before learning how to overcome pride in a relationship, it is essential to know pride can both be a positive and negative emotion. Therefore, it isn't good to introduce pride into a relationship.
Excess of everything is not good! Pride has been a conundrum: it is both an evil and a blessing. Pride is a natural emotion, and a little level of pride can be described as a positive emotion and reflects self-confidence.
Although being prideful can be productive, it can also be destructive, especially when brought into a relationship.
In summary, pride in a relationship is bad and bound to affect your relationship. Pride destroys relationships by affecting intimacy and killing trust between the partners.
A prideful partner is likely to ignore their partner's needs and never take responsibility for their actions.
15 ways to overcome pride in a relationship
You can overpower pride if you're ready to put in the effort and follow the tips below.
1. Listen to understand
It is impossible to know it all. You mustn't argue or reply to every statement. Learn to listen to what your partner has to say and understand their point of view. It is also essential to not interrupt your partner when they speak and assume your views are superior.
When you listen to your partner, you put your pride aside, intending to learn.
Related Reading: 

4 Tips to Be a Better Listener in a Relationship- Why It Matters
2. Know your limit
Accept you are not all-knowing and perfect. This is an important way to overcome pride. Ignoring your pride or denying it won't get you closer to overcoming it. It would help if you first learned to accept it.
Then admit when your shortcomings first to yourself, then to your partner.
3. Be accountable
How to overcome pride in a relationship is to be held accountable for your actions. Don't blame others for your mistake or fail to admit you are wrong. When you take responsibility for your actions, you push your pride aside and give yourself the chance to grow.
Your eyes will also be open to the impact of your actions on the relationship.
Related Reading:

 How Do I Make My Partner Realize Their Responsibilities?
4. Don't shy away from criticism
You can either let criticism bring you down or motivate you to be a better version of yourself.
Accepting criticism doesn't mean people have the right to throw insults in your direction. Listen to what your partner has to say regarding your actions. Open your mind to the possibility that your behavior might have been hurtful.
Related Reading: How to Give & Take Constructive Criticism in Relationships
5. Remember your feelings
Pride doesn't mean you are heartless or incapable of having emotions. Recalling the strong feelings you have for your partner will inspire you to do whatever is necessary to save the relationship.
This might also promote intimacy and vulnerability in the relationship. Pride can't survive in such a relationship.
6. Express your feelings
When you are prideful, expressing yourself might be challenging. You often hold your tongue during a conversation and keep your opinions in.
You might feel like you are too big to have such a conversation. But for your sanity, your opinion needs to be heard.
7. Apologize
Overcoming pride begins with apologizing when you are at fault. You aren't too big to apologize when you are wrong. Let your partner know you're sorry for your actions and that they deserve an apology.
Failing to apologize because of your ego might make your partner believe you don't care. So do you want to know how to overcome pride? Apologize.
Related Reading: 

How to Apologize to Someone You Hurt?
Watch this video to learn how to apologize to your partner:
8. Consider the result
Is your ego worth losing your relationship over? Knowing the consequences of your actions will encourage you to keep your pride aside in the relationship.
It is necessary to examine the bigger picture, not just the present. The thought of losing your significant other because of something minor, like failing to apologize, might push you to overcome the pride.
9. Don't take yourself too seriously
Pride develops as a result of fear of embarrassment or shame. Therefore, it is easy to become defensive and regard every criticism as an insult.
If you want to overcome pride, don't take yourself too seriously and understand you aren't above mistakes. As a result, your ego is no longer sensitive, and you can set your pride aside.
Related Reading: 

10 Signs of Ego in Relationship and What to Do
10. Stop competing
Do you want to know how to overcome pride in a relationship? Then don't compete with your partner. There is no winner in relationships. You either win or lose together. So there isn't a need to compete with your significant other.
Your competitive nature will most likely hurt your partner and cost you the relationship
Related Reading: 

20 Signs You Are in a Competitive Relationship
11. Compromise
You can get rid of pride by compromising. It takes time, but you can compromise with your partner and reach an amicable agreement on little things. Your way is not the only right way.
Value your partner's opinion in the relationship, which will help you overcome your pride.
12. Encourage your partner
Are you curious about how to deal with pride in a relationship? Then don't downplay your partner's achievements. On the contrary, you encourage and support someone if you love them.
Your self-worth isn't attached to their achievements and can't be affected when your partner progresses.
13. Don't be too defensive
When you're proud, the usual reaction to a slight accusation or correction is to bring your guard up.
You are afraid to lose your status, so you are always on guard to defend against anything, even a correction given with love. This can affect communication in the relationship.
14. Be mindful
Mindfulness is the ability to be present in the moment and aware of your actions.
Take a deep breath and be mindful of your thoughts at specific points throughout the day. Shut down thoughts of pride and prideful actions.
 

Related Reading: 

Improve Your Relationship with Mindfulness and Meditation
15. Ask for help
Don't assume to know what is best for your partner or your relationship. When you are having difficulty making a decision, ask your partner for help.
Please don't attempt to do it all or pretend you don't need help. Instead, put your pride aside because everyone needs a helping hand once in a while.
Takeaway
Pride is a primary emotion that everybody feels once in a while. However, it is necessary to overcome this emotion and not bring it into your relationship.
The question of overcoming pride in a relationship has been answered above. Implement the tips above to have a healthy and pride-free relationship.
Share this article on
Want to have a happier, healthier marriage?
If you feel disconnected or frustrated about the state of your marriage but want to avoid separation and/or divorce, the marriage.com course meant for married couples is an excellent resource to help you overcome the most challenging aspects of being married.
More On This Topic
You May Also Like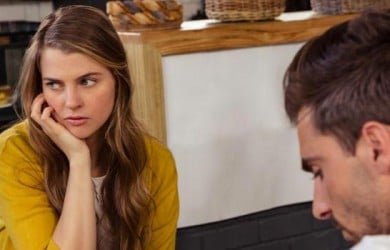 Popular Topics On Married Life