30 Signs of a Weak Man in a Relationship & How to Deal With It
Most people hope to display strength of character in a partnership and with life in general. While each person will be flawed, the reality is there are signs of a weak man in a relationship that detracts from his character.
These flaws include the tendency to judge, no drive or initiative for hard work, lashing out angrily, and periods of selfishness.
The more you learn how to cope with life's challenges adequately, the more emotionally strong you will become and the less weak you will be as a person. The more capable you are at accepting and dealing with the unpleasantries that come along in your life, the more empowered you will be.
The person who worries constantly or refuses to step out on a limb or, more precisely, outside their comfort zone will experience fear, not necessarily of taking that chance.
Still, of the feelings, they'll experience if they do because it will likely not end up as they hope. This creates a weakness of character.
What is the definition of a weak man?
A weak man is someone who has settled in with his flaws and isn't willing to make an effort to strive for more for fear of dealing with what it might feel like if things go awry.
This person is not afraid to force their opinions on others or cross boundaries if they need to. Most tend to neglect a mate's feelings, focusing more on what they need or want. If they are with someone strong and vibrant, they find it intimidating.
Instead of encouraging and motivating these traits, they become selfish, showing little support, preferring instead that the partner steps back to remain a step below their own status.
Why do some men act weak?
It's genuinely not an act. These men are of the mindset they prefer to avoid unpleasantries. Anything that might make them experience sadness, pain, hurt, and uncomfortable feelings they avoid because when you get down to basics, they're afraid.
Instead of crossing over to those things that make them uncomfortable, they would rather remain in the familiar. Unfortunately, that can also make them frustrated and, at times, angry to where they lash out.
In addition, being on the selfish side means they want their mate to be stuck like they are but not on an equal level, instead, below them to some degree. That brings them a sense of security and makes them feel safe.
Are you settling if you date a weak man
Is that a test question? Usually, mates who go out with weak men end up when all is said and done with the question "What was I thinking" lingering on their lips.
Most of these men have minimal ambition, to say the least, the work ethic is almost non-existent, and their approach to a relationship is poor if not neglectful.
At the start, in order to draw someone in, the mate is exceptionally charming and attentive. It's not until much later, after ample time and investment are involved in the partnership, that the significant other has the uh-oh moment.
These are most certainly men that partners settle for but readily walk away from once they recognize who they are.
30 signs of a weak man in a relationship
A weak man in a relationship might start as gregarious, even actively attentive, making it challenging for women to recognize their weaknesses.
When they do begin to appear, it's as though something happened that needs to be resolved to bring them back to that once charming individual.
Everyone desires the ideal partnership with a super nice person. Still, if that individual carries weak tendencies, it creates issues for the relationship, mainly if the other partner is a strong, vibrant person.
The two can't carry a relationship healthfully. Find out how you can go from the weak man into someone with more dominant traits with this coursework. How do you know you're dealing with someone vulnerable?
Let's look over the signs of a weak man in a relationship
1. The weak mate avoids handling any problems that come along
When only one person carries the load in a relationship, that indicates that individual's strength to do so—a necessary component in any partnership.
But it takes two producing these efforts in resolving issues regularly for a thriving, healthy union. When you notice you've had to settle something solo, it's time to consider whether you're dating a weak man.
2. A weak partner ignores their mate but finds time for everyone else
When an emotionally weak man finds the time to satisfy the needs of those in his social circle but completely ignores your needs, he is taking you for granted.
This is a sign that the guy has a great concern over pleasing those around him but genuinely believes there's no need with you because you will always be around. You need to prove that theory wrong since prioritizing a mate is essential. This is a selfish man.
Related Reading: 

11 Ways to Deal With a Selfish Partner in a Relationship
3. Never available in a time of need
Signs of a weak man in a relationship include his lack of availability when you need solace. That's never the case when a friend calls for a shoulder, but the guy fears that the friend will walk away if he doesn't come.
The fact he doesn't support you even though you are exceptionally encouraging and motivational when he finds himself in a slump means it's time to look for a more vital partner.
4. The individual displays characteristics of selfishness
Being selfish is among the many characteristics of a weak person making it evident that this individual would not be someone to look to in a long-term committed partnership.
There would never be instances of give-and-take, a shared connection, or mutual love and respect. It would be a one-sided or lopsided relationship where anything that happens would need to be in his favor, and you would ultimately suffer the consequences. Unconditional love is vital in any union.
Related Reading: 

11 Ways to Deal With a Selfish Partner in a Relationship
5. Communication is virtually non-existent
When attempting to resolve issues, there is no attempt at disagreeing or arguing over anything that arises that is bothersome because the characteristics of weak men dictate that they are not allowed to become offended.
After all, that might mean that they will need to participate in some sort of conflict if someone were to do so.
Instead of defending himself, he will shut down, allowing you to realize signs of a weak person.
6. He is not only defenseless
Among the most significant signs of weakness in a person is when they choose to ignore people when they're offensive to you instead of defending you. When people speak ill of you, and he remains quiet, why would you want to deal with what is clearly the definition of a weak man?
A strong partner would have no issue with standing in when people are being hurtful and rude, offering protection and a sense of security when you might be struggling.
7. Lets his weakness rule him
The weaknesses of men dictate they cannot express their emotions to those they care about. That means you'll need to be a mind-reader in an attempt to guess where the relationship is going and how he might feel towards you.
If there is something he might not be fond of, he won't come out and tell you; again, that could result in a conflict. The idea of having a meaningful, healthy relationship with a mentally weak man is virtually impossible.
Partnerships mean open, vulnerable, and forthright, none of which he stands for.
8. No responsibility whatsoever
If you find that you're handling everything on the Homefront at work, these are signs of a weak man in a relationship. The mate will allow you to do as much as you are willing to take from their plate as long as there is no effort needed from them – regardless of your degree of weariness.
9. Nagging is continuous with this sort
You swore you would never be a nag, but there comes the point when he doesn't listen, and you need to repeat yourself or, in other terms, nag continually. Not only that, but he doesn't take any responsibility willingly, so there's a constant need to ask for help.
10. The roles are then reversed
In that same vein, as if it weren't bad enough, he nags you when things aren't taken care of; instead of handling the issues like a responsible human, the weak man will remind you that there are chores to be dealt with.
Perhaps you'll find his clothes lying on the floor for the laundry or dishes sitting on the breakfast table as a reminder they need washing.
11. Growing up is not something he is willing to do
Signs of a weak man in a relationship include the fact he doesn't want to grow up. It's like dealing with a teenager in high school. There are conversation issues with a man since these are never in-depth or mature.
When with friends, he's doing stupid things to prove he's "a man." It's even worse than dealing with an infant who will at least listen.
12. Discussion of the future don't occur
He makes you feel uncomfortable when you broach topics about a potential future. Because he is a mentally weak person, he becomes unglued when the thought of becoming serious to the point of perhaps a
wedding and even kids are mentioned. This is not the right guy for a commitment.
13. You won't find a weak man paying attention
Signs of a weak man in a relationship is he won't be paying attention. Generally, when you hold a conversation with a strong mate, there are opinions, someone agrees or disagrees.
Still, a weak man isn't able to offer these because he's simply not paying attention, a complete lack of respect.
Related Reading: 

What Happens When There Is Lack of Attention in Relationship?
14. A serious issue
When something serious happens, and you need not only someone to talk with, but you likely will need solace, the weak man is unable to provide either the empathy or the comfort you require at this particular point.
That's whether it's a loss of someone close to you or a trauma of a different nature. The mate can genuinely make it worse with his cold, unfeeling exterior.
15. Tagging along is fine
The weak points of a man during romance are that he will enjoy tagging along when you make all the arrangements for a holiday, evening out, party with friends.
The idea is that he does not have to be involved with a solitary detail. This guy is a follower and enjoys that position.
16. Pointing the finger
Signs of a weak man in a relationship include blaming everyone for anything that goes wrong but never accepting it. That's even if he is actually the one at fault.
He won't improve who he is but also doesn't want to be viewed as a bad person.
17. Angry outbursts are frequent
A weak man can't handle a strong woman. Ultimately frustrations will turn into angry outbursts almost reminiscent of a child's temper tantrum since these men don't want to face adulthood.
The individuals find facing difficulties irritating and can become upset quickly when there is a challenge he's forced to contend with.
18. The credit is always his
As mentioned, the blame is never his, but the weak man is always quick and on the ready to take the credit for anything good happening.
That's whether he was directly the reason for the fortune or just happened to be in the right place at the right time; he is the one to make the headlines.
19. Independence is not a consideration
Signs of a weak man in a relationship include the fact that this person does not need individual interests or hobbies and doesn't require time apart as is so healthy for a thriving standard partnership.
He wants to be nurtured and cared for consistently, helping him feel more manly.
20. What others think drives him
The opinions of other people determine this weak man's life. Sadly otherwise, he has no clue who he is or what he wants. He relies solely on the response he gets and will continue a behavior if there is a positive outcome basing his decisions and next move on his "audience."
21. Falling in love is a frequent hobby
You'll notice repetitive signs of a weak man in a relationship because he will repeatedly fall in love under similar circumstances. The women are not of particular interest because he has no specific type.
The only consideration he places on the partnership is that the person he's with will be able to take care of him sufficiently. Generally, they are strong women, and usually, they leave him.
22. An actor of sorts
A weak man will pretend to be every person except for himself. He tries to compensate for traits as he compares himself to those surrounding him. He is deeply insecure, forcing him to lead an imaginary life in his mind where he doesn't accept who he genuinely is.
23. Critiquing is his form of passing the buck
You will notice signs of a weak man in a relationship when he begins to criticize every aspect of what you do, say, eat, behave, how you act, in an effort to change you because he needs to pass the buck for something he messed up with the partnership.
Because he can never accept responsibility for wrongdoing, he can't dare change or admit failure, so he has to fix you instead.
24. Gossip and disrespect is a weak man's game
A few signs of a weak man in a relationship is he will whisper to you about others behind their back. Never does he offer opinions or speak up for fear of conflict, but he will gossip like all get out, attempting to find fault with other people in an attempt to feel some sort of superiority.
The shame is that if he would do this about people he cares for, like close friends and family, do you honestly believe you're safe from his brutality?
25. Liar, liar
A weak man will compulsively lie in some sort of scam plan, whether it's using your entire savings to make a lavish purchase, cheating a close friend out of a loan, lying about the most trivial situation (and getting caught.)
The weak man is terrified that you might see him in a vulnerable state. He doesn't even face his own fears, let alone allow other people to recognize them.
26. Afraid of your success
Signs of a weak man in a relationship is his desire to hold back a strong partner. Instead of motivating or encouraging them to move forward, chase their dreams, and do well.
The objective for this man is to keep a mate a level below him to make himself feel and look better. Listen to this podcast on "Powerful Women vs. Weak Men" for details on how the weak handle a woman's strength.
27. Boundaries mean nothing
Despite the intentions and boundaries the two of you set up at the beginning of the relationship, the weak man continually crosses these with no second thought to the fact that he's displaying no integrity, a lack of respect, and weakening a partnership. But would he care?
Related Reading: 

15 Must-Have Healthy Boundaries In Marriage
28. Work is not consistent
The weak man is typically not employed in a career or a job that he finds satisfying. He is constantly in the looking stages for that one career opportunity meant for him.
The idea that there are "so many companies after him, but he has to hedge his bets" has been an ongoing thing since forever.
29. A meaningful relationship has eluded him
While he falls in love in the blink of an eye with anyone willing to nurture and care for him, that one partnership that generally takes hold of most people and sets them straight hasn't happened for the weak man.
That's mainly because he is without the necessary emotion that he would need to return to that person. Even if he felt it and the mate felt it, he couldn't acknowledge it and allow his vulnerability to show; sort of sad actually.
30. Sad and alone
Though the weak man will never admit it, at some point, the partners will begin to dwindle, growing tired of the one-sided partnership, and he might very well end up with no one to care for him.
That would mean he is responsible for himself and likely sad and alone. You can't hide that from friends and family.
Related Reading: 

15 Signs You're in a One-Sided Relationship and How to Fix It
How do you deal with being in a relationship with a weak man?
Let's see; there's no form of communication that a weak man is tolerant of or that he will pay attention to or even listen to.
Instead of admitting responsibility when an issue occurs in the relationship, he opts to critique his mate, putting them down in an effort to change them to save from having to alter his behavior.
He lies, cheats, and takes what's not his blatantly and without care as to who it hurts. Plus, he expects to be nurtured and taken care of while the partner in the relationship handles all responsibilities, including working and chores, arranging entertainment, and ensuring the finances are sound.
You don't deal with being in a relationship with a weak man. Instead, search for a man with strength of conviction who understands what it takes to enjoy a healthy, thriving, and mutually satisfying partnership and join him.
But then is "modern" masculinity the answer, though? Let's share this insightful video on "Why Modern Masculinity Is Fundamentally Flawed" to find out.
Final thought
In one sense, you can feel sorry for a weak man because he is truly defeating himself in every close relationship he has, not only romance but family and friends.
It's almost as if there's no human component to this individual, and yet it's more along the lines that the man is pushing it so far down that even he can't find it.
Ultimately, the one it will hurt will be him because, unfortunately, he runs at the thought of marriage, and only so many will follow his "guidelines" for dating.
Share this article on
Want to have a happier, healthier marriage?
If you feel disconnected or frustrated about the state of your marriage but want to avoid separation and/or divorce, the marriage.com course meant for married couples is an excellent resource to help you overcome the most challenging aspects of being married.
More On This Topic
You May Also Like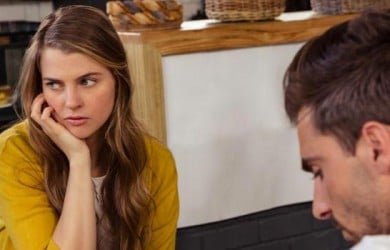 Popular Topics On Married Life