10 Reasons You Should Never Compare Relationships or Your Partner
Couples fall into the trap when they compare relationships with other people. By doing so, they're setting themselves up to fail. Everyone will always appear perfect from the outside looking in. That's how they want you to see it.
When they go back home (or turn the social media lens off), you don't know what happens behind closed doors. At the same time, the partnerships could be truly idyllic. 6t
There's the possibility the partner has more problems than you're aware of, perhaps more than you have with your own couplehood. In fact, no relationship is without its share of issues, but most people don't talk about these except with close friends and family.
The vital thing to recognize is that one pair's version of perfection is different from someone else's. Whether spending every moment of every day together or choosing activities and having minimal time as a couple, if it makes each partner happy and satisfied, that is as close to idyllic as you can get.
No one should engage in comparing relationships because what makes you happy is unique and individual from those other partnerships. Stay focused on yourself since relationships are hard enough work without bringing other people into it.
Why do people make relationship comparisons?
Relationship comparisons are genuinely a normal part of human nature in kind of the same context as establishing healthy "competitions" for lack of a better word throughout developmental stages from childhood up to adulthood in varied ways.
Perhaps who's taller, who can run faster into the teenage years when asking who's better looking, who can get the date, maybe who can do better in school. Then comes adulthood. How does your couplehood compare to everyone else's?
The comparisons aren't meant to ensure that you supersede everyone else. These act in the sense of clarification for yourself as to what you want, helping to incorporate self-image and encouraging personal growth.
It's a healthy part of development at each stage of life, a form of self-measurement and motivation to keep you moving towards personal goals.
If used positively, seeing a healthy relationship should motivate you to either continue on your current path if you're doing well or make changes where they're needed to enhance the partnership.
Why is it not healthy to compare your relationship to others?
The current digital landscape disallows for realistic comparisons among couples that can genuinely motivate or encourage but instead cause toxicity. There are ways of how to maneuver social sites without making comparisons.
The "performances" you see on social media are explicitly for the audience. There is no consideration for the sincerity others might place on the posts and how couples might use these as a relationship comparison causing rifts between some mates because their partnership doesn't come close.
First, no relationship is perfect. So, when these people post continuously how amazing their life together is – perhaps it is; but where's the passion?
Passionate people will have differences, arguments. The problem is if the two of you have what should be a healthy, dynamic relationship, you'll feel it's imperfect because these unrealistic couples on social media have set the standard for how you believe your relationship should now be measured.
Since it doesn't, there must be problems. Irrational thought processes like these have individuals attempting to reach unattainable goals and compare your partner unfairly away from the traits that initially drew you to this person.
The perspective you initially had regarding love is skewed detrimentally, and there is nothing that can fully satisfy you at this point, leaving your partnership in danger of a break.
Related Reading: 

How Important Are Common Interests in a Relationship?

 
10 reasons you should never compare a relationship
In all fairness, to a spouse or a partner to compare relationships is wrong on many levels but primarily because we're all unique.
When you set out searching for the partner that was ideal for you, it wasn't the partner that your friend on social media is posting about, was it?
There's a reason that person is the perfect match for your friend; they share compatibility. You should never compare your partner to another person's partner because you'll never be satisfied. You will always find that your partner is lacking since the traits you're looking for belong to someone else.
Again, everyone's different. Sadly, if you feel your significant other is not adding up when you compare relationships, you need to let that person go so they can find someone who doesn't see the need to compare relationships.
Let's check out some reasons why you never want to compare relationships.
Related Reading: 

How to determine relationship compatibility
1. A comparative relationship is unrealistic
When you met your partner, you found this person to be an unusual character, someone who specifically answered your needs in only the way they could.
There was no one like them when you compared them to all the other people you were looking at to date. But now, you're looking at this person as part of a couplehood and somehow sensing the comparison is different, and you're not sure you're satisfied.
Instead of accepting individuality, do you want this person to "equate" to the previous few you dated before? Why would you? It would be best if you never compare your past relationships.
Turn the tables for a reaction when your partner compares you to others and consider how you would respond. This partner is different, and you like that. Accept the positive changes and move forward. Learn how to stop comparing your relationship to others.
2. Toxicity
When you begin comparing your girlfriend to others or your boyfriend to another, it sparks a nagging sensation that perhaps something is missing in yourself.
You can start to develop low self-esteem or lack of confidence in your own judgment. That can create problems not only in the relationship but with your mental health.
Comparisons become obsessive and not worth the effort since you'll always find something you believe is more gratifying than what you have that you need to try for that you'll never achieve. No one will ever satisfy you because these ideals are unrealistic.
Never compare your girlfriend to your ex or someone on social media or your boyfriend to another because it will ultimately leave you sad and alone.
3. Missing what's great
While you're fretting over what you're lacking from this wonderful person because you're trying to compare relationships, you're missing out on the great parts.
You could be out experiencing what you're seeing all these other couples "talking" about in real-time but, instead, you're dwelling that you don't have what they do – you could.
4. What happened to be happy for others
When your man compares you to another woman, how would he react if you responded positively? Nothing is saying you have to be the jealous person in the relationship.
Whatever happened to being happy for other people's successes. If he makes the issue a challenge, that's his own insecurities, not yours, and you shouldn't dwell in those.
It's better to express an appreciation for her work ethic, or whatever may be the celebration, and move forward feeling great about your personal achievement and attributes even if he's stuck amid comparisons.
5. Sometimes it's OK to let it pinch
Probably most of us have fantasies of traveling the world, fine dining, and an elaborate lifestyle.
When you see someone living some of these dreams, it can sometimes send a ping of jealousy, ultimately leading to you looking at your partner to compare relationships, wondering why you can't have some of what that person has.
Perhaps your friend is in a hot tub at a five-star hotel in Paris, or another friend is dining at a posh restaurant in the big city. Maybe they're celebrating a special anniversary, and it was a gift from a family member.
In any case, it's okay to be envious as long as you let it go and don't allow the emotions to fester.
Undoubtedly you know your partner would give you the world and will when it's feasible; never compare your husband with another and in that same vein, never compare your wife with others – it's unfair.
Check out this insightful video to understand how you can let go of envy:

6. Unattainable expectation
Comparisons are challenging because you create expectations not only that a partner is unable to meet but instances when it comes down to comparing yourself to your partner.
That becomes a competition where no one wins because ultimately, each person feels alienated, whether it's who makes more money, has the better job, possesses more assets, whatever your basis for the comparison is.
In this scenario, a third party would be a welcome impartial mediary to guide you to a smooth resolution if the two of you hope to repair the relationship.
Related Reading: 

 5 Ways to Stop the Expectations Trap
A professional couple or even individual counselor can help each partner see the other's attributes where they might have lost sight. It might otherwise be challenging to maneuver through this unhealthy pattern the couple developed with comparisons.
7. Why wouldn't you merely leave
Rather than compare relationships, if you're unsatisfied with the partner you have, why wouldn't you merely leave the partnership and find someone with whom you can genuinely be content instead of complaining about this person.
If your heart is truly not in the partnership and you feel something much better might be out there for you, you owe it to yourself to continue searching for that. It's only fair to you and the person you're with.
Despite your best effort, you can't mold someone into your idea of the perfect partner. They're either suitable for you or not and vice versa. No one should ever chance to suit someone's expectations either.
8. It's rude and demeaning
When you're in love with someone but find it necessary to continually criticize and complain because they are not like someone or don't do the same things as another person does for a friend, that's ill-treatment of your partner. It demeans and diminishes self-esteem.
If you truly love your partner, there should be no comparatives. You should appreciate all the eccentricities, the uniqueness, quirks, and flaws, with no anticipation that this person will in any way mimic the behavior of anyone else and sadness if someone were to copy what you have.
9. How would you feel
It would be best never to compare relationships because the tables could easily be switched. It wouldn't be nice to be caught on the other end of someone showing dissatisfaction in the partnership or a desire for characteristics that don't come naturally for you.
If you find yourself about to compare relationships, think back to why you chose this person, remember why you love them, why your relationship works, and let the comparisons go.
Related Reading:

  

8 Causes Of An Unhappy Marriage and Solutions
10. Nothing is perfect
A primary reason to avoid making comparisons is the relationships you're comparing to are less than perfect, as you might have yourself believe.
Any healthy partnership has its share of issues, but no one will share publicly or tell their friends about the major arguments or when their spouse doesn't fold the laundry or stack the dishes.
We want everyone to see our partner as the perfect person we feel in our hearts they are, and that's how it should be. Here is a study on comparing relationships to those on popular social sites and how these can make you feel.
Final thought
The digital world we live in today has its positives and its negatives. Many people succumb to the throes of social sites, leaving them exposed to other people's lives or what those people want you to see.
It can prove detrimental to relationships when couples compare their partnership to the ones they see in posts or even among friends in real-time.
Essentially, couples need to recognize that every relationship offers its own set of imperfections and uniqueness; none are without flaws, but each works because the two people involved create a match.
If you put in two different players, you have a unique game that might end up askew.
When what you have is not working, or it's making you unhappy to the point you're looking at other relationships longing for what they have, you must reach out for a third-party mediator to counsel the two of you back to a healthy partnership. Or speak to your partner about ending the relationship so you can each find a more satisfactory partner.
Commonly asked questions
Is It OK to compare your partner to others?
That's somewhat subjective whether it's OK or not. Many people do compare their partner to other couples or other individuals, and it's not unnatural, but it can be unhealthy. It's a matter of how far you allow the feelings from the comparisons to go.
If the experience genuinely bothers you to the point, you feel unsatisfied with your current partner, which requires further examination. Either you go for couple's counseling to save the relationship, or the two of you choose to make the break for each of your greater good.
No one person should have to change to meet someone's idea of perfection in order to keep a relationship going.
Is it wrong to compare your girlfriend to your ex?
Yes. These are two completely different individual people. A current girlfriend has her own set of attributes, accomplishments, achievements that need to be appreciated and honored. Comparing those to a previous relationship diminishes and demeans.
Is it normal to compare your boyfriends?
Comparisons shouldn't be shared with a current boyfriend. Most people do this innocently and with no harmful intention – but do so silently to themselves. After being with someone for some time, the comparisons stop, and most people settle into their new relationship letting go of the past.
Share this article on
Want to have a happier, healthier marriage?
If you feel disconnected or frustrated about the state of your marriage but want to avoid separation and/or divorce, the marriage.com course meant for married couples is an excellent resource to help you overcome the most challenging aspects of being married.
More On This Topic
You May Also Like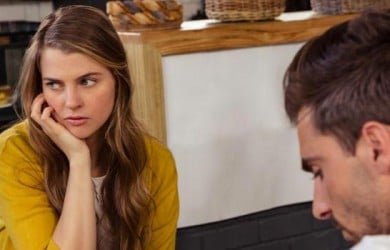 Popular Topics On Married Life