10 Causes of Insecurities in a Relationship Not to Overlook
Uncertainties have remained a part of human existence from time immemorial. These uncertainties are evident in our daily lives, and in some cases, they begin to affect our self-esteem.
Humans may face uncertainties about many things, including our appearance and choices. Sadly this aura of uncertainties can lead us to be insecure.
Although insecurities are a part of human existence, they can be highly draining when our emotions become involved.
Many people feel jealous and uncertain in their relationships regardless of how much they are loved.
Learning about what causes insecurities in a relationship could help to salvage your relationship.
Common insecurities in a relationship
Insecurities in a relationship is a deep-rooted belief that makes you think you are not good enough for your partner. An insecure person is constantly anxious about what would happen next in their relationship.
Insecurity is borne out of a lack of confidence, making it difficult for you to believe in yourself and trust others.
Feeling insecure in a relationship is expected. Everyone expresses a bit of insecurity in their relationship at one time or the other. However, it may become worrying when you constantly have overwhelming thoughts that force you to behave irrationally.
Before learning about what causes insecurity in a relationship, the following are some common insecurities in a relationship.
Not believing your partner will remain faithful to you and constantly fearing that they may cheat on you.

Constant checking up on your partner to find out where they are.

Not trusting your partner and always finding the need to verify everything they say.

Feeling that your partner could leave you at any time.

Feeling envious of everyone else in their lives and resentful of those they care about.

Seeking compliments and validations to feel more secure.
Watch this video to learn how to communicate effectively with your partner
What are the types of insecurities in a relationship?
Insecurities are part of our daily struggles, no matter how successful we are. Several types of insecurities in a relationship constantly feed on your mind and destroy bonds. You must take deliberate steps to identify these insecurities and consciously resolve them. Here are some examples of insecurities in a relationship.
1. Emotional insecurity
Emotional insecurity is a feeling of uncertainty and inadequacy over one's emotions. Common symptoms of emotional insecurity include depression and fear of asserting yourself in situations.
People with emotional insecurity often fight over petty issues. Emotional insecurity usually results from a lack of trust in your decisions, causing regrets.
2. Attachment insecurity
Individuals with attachment insecurity find it difficult to maintain a stable emotional connection with their partners. In most cases, they avoid getting too close to people or leave the relationship before you get the chance to leave them.
3. Physical insecurity
One of the leading causes of insecurity in relationships is our appearance. Physical insecurity is common in women and men who are constantly inundated with images of the perfect body.
4. Financial insecurity
Forget about what you see in the movies, financial insecurity in relationships is a rude awakening for many couples.
An imbalanced financial strength could be a reason for insecurity in a relationship, especially if both partners are shouldering expenses. In some cases, a spouse might become insecure when the other half takes care of the bills in the home.
Related Reading: 

Constant Compromise: 5 Tips To Avoid Money Problems In Marriage
What creates insecurities in a relationship?
So, let's jump into what causes insecurity in a relationship. An individual whose partner is insecure may start questioning their choice after some time. If you are a person who displays a secure attachment style in a relationship, dealing with an insecure partner could be challenging to handle.
Some people who have suffered emotional hurt in their past relationships quickly put up a defensive mechanism that pushes people away from them.
You might also ask the question, why do I feel insecure in my relationship? Lack of trust in your partner is one of the main factors that create insecurity in a relationship. Doubting and constantly verifying every information your partner tells you indicates you have trust issues and probably allowing previous hurts to affect how you relate with your current partner.
For some people, the thought that their partner may leave makes them panic. The degree to which we handle rejection varies from person to person. So people who find it difficult to handle rejection are more likely to become insecure in their relationship.
If you ever have to deal with a petty person, you will understand how emotionally draining it could be. Living with a partner who makes a mountain over a molehill can be complicated.
A spouse would pick fights and create huge arguments over something that isn't worth the time.
While healthy and occasional arguments can sometimes be productive, unhealthy and constant arguments are from a place of lack of trust and deep-rooted insecurities.
Jealousy and endlessly seeking attention from your partner could create insecurities in your relationship. A jealous spouse constantly queries the true intention of their partner. They may snoop on your social media accounts and become extremely clingy.
In some cases, they may go as far as exerting control over your friendship and leisure time. Jealousy creates insecurities that harm and consume any relationship.
Every person loves compliments. They love when their partner recognizes and compliments their looks and efforts.
Your behavioral attributes power your relationship insecurities. They start in your head and impart your emotions, reflecting on your actions.
Related Reading: 

10 Characteristics of a Good Partner
10 Causes of insecurities in a relationship you should not overlook
Maintaining a healthy and stable relationship is critical for our mental health. However, insecurities and doubts could set in and jeopardize your union. Here are 10 common answers to what causes insecurities in a relationship.
1. Low self-esteem
Individuals with low self-esteem are always quick to make wrong assumptions and projections about their partners. Low self-esteem makes you think you are unlovable and lead to relationship insecurity.
2. Attachment styles
Attachment styles refer to how we associate with others. Psychological studies have shown that a child would develop an attachment style based on how their parents have related to them.
If you have suffered neglect in your childhood, you are more likely to develop insecurity issues since you have no prior experience with love and care.
3. Hurtful past relationships
The past is one answer to what causes insecurity in relationships. The events of your past relationship could play a vital role in shaping your actions and attitude towards your new partner. The fear of past rejections and hurts in your past relationships could make an individual insecure and inadequate for their current partners.
Related Reading: 

Negative Experiences of the Past can Affect Your Relationship
4. Lack of personal life fulfillment
A romantic relationship is a union of two distinct individuals. Your individuality creates a personal identity that gives you a sense of fulfillment. Sadly, some people may lose their identities and personal life fulfillment.
They turn to their partners to derive a sense of fulfillment in their lives. This situation causes insecurities when your partner experiences an external form of happiness unconnected to you.
5. Mental health issues
Mental health challenges cause both depression and anxiety. People who suffer from mental health issues tend to withdraw from their partners and causing a serious strain on their relationship.
6. Fears over long-term potential
It is common for people to have doubts about the long-term future of their relationship. However, a constant expression of fears over the future of your relationship is very unhealthy.
7. Concerns about misaligned relationship goals
Couples set out plans for themselves to achieve a successful relationship. Ironically these goals may cause insecurities in their relationship.
Once you become overly concerned about misaligned relationship goals, you create room for doubts which can be stressful for your partner to deal with.
Related Reading: 

35 Relationship Goals for Couples & Tips to Achieve Them
8. Stressful situations
Stressful situations could put our relationships in a tough position. A partner facing stressful circumstances might lose the sense of security they get from their partner. While this feeling may wane after the stressful event, it could resurface and persist later.
9. Poor communication
One of the causes of insecurity is poor communication. Communication is vital in the growth of every relationship. Couples who communicate more often can identify their weaknesses and make amends. Poor communication skills could lead to insecurity problems in the long run.
10. Dealing with grief
Dealing with the loss of a loved one can take a tremendous toll on your relationship. A partner may choose to stay alone after the death of a loved one, thereby causing distress in your relationship.
What can you do to overcome insecurities?
Insecurities can be very damaging to your relationship. The following are things you can do to overcome your insecurities and save your relationship.
1. Practice mindfulness
Realizing and acknowledging you have insecurity issues would help you overcome your problem. Self-awareness and mindfulness are critical in defeating insecurities and stopping yourself from getting overly jealous and clingy.
2. Communication is key
Please talk about your securities and fears in a bid to find workable solutions to overcome them. You must be mindful of your words to avoid hurting your partner and steering up resentment. Your goal is building a strong relationship; openly discussing your feelings is a great way to achieve that.
Related Reading: 

The Importance of Communication in Relationships
Conclusion
Insecurity is a deep feeling of doubt, anxiety, and a complete lack of confidence in oneself. Constantly seeking validations and assurances from your partner and spying on them are some of the common insecurities issues in relationships.
There isn't a single answer to what causes insecurity in a relationship. Insecurity is caused by several factors, including lack of self-esteem, poor communication, and mental health issues.
Couples can deal with insecurity issues in their relationships through self-awareness and open communication.
Couples should also engage the services of a therapist if the causes of insecurities are deep-rooted.
Share this article on
Want to have a happier, healthier marriage?
If you feel disconnected or frustrated about the state of your marriage but want to avoid separation and/or divorce, the marriage.com course meant for married couples is an excellent resource to help you overcome the most challenging aspects of being married.
Learn More On This Topic
You May Also Like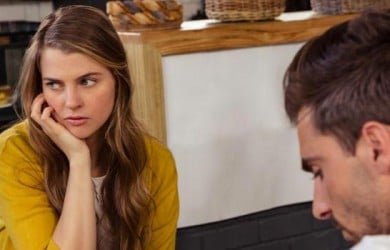 Popular Topics On Married Life