Dealing with the Insecurity from Your Partner's Professional Relationships
There are many important relationships one holds in their lifetime. We have the relationships we build with our families and then with our partners and children. Nevertheless, once we attend school and go off to work we build new relationships as well.
What causes insecurity and jealousy in a relationship?
It is important to build relationships, but it is also very important to have strong boundaries. Without personal boundaries, breach of trust and insecurties abound.
Insecurity in a relationship is a reflection of a person's unstable emotional state of mind and a nagging fear of compromising the status of their relationship.
Can insecurities ruin a relationship?
Insecurity in a relationship strains the bond of love and the relationship soon becomes rife with anxiety and misunderstanding.
This begs the question, what causes insecurity in a relationship?
Often growing up children who witness parental infidelity end up looking at their parent's conflicted relationship as a template for all their future relationships and being being cheated on.
Insecurity in a relationship can also be a confluence of other factors such as lack of self-confidence, unhealthy attachment style with their partner, or a neglectful childhood affflicted with unresponsive parents.
How to overcome insecurity in a relationship?
To stop being insecure in a relationship and dating smoothly, it is important to first understand how to express insecurity in a relationship. First , you must learn to broadcast your vulnerabilities without fearing other people's judgment. Stop psyching yourself out by thniking that your partners would perceive you as an insecure person.
Bring up even the most uncomfortable conversation, without being accusatory. Remind yourself and your partner that when you can tell them anything that comes on your mind, you are in the process, building trust in relationship. Also, choose the most opportune time to air your thoughts.
How do you fix insecurity with noone to lean on?
How do you fix insecurity if you don't have your partner to lean on, confide at all times? Stop being dependent on your spouse and learn to first pick the pieces of your wrecked state of mind all by yourself. This will reduce a lot of relationship stress and enhance relationship satisfaction.
As human beings, we need our personal space and need to be clear with our boundaries. The relationships we hold with our family members have a comfort zone where we can share what is okay and what is not acceptable. When we form relationships with friends, peers, coworkers, and colleagues it can get tricky.
Crossing major boundaries has its repercussions
Recently I became aware of some relationship issues a close family member of mine was facing.
This family member shared that she was not happy with the relationship her husband and his boss had formed. She stated that she was feeling insecure and doubting things with her husband. I asked her what was wrong with the relationship her husband and boss were forming.
She shared that her husbands' boss would text her husband after hours and call him to vent about her personal life to him. It was as if he was her own personal therapist!
I was shocked at how this employer was crossing major boundaries with one of her employees. Nevertheless, this was also something that the employee had not stopped. My close family member shared she had tried to explain to her husband how this was wrong on so many levels, but he would brush it off.
Lack of discretion in professional relationships
She stated that she was feeling as if he would be capable of having an affair and this was causing issues in their marriage. This was a major issue; would anyone be okay with this. I know that if it was the other way around the husband would not be okay with this. This is exactly what I was referring to having clear boundaries.
It appears that from the beginning there were no boundaries, from both parties. The employer should have never contacted the employee regarding her personal life and the employee should have told the employer this was not part of his work duties.
This past weekend my close family member shared that she had had enough and had gone off on her husband. She was so frustrated with her husband and his boss that she told him everything she felt. She stated she felt guilty after but hoped it would help. However, she stated that she was also in fear thinking that this might cause her husband to keep things from her regarding the calls and texts from his boss.
To make things worse social media does not help
Not only are there calls and texts, but then comes the likes and posts on social media that involve the employer and employee. How can this be resolved? Is it possible to trust your significant other with a boss like that? Has anyone ever had any similar experiences?
Share this article on
Want to have a happier, healthier marriage?
If you feel disconnected or frustrated about the state of your marriage but want to avoid separation and/or divorce, the marriage.com course meant for married couples is an excellent resource to help you overcome the most challenging aspects of being married.
Learn More On This Topic
You May Also Like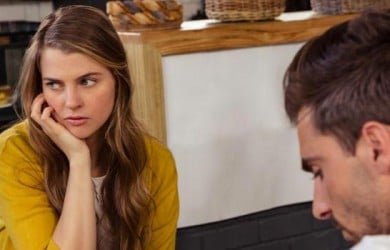 Popular Topics On Married Life