10 Reasons Why Lesbian Relationships Fail and Ways to Save Your Relationship
We all crave a Hollywood marriage, yet many people struggle to have an amicable relationship with their partner. Relationships are hard for everyone, regardless of gender, culture, or race. Why lesbian relationships fail is more a function of how we operate as human beings.
Have you ever listened to your self-talk jumping to conclusions? We tend to want things as we wish them to be rather than as they are.
This only sets us up for disappointment and conflict. Without emotional intelligence, we blame our disappointment on others or our environments, leading to break-ups.
The secret to successful relationships is to know yourself deeply.
By getting to know your inner world, you also cultivate the skill to be more in tune with the inner world of others. Neuropsychiatrist Dan Siegel calls this "mindsight."
In hindsight, you can develop harmony with people and the world around you. That's the key if you truly want to save your relationship.
Why do lesbian relationships fail?
When considering the question "why lesbian relationships fail," we must first understand what we mean by fail. At the most basic level, it's when romantically-involved female couples get divorced or break up.
Where it gets complicated is that data can be misleading or erroneously collected. As this study on the U.S. 2000 Census details, many errors in the data were later used to understand lesbian divorce rates.
That's not to say that there might be a trend that gay couples break up more than heterosexual partners. Nevertheless, separating the impact of policy and social and cultural pressures is challenging.
This study on the challenges of same-sex relationship research explains this well. So, why lesbian relationships fail doesn't have to be a stand-alone question. Essentially, why does any relationship fail?
There are many reasons why lesbian relationships don't last. Although, gay couples often have the added pressure of discrimination due to breaking away from social norms in many cultures.
Coincidently, this report on same-sex couples by the American Psychological Association (APA) states that just over 1% of gay couples dissolve as compared to 2% of straight couples. Again, they confirm that data gathering is not always reliable in its early days.
Interestingly, the same report refers to a study by the Gottman institute saying that gay couples seem to have more effective conflict management approaches. So, perhaps the question "why are lesbian relationships so hard" depends on your social context.
Once social and cultural issues have been removed, it's much easier to answer the question, "do lesbian relationships last." It all comes down to how the couple resolves their lesbian relationship issues and how they leverage emotional intelligence.
10 ways to Save Your Relationship
Why lesbian relationships fail is sometimes attributed to the assumption that women push for change and are quick to get together or split up. Again, the same APA report refers to a study that shows women push for divorce or marriage when there's a gender power struggle.
So, how long do lesbian relationships usually last? While this will be on a case-by-case basis, the data seems to suggest that they might last longer than straight couples, despite what the media tells us.
Lesbian divorce rates will need to be further evaluated to confirm this fully. If you're struggling in your lesbian marriage, try not to get swayed by what could be or should be. Instead, focus on yourself and your couple.
Why lesbian relationships fail often comes down to misaligned expectations. Instead, both straight and female couples can benefit from working through the following points.
1. Be curious about your partner's reality
Lesbian relationship problems often revolve around identity issues. When both are women, finding the roles that suit our rhythm can be more complex. Although, this might be accentuated in straight couples where societal expectations are based on gender.
In spite of this, any lesbian married couple would benefit from letting go of their agenda and being curious about their partner when communicating. This isn't just about being curious about what they're saying but also about their feelings and emotions.
As we become more in tune with our emotions and each other's, we create the necessary "we" for healthy relationships. We find ways to mitigate negative emotions such that we can safely disclose our deepest thoughts and desires.
2. Share your fears
Why lesbian relationships fail can sometimes be attributed to a lack of understanding our how we relate to each other. We all have insecurities in relationships, including in lesbian marriages, linked to our attachment styles.
Depending on your attachment style, you might fear closeness or, on the contrary, you'll dread having too much space. Take the quiz to find out your attachment style and start the healing process.
3. Discuss your needs
Lesbian relationship issues can worsen if you don't know your or your partner's needs. We all need love, esteem, and a sense of belonging in relationships. Although, we usually prioritize these differently.
Instead, understand how much space or closeness you need when you come home from work. Perhaps you also need time alone during the weekends? Make sure you express your needs clearly.
4. Clarify boundaries and common disagreements
Do lesbian relationships last? We can find examples of relationships that last and some that fail. Why lesbian relationships fail can sometimes be down to muddled boundaries. This can lead to conflict and reactivity.
Rather than wait for disagreements, try to sit down together to discuss what you tend to argue about. In some cases, such as who does the washing up, you might be able to fix it quickly by getting help or setting up a rota.
In other cases, you'll need to problem-solve together to agree on avoiding an emotional escalation and finding a win-win solution.
5. Practice active listening
Any lesbian relationship needs intentional listening from both partners. This means being present to yourself, your emotions, and your partner. As you listen, try to imagine being them and what it might be like to see the world through their view.
Try the 6 steps described in this video when you next listen to your partner and truly attend to them and their story:
6. Learn self-regulation techniques
Self-regulation is an important part of conflict management that helps keep lesbian divorce rates down. Why lesbian relationships fail could be because of emotional hijack.
Instead, learn self-regulation techniques such as breathing exercises, connecting emotions, and processing them through journaling.
Related Reading: 

Emotional Regulation Tips for High Conflict Couples
7. Try this Blueprint Exercise
Why are lesbian relationships so hard? Perhaps some couples moved in together too quickly. Then again, perhaps they put too many expectations on themselves.
Regardless, a helpful tool for a lesbian married couple is the Blueprint for Love worksheet taken from this conflict resolution Positive Psychology article.
8. Share some memories
Lesbian divorce seems common despite many examples of successful lesbian marriages. Either way, saving your relationship sometimes depends on reconnecting. What made you fall in love in the first place?
Why lesbian relationships fail is sometimes because we get lost in the day-to-day. So, we have to remind ourselves of all the positive shared moments.
9. Use 'I' statements
Why lesbian relationships fail is sometimes when people stick to their way of doing things without flexing. A tremendous lesbian relationship is built on the understanding that there are always two sides to any story.
Using I statements is a proper technique to remember to make this clear. For example, state how you feel when you see a certain behavior.
This approach is less aggressive than telling your partner she needs to change. In that case, you imply that you're right and she's wrong, which never goes well.
10. Find 'and' strategies for conflict management
How long do lesbian relationships usually last depends on how each woman relates to each other and manages arguments.
We've all heard about 'win-win' situations, but how do you make that happen? Simply put, try to use the word 'and.' So, instead of choosing your position or her position, take the benefits from each scenario and put them together.
Of course, this takes a bit of creativity, a hint of flexibility, and a ton of emotional intelligence. If in doubt, get a couple's therapist to walk you through reconnecting with yourself and your partner.

Related Reading

:

 10 Best Conflict Resolution Techniques for Every Relationship
We can all save our relationships
Why lesbian relationships don't last is just like for any other couple. Of course, gay couples often face deeper societal issues. Nevertheless, we all struggle with trust, communication, and expectations.
Why lesbian relationships fail is how we relate to each other as humans. We need emotional intelligence to work through lesbian relationship problems, including our insecurities and issues.
Nevertheless, you deserve a happy lesbian marriage, so don't give up on the first hurdle. Conflict is how we learn and grow. Work through the strategies listed above and if all else fails, take the time to work with a therapist.
You owe yourself to invest and build a happy marriage and a fulfilled life.
Share this article on
Want to have a happier, healthier marriage?
If you feel disconnected or frustrated about the state of your marriage but want to avoid separation and/or divorce, the marriage.com course meant for married couples is an excellent resource to help you overcome the most challenging aspects of being married.
Learn More On This Topic
You May Also Like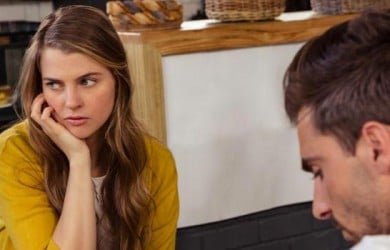 Recent Articles
Popular Topics On Married Life