A Look At Why Lesbian Relationships Fail and Simple Ways to Save Your Relationship
The literature on relationship dynamics and intimacy are dominated by observations on heterosexual relationships-relationships that constitute a male and a female.
While there is plenty of literature that provides advice for gay relationships in general, there is not so much information and advice on lesbian relationships.
So, we decided to take a look at some of the studies that discuss the common reasons why lesbian relationships fail and what you can do to make your relationships last.
What studies and observations are saying about why lesbian relationships fail
Studies have discovered that while there are various reasons as to why lesbian relationships fail, most of the reasons are almost the same as the reasons why heterosexual relationships fail.
Drs. John and Julie Gottman conducted a 12-year longitudinal study that followed 21 gay and 21 lesbian relationships using the same methods as they did to study heterosexual relationships by observing couples arguments.
The findings from their study supported the claim that even same-sex relationships struggle with the same things as in straight couples.
In Dr. Gottman's words "Gay and lesbian couples, like straight couples, deal with everyday ups-and-downs of close relationships. But, we know that some of these ups-and-downs may occur in a social context of isolation from family, workplace prejudice, and other social barriers that are unique to gay and lesbian couples."
Same-sex relationships are still better than the heterosexual ones
There are few things that seemed to set the same-sex relationship apart from the heterosexual relationships.
1. Bring humor into arguments
Same-sex couples tend to bring more humor into an argument and tended to stay more positive post-conflict compared to heterosexual relationships.
2.Power-sharing
There's also an observed power-sharing between same-sex relationships compared to heterosexual relationships
3.Take things less personal
In the face of conflicts, gay and lesbian relationships tend to take things less personal.
4.Impact of positive and negative comments
In gay and lesbian relationships, the negative comments are less likely to produce hurtful feelings while the positive comments have a more positive impact.
This is also in reverse when compared to straight couples where negative comments easily hurt the partners, and positive comments are more difficult to ease the partner.
Lesbian relationships – The reasons for their success and failure
1.Lesbians are more expressive
Couples in a lesbian relationship are more expressive compared to those in gay relationships.
This is attributed to the fact that society allows women to be more expressive than men.
2.Choice of moving in together
Another observation in lesbian relationships is the dynamic of making an immediate choice to move in together even at the early onset of the relationship. This process is termed as U-Hauling.
Sadly, despite lesbian couples moving in together, this is an observed factor of a reason why some lesbian relationship fails. This observation supports the study of Lawrence Kurnek in 1998, which looked at cohabiting gay and lesbian couples and their relationship dynamics.
All of this leads to the question – if being in a lesbian relationship is better based on Drs. Gottman's observations, why do they still fail?
There is an observed disconnect between the quality of a relationship that Drs. Gottman observed and the quick dissolutions of lesbian relationships based on the study of Lawrence Kurnek.
It might be safe to assume that the following reasons will provide us with a good background on why lesbian relationships fail.
Quick to commit, as observed in u-hauling.

Lack of sexual intimacy. Sexual satisfaction and frequency are seen to be higher in lesbian relationships. However, if both partners are not initiators, there won't be any sex that will happen.

Lack of societal support.
Despite these factors, I think it's more important to focus on working towards a relationship where both partners will flourish and move forward together.
Keeping the relationship afloat: Making lesbian relationships last
Partners can do the following steps to make their relationship last. This might be familiar if you've already been in a relationship before (heterosexual or homosexual).
Let's take a refresher –
1.Stop expecting your needs always to be fully met
This is one of the things that all kinds of relationships seem to forget. Presuming that your needs will always be fully met, will lead to a lot of disappointments.
Instead of doing this, be more accepting of your partner's good and bad aspects.
According to Dr. Gottman, having more positive interactions versus negative will ensure that both of you will always have something to come back to in times of difficulties.
2.Attune to your partner's needs always
As lesbians, motherly care is still present.
However, life happens, and at times life puts so much stress on partners. In these moments, always be attentive and practice empathy. Have a listening ear to your partner's needs.
In the heat of an argument, you can resort to soothing techniques to help yourself calm down.
3.Have some alone time
Develop and maintain your own sense of self-worth and interests.
Having some alone time will allow you to develop these interests which adds to what both of you can talk about when you come back to each other.
Share this article on
Want to have a happier, healthier marriage?
If you feel disconnected or frustrated about the state of your marriage but want to avoid separation and/or divorce, the marriage.com course meant for married couples is an excellent resource to help you overcome the most challenging aspects of being married.
More On This Topic
You May Also Like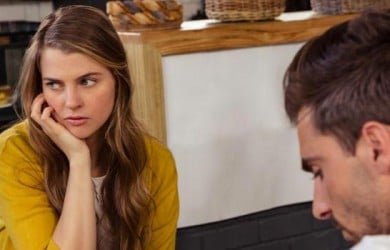 Popular Topics On Married Life