5 Key Elements of an Everlasting Relationship You Must Know
You recently met a new partner, friend, or decided to take the next steps in your existing relationship with someone because things are going well. You both feel incredibly happy together.
How exciting!
Meeting and instantly connecting with someone new is an extremely overwhelming feeling, but so much more lies ahead to keep this connection alive.
Engaging in conversation, sharing interests, insights, and goals amongst one another are the stepping stones to growing a brand new relationship with somebody, whether it results in friendship, relationship, or even marriage.
We all want to feel connected and intimate with our newfound connections. There are plenty of crucial factors to keep in mind to build and maintain a strong and everlasting relationship.
Here are essential tips for how to build an everlasting relationship.
1. Open Communication
The old saying goes, "Communication is key."
Being able to communicate your interests, needs, and goals with a proper means of communication that works for both parties is the start of something great, hopefully, an everlasting relationship.
Whether you begin talking in person and exchange numbers, social media handles, or dating apps, finding time to have open communication in a relationship when you both are not together gives you both the proper distance to continue everyday tasks and message when it is convenient for the two of you.
So, how to have open communication in a relationship?
It is also important that both parties are equally engaged. They ask questions and respond to one another to learn more about important beliefs, lifestyle habits, or basic information to become more familiar with one another as you continue talking and seeing one another in person more.
With COVID-19, it is also important to establish boundaries in terms of seeing each other.
For example, think about virtual apps that enable you to "see" one another while not going outside. If you and the other person are comfortable meeting in person, it also helps to discuss wearing masks, social distancing, and being cognizant of your physical and mental health.
2. Selflessness
As human beings, we are made to go out and impact, grow and learn from our experiences and mistakes.
While it is important to always put yourself first at the very end of the day, learning to be selfless when forming an everlasting relationship with someone will allow you to become more empathetic and accommodating, which is extremely healthy when meeting others.
But how to become selfless in a relationship?
Some ways of being selfless in a relationship include:
Checking in with others

Discussing boundaries of any kind

Taking action to make someone happier

Helping them with an important task

Providing advice on something they may be struggling with
In general, being selfless should not be limited to just the ones you love and care for; going out of your way to help others can be an extremely impactful way to help someone out, even when you have absolutely no idea who they are or what they have going on in their personal life.
Chivalry, such as holding a door open, opening a car door, offering to carry heavy items, or even giving somebody directions can easily make their lives a little less stressful.
3. Support
Support starts the minute the connection does and being able to learn more about somebody's passions, needs, goals, and personal life is exciting. You essentially are opening a brand new book to read the story. Support is one of the key answers for how to make your relationship stronger.
You learn more about the setting, characters, and plot unraveling as you turn each page.
When it comes to building an everlasting relationship, supporting each other in a relationship can develop a sense of comfort, positivity, and safety, all extremely healthy and important feelings to grow in a new relationship.
The video below discusses ten effective ways to show support to your partner and lead your way to an everlasting relationship. Take a look:

4. Empathy
No matter what your background and life story entails, being in a relationship, brings a whole other person's background and life story into the picture.
Of course, two people's life stories and backgrounds are never going to be completely the same, but that is the beauty of a new connection.
Why is empathy important in a relationship?
Offering to listen and putting yourself in other people's shoes automatically provides compassion, support, and vulnerability to the table.
Vulnerability is stereotypically viewed as a negative thing. Still, when it comes to offering as much as you can to the other person in the relationship, it automatically opens the door to so many new conversations and actions that enable both parties to grow closer together and build an everlasting relationship.
If there is empathy in relationship building, even in public, social situations with the other person, being mindful of their experiences, social interactions, and comfort based on their background and life story will make them feel so much more comfortable.
5. Reciprocation
Once a relationship becomes about two people instead of the one you have with yourself, it is essential that both parties are equally engaged and doing their parts to ensure they are happy.
Keeping conversations alive, making plans, displaying love languages of your choice, checking in, and offering any necessary space during harder times need to be the effort between both people.
If you find that you are doing all of the work and putting in the effort, while the other person is not, it may be worth checking in to ensure everything is alright, they are comfortable and might be honest about what they need.
One-sided connections are stressful to go out of your way to maintain, but they also can take a huge toll on your productivity and mental health outside of the connection. When one or both of you feels drained from one-sidedness or confusion, it may be best to reevaluate what you both are looking for moving forward in terms of communication and interactions of any kind.
Getting into an everlasting relationship or taking the next steps of any kind in a new relationship can be daunting yet exciting. As long as both parties are getting their needs met individually and together, there will be plenty of growth and ways to implement self-care, independence, and mutual passions.
In the event of a hardship, ensuring that these key factors are being met between both parties will make room for healthy conversations that allow vulnerability, emotions and debates on moving forward through any hardship or milestone in life.
Relationships of any kind are not always going to be easy, but being able to think about these things surrounding your personal development, interests, and goals with another person will bring about plenty of success and strength moving forward.
Share this article on
Want to have a happier, healthier marriage?
If you feel disconnected or frustrated about the state of your marriage but want to avoid separation and/or divorce, the marriage.com course meant for married couples is an excellent resource to help you overcome the most challenging aspects of being married.
Learn More On This Topic
You May Also Like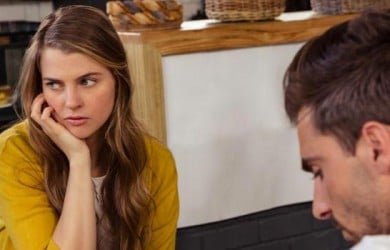 Popular Topics On Married Life