4 Essential Ways to Build Mutuality in Marriage
Have you been flipping through the pages of your wedding photo book, feeling nostalgic about your classic, romantic wedding poses and the sweet moments you had during your big day several years ago? Are you starting to wish things were as rosy as the early years of your marriage?
If your marriage is on the rocks, observe your partnership first before you consult a counselor—you may just need to work on mutuality. Think of mutuality as being on the same page as your spouse in terms of love, trust, benefit, and support. You don't have to agree on everything, but you must understand how each other perceive things.
1. Make each other feel loved and appreciated
One of the common reasons couples divorce is lack of intimacy in marriage. To remedy this, you must first understand each other's way of defining and expressing love. We predominantly use one or two of the five love languages, according to author and relationship guru Dr. Gary Chapman:
Words of affirmation

Acts of service

Receiving gifts

Quality time

Physical touch
Your love language may differ from that of your spouse, so let each other know your expectations and do your best to adjust to each other's love language. If you express love for your husband through acts of service like preparing his clothes for the day ahead, but he feels more loved with words of affirmation, try to reach a compromise. Compliment him more and ask him to do small acts of service in response to your love language, like driving you to work or helping you with chores.
Knowing the differences and similarities in your love language can help you understand each other better and be more sensitive of each other's feelings.This will lessen the tension in your marriage and make you feel more secure about your relationship.
2. Honor your word
Keeping your word to each other builds mutual trust, which is essential for a harmonious and loving relationship.
When we were kids, we were told not to make promises we can't keep. But as we grow older, we tend to forget that little nugget of wisdom and say things we don't really mean. In marriage, these unfulfilled promises can add up and cause your partner to trust you less. In the end, your marriage will suffer.
Make a pact with your spouse to "say what you mean and mean what you say." When both of you know that you're acting according to this rule, it'll be easier for you to trust each other and minimize conflicts.
3. Consider how your decisions will affect or benefit each other
Marriage is a partnership, so always consider your spouse when making a decision, especially if it concerns your home or your investments. Before every decision, ask yourselves, "Will this benefit the both of us or just myself? How will this affect my partner?"
Nothing is more heartbreaking for a spouse than knowing that his or her partner has decided to make a big move or resign from a job without any heads-up. So don't act independently during times like this; always think of how your spouse will feel. Your spouse has just as much power as you do in making decisions in your marriage, so don't leave him or her in the dark.
4. Always be there for your partner
Just like love, people perceive "support" differently, so talk your definition of support over with one another. Also discuss the kind of support you expect from each other. There might also be matters that you or your spouse might have been dealing with privately that needs each other's support. Don't forget to raise these matters during your talk.
Gone are the days when women were required to submit to their husbands. Men and women have equal footing in marriage. You and your partner are a team—work together and make your relationship work. Sometimes though, we get too caught up in our fast-paced lives that we forget to observe that mutuality in our marriage. I hope these tips can help restore that balance in your relationship and give back the joy of being husband and wife.
"In a successful marriage, there is no such thing as 'one's way'. There is only the way of both, only the bumpy, dusty, difficult, but always mutual path." – Phyllis McGinley
Share this article on
Want to have a happier, healthier marriage?
If you feel disconnected or frustrated about the state of your marriage but want to avoid separation and/or divorce, the marriage.com course meant for married couples is an excellent resource to help you overcome the most challenging aspects of being married.
More On This Topic
You May Also Like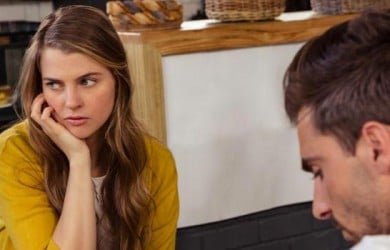 Popular Topics On Married Life