What Makes a Relationship Work? 5 Key Areas to Explore When Your Marriage Is in a Crisis
Many, if not all couples, wonder what makes a relationship work every now and then. Whether it is when they first start dating, or when they encounter their first (or fiftieth) crisis, revisiting the basics of a healthy relationship. We'll present you with five key areas to explore (ideally) with your spouse or on your own. These are the areas that have malfunctioned in most declining relationships, and that is revisited and corrected in psychotherapy. Try our tips to see if you can reset your marriage back to a much healthier and happier state.
When there's a difference in opinions
Although we'd like to believe that our world is objective and has clear rules of existence, the truth is that it's much more subjective than that. At least psychologically. We live a set of our impressions and experiences that necessarily differ from those of others. In other words, it's all about perspective. No matter how alike and close we might be with our spouses, it's a given that we will have different opinions on many issues.
But, as much as it is true that people have different views, they also have the power to communicate their stances and needs. And to respect those of others. Stubbornness in pushing forth only one's own perspective strongly affects the relationship, especially in later years of marriage.
So, instead of standing your ground no matter what, try to soften your attitude and remember that compassion and love trump the ego.
Men's needs, women's needs
When two people first meet and fall in love, they usually go through a phase of selflessness, in a sense. You surely remember how easy it was for you to put your new spouse's needs first. You held dearly to their values and gave it your best to please them. Unfortunately, as resentment and disagreements build up in a marriage, our willingness to put our partner's needs first declines gravely.
Truth be told, almost every marriage is a power struggle.
More or less covertly, after we exit the enchantment phase, we acquire a feeling that our needs should now be the primary focus of everyone's efforts.
Especially if the marriage doesn't function as well as we hoped it would. To refresh your relationship, try and get back to the honeymoon phase and re-focus on your spouse's needs.
How well do you handle emotional storms?
Marriage is one field on which the widest range of emotions will appear over the years you spend together. Both positive and negative ones, intense or mild, towards each other or outside events. And you should never suppress your emotions. However, there truly are healthy and maladaptive ways in which to express a feeling.
If you were in a habit of unleashing your anger in biblical proportions for whatever reason, it's probably that it undermined your relationship.
Your spouse ended up feeling less safe with you, regardless of how justified you might have considered your outbursts to be. To make your marriage better, learn how to understand and communicate your feelings better.
Making your spouse know you care
As time goes by, it's normal that a marriage resembles the courtship period less and less. Although we all believed that we're going to feel enchanted for the rest of our lives, that just isn't how things work.
Whether it's biology that runs our hormones, or pure harsh reality of life and daily stresses, with time we tend to forget to show our spouses how much we care for them.
If you seek ways to make your marriage work and more than that, be wonderful, you should explore ways how to get (and stay) romantic again.
We know it can be hard to think of romance when you're struggling unresolved disagreements, mortgages, careers, and raising up your children, but you should always make it your priority to let your spouse know how important they too are in your life.
Forgiveness vs. resentment
All marriages hit bumps along the way, and those that succeed are those that know how to put forgiveness and love first. Resentment creeps into most marriages and slowly chips away its foundations. Instead of indulging your ego and allowing yourself to be guided by your resentment and bitterness, try not holding a grudge. It's not easy to forgive small or big transgressions, but there's a way. And finding it is the key to a healthy relationship.
Share this article on
Want to have a happier, healthier marriage?
If you feel disconnected or frustrated about the state of your marriage but want to avoid separation and/or divorce, the marriage.com course meant for married couples is an excellent resource to help you overcome the most challenging aspects of being married.
More On This Topic
You May Also Like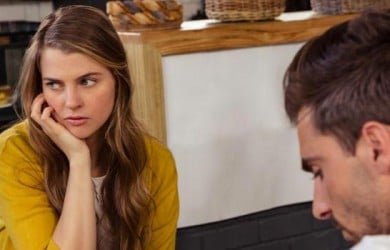 Popular Topics On Married Life