15 Important Factors About Whether to Text Him or Not
We have all been in a situation where we ask, should I text him? Whether it is someone you are dating, someone you like, or an ex, it can be challenging to know if you should text him, and you may ask, should I text him first? Before you pick up that phone and start typing, there are 15 important factors you should know about whether to text him or not. Furthermore, there are rules of texting a guy you will want to follow to ensure you are not setting yourself up for disappointment.
Should I text him?
Sending the first text is always stressful. After all, what if they didn't save your number and don't know who is texting? What if they don't want to talk or don't reply? Although you may be thinking, 'I want to text him so bad,' and you are probably driving yourself (and others) crazy asking, should I text him or wait?' There are many factors that you need to consider before you make your move.
Sending a text is not like running into someone at the grocery store. In-person interactions force conversation because you are right in front of each other. A text, however, creates the ability to avoid conversation. If you have sat staring at your phone, waiting for the text bubbles that tell you the other person is replying, you understand the anxiety that can arise when you wait for him to text back.
Luckily, we have rounded up all the rules of texting a guy and answered some common questions, such as should I text him first, and when should I text him? We also discuss the answer to the question, how long should I wait to text him back?
So, for now, close your messaging app, and do not text him. Instead, dive into this article and find out whether or not you should text him first.
15 important factors about whether to text him or not
When we are dating someone or want to, we often bombard them with attention. You probably thought of shouting, 'Hey, look at me,' but maybe you are too shy. Instead, a text (or twenty) may seem like the next best option. But is it?
Knowing when and if you should text someone can be tricky, but this list of questions can help. If you have found yourself thinking, "should I text him or wait? We may have the answer to your dilemma.
1. Why do you want to text him?
When you are bored, you may do things without thinking. This lack of self-control is generally harmless. Unfortunately, the same thing happens when your judgment is clouded by infatuation, which can have detrimental results.
If you find yourself asking, do I text him? You must stop and ask some critical questions to understand your motives.
Firstly, you should immediately ask, why do I want to text him so bad right now?
If boredom and loneliness are the only reason, refrain from sending that message because later, when you are not bored, you will be forced to face your actions.
2. Are you texting an ex?
This should probably be the first question on the rules for texting a guy. If you find yourself asking, 'should I text him,' and you are referring to an ex, the answer is no! Put the phone away and find something else to do with your time.
While texting your ex after seeing a post online or running into them at a party may seem like a good idea, it rarely is. You broke up for a reason.
Unfortunately, time can cause us to forget all the small things that ended our relationship. However, these things are probably still there.
People are set in their ways and rarely drastically change without cause. Short of a near-death experience, all those little things about your ex that drove you crazy are probably still present. Thus, when asking, do I text him? The unanimous answer, in this case, is a resounding NO.
Related Reading: 

Communicating With Ex: 5 Rules to Keep in Mind
3. What do you hope to achieve?
There is nothing wrong with wanting to connect. However, you must assess both people's intentions.
Understanding the message and motive is essential when you wonder, 'should I text him?'. Are you looking for a conversation? Aiming to hook up?
What do you think they want? Do your intentions line up with his?
Consider your intentions and decide whether they are pure and aligned with his assumptions.
4. Do you think he wants you to text?
Ask yourself, honestly, should I text him or wait? You must know whether he is expecting a text to find the answer.
Have you recently gone out on a date? If so, then go ahead and send that message. However, if not, you may be better off waiting for him to text.
While we all want to believe our love interest wants to hear from us, this is only sometimes the case. You must ensure an established relationship before you send a random text.
5. Have you spent time together?
As explained above, if you have recently been on a date, or the two of you have spent a reasonable amount of time together, waiting for him to text is probably unnecessary. An established relationship opens the doors for communication as long as the two of you are on good terms.
6. Do you want to spend time with him?
When asking yourself, 'should I text him?' and aiming to understand why you want to text him so bad, you must consider if you want to spend time with him.
One of the rules of texting a guy is to have clear intentions. You may be leading him on if you send a text without any intention of future connections. If this is not what you want, refrain from texting.
7. Have you texted him recently?
Have you texted him recently without a response? If so, sending another text is out of the question.
Spam texting comes across as needy and insecure, two traits you do not want to exhibit.
Therefore, waiting for him to text you back is probably the best choice unless you text back and forth regularly.
8. Is your text a response to him texting first?
Should I text him in response to a text you received first is an unnecessary question.
If you are responding, you do not need to ask do I text him.
While you may wonder, how long should I wait to text him back? A response is an expectation, even if you are not interested in him romantically.
9. Is this the right time to text?
In asking, do I text him? Consider the timing.
Timing refers to various factors, not only the time of day. It would help if you considered other obligations and events.
For example, a response may not be likely if he is dealing with personal issues. Furthermore, if he works, his reply may be delayed.
Many factors influence a person's ability to chat via text. If you are wondering when should I text him, it is best to wait for the right time.
10. What is the best day to send a text?
Asking yourself, should I text him requires you to evaluate many things, including the day of the week.
For example, a text on the weekend is sure to be more flirtatious than one sent during the week because fewer obligations prevent a meeting.
Being aware of the underlying message your text sends is essential.
Related Reading: 

20 Tips on How to Not Be a Dry Texter
11. Do you have a plan for your text session?
According to the rules for texting a guy, you need to have an action plan. A plan is vital because you must be willing to take action if one message leads to more.
Thus, if you are not ready to meet and only want someone to talk to, you should probably text a friend instead.
A text from a woman can lead a man on and make him think there is interest in more. If this is not the case, beware of texting unless you can be clear about your intentions.
12. Are the two of you in a relationship, and is it new?
When dating someone, you learn their text habits. You get used to long pauses, spam texts, and funny memes randomly hurled your way. However, early on, this is all new, and any delay in conversation can leave your mind reeling.
When it comes to the rules for texting a guy, it can be confusing and lead you to ask, 'should I text him?'
The answer is simple: you should do what feels right.
Furthermore, if you are genuinely unsure and find yourself asking, should I text him or wait? You can always ask for clarity.
Being honest with a partner about your needs is essential to a healthy relationship.
Sadly, many people end up at couples therapy for simple issues related to clarity.
Therefore, many couples are spending money to solve problems that could have been avoided simply by asking for clarity or direction.
Watch this video to learn more about how to keep a healthy relationship.
13. Are the two of you on good terms?
When considering the rules of texting a guy, an important question is whether you are currently fighting.
The wrong text after an argument could spark a bigger problem.
However, on the other hand, sending a sweet text when things are not great can help you reconnect.
Following your instincts when sending a text to your partner after a big blow-up is the best approach.
Keep it light, but ensure you do not avoid the issue. If you try to avoid the problem, you may appear uncaring, undevoted, or cold.
14. Are you looking for someone to listen to you vent?
We all have those moments when we need to get things off our chest and reach out to others to listen, vent, and complain.
Venting is an excellent way to relieve stress and see things from another perspective. Unfortunately, who you vent to plays a significant role in your mental well-being and the outcome you face.
When something is bothering you, and you want to share your frustrations with someone, messaging a partner may be a natural choice. However, if you are in a relationship, it may be upsetting to hear your complaints, or they may feel like you are looking for them to fix the problem.
Men and women are different. Men often feel obligated to protect, and listening to you vent may send them into hero mode.
Alternatively, venting can make you look bad, ungrateful, or annoying.
With that said, if venting is a typical aspect of your past conversations, then there is no reason to ask, 'do I text him?'
However, if you are not deeply connected, it is better to avoid sending a text just to vent.
15. Where do you see this going in the future?
If the person you are planning to text is not your partner and you are not close, you must assess future possibilities when contemplating, 'should I text him?'
While a text may seem innocent to you, how it is interpreted can vary significantly from person to person. Ensure you are texting for the right reasons and not leading on someone you do not intend to connect with.
It would be best if you remembered that although you may be looking for a friend to talk to, he could see your text as an invitation to a romantic encounter. Interpretation of texts is much more complex than face-to-face conversations.
Always be honest and upfront with anyone you are conversing with to avoid issues or misunderstandings.
FAQs
Let's look at the answers of the most asked questions about whether you should text a guy or not.
What time is best to text a guy?
While the best time to send a text will vary from person to person, aiming to send him a text early in the afternoon is usually the safest bet. Early afternoon is best because if you text too early, you risk waking the person, and if you text too late, it can seem like you are looking for a booty call.
How to know when to stop texting a guy
A common concern many people share, and a common issue many people encounter, is knowing when to stop texting. As a rule, you should stop texting when the conversation becomes unnatural. For example, long pauses and short responses can indicate that the person is no longer focused on the exchange. Thus, it is best to end it while you are ahead.
Final thought
If you find yourself asking, should I text him? This article can help you decide. Assessing the situation, evaluating the intention, foreseeing the underlying message, and being honest about your motives are all essential to a successful encounter. If you have not found any clarity after reading this post and still think, 'I want to text him so bad,' it may be time to seek help evaluating your desires.
While it is not wrong to want to connect with someone, it should not be the only thing you are focused on. Furthermore, stress surrounding the question, do I text him or wait, can indicate anxiety or may be a sign of a relationship issue that couples therapy may help resolve.
So, do not be afraid to reach out for help when you find yourself full of stress while you are waiting for him to text.
Share this article on
Want to have a happier, healthier marriage?
If you feel disconnected or frustrated about the state of your marriage but want to avoid separation and/or divorce, the marriage.com course meant for married couples is an excellent resource to help you overcome the most challenging aspects of being married.
More On This Topic
Recent Articles
You May Also Like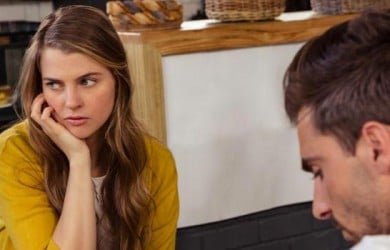 Popular Topics On Married Life