How to Be a Better Lover to Your Woman
Since the beginning of time, there's been a lot of pressure on men to be excellent lovers in bed, which sounds great, but the only problem with this is that no one teaches men how to accomplish this goal.
In 1996, I had a client who had issues in the bedroom with his wife.
It seemed like no matter what he did, it was wrong.
He felt ashamed, embarrassed and even vulnerable talking about this topic.
One day I asked him, "who is it that taught you how to become a great lover in bed? Who is it that taught you what women really need to feel loved, appreciated and sexually turned on?
He looked at me like I was crazy.
"No one ever taught me anything, I hear guys talking in the locker room about their sexual escapades, I've read some articles in Playboy magazine… But no one has ever taught me what it means to be sexual, wasn't I just supposed to know?"
And that's the problem. It's like telling someone who's never played baseball, to go out and play third base and they don't even know where to put the glove, or what to do with the balls hit to them.
If they've never had anyone train them on what a third baseman does, how could they ever become great at it?
And it's the same thing with sex. Many women have many different needs when it comes to sexuality, and what turns one woman on may turn another woman off.
And where does this lead the man? Scrambling in the dark, trying to figure out how to be macho, in control, experienced … Without the experience they absolutely need.
Below, are the four most important keys that men need to follow in order to become excellent lovers in life.
1. The mental/emotional connection
OK, I have an unfair advantage, as a counselor and life coach for almost 30 years, I've worked with thousands of women and have truly learned what most women want and need, that they never will share with their man because they just don't know how to communicate it.
Now there are some women who might be reading this article that will disagree with me. There are some women who are excellent communicators in telling their man what turns them on, what turns them off in very black-and-white terms.
But these women are called unicorns. It's a very rare breed of women who can guide a man to become an excellent lover for her without being condescending, passive-aggressive, or downright shutting down in bed if they're not being pleased in the way they want to be.
So what, are men supposed to be, mind readers?
Are men supposed to be somewhat born with an innate ability to be great lovers?
The answer to both of these is absolutely not!
So let's get started.
An emotional connection means connecting with a woman outside of touching her body.
If you can make a woman laugh, if you can be in the present moment and pay attention to what she says, remember what she says, and feed it back to her on a regular basis, you've already started the pathway to become a great lover.
For most women, the emotional connection is the start of a great sexual relationship. A woman can tell right away if a guy is bullshitting her, nodding his head, while he's listening, but two days later when she makes the same comment about the way she likes to be kissed, or touched, or how she loves or hates amusement parks, or how she loves or hates museums… If he's not paying attention, there's no emotional connection whatsoever.
Guys, think with the head on top of your shoulders and not the other one. When you do that, and literally pay close attention to what your woman is telling you, you are halfway home to become a great lover.
2. Ask for directions
As the relationship grows, make sure you're asking her direct questions on how she likes to be kissed, how she likes to be touched, what she likes during oral sex, what she likes during penetration, and how she likes to end her lovemaking sessions.
By asking direct questions, you may put yourself out on the edge of a cliff being vulnerable, but it's the only way to get to know what your woman likes.
Some women love an alpha male, take charge guy, who is outrageously sexually driven and erotic.
Other women? Hate this more than anything in the world, they hate a guy that's aggressive, pushy, and kisses with the force of a hurricane.
You've got to be willing to be humble, and vulnerable, and ask questions in order to find out what turns her on and what turns her off.
I've told many of my male clients, that after asking your girlfriend or wife these questions, in private to take notes. This may sound sophomoric, but it's incredibly intelligent to do.
If she's telling you what she loves that makes her feel wanted, needed, that she loves cuddling… Ask her what the hell cuddling means to her?
It could mean different things to different people.
If she tells you she likes a man who is assertive in bed, get really clear of what that means!
For some women that means that she wants you to tie her up… For others that means that she wants you to grab her by the hand, walk her into the bedroom, pull the sheets back and as you lean down to kiss her slowly move into bed with her.
Do you see what I mean?
Assertiveness, aggressiveness comes in two totally different packaged to different people… Don't assume a damn thing.
3. Get into the nitty-gritty
How does she like oral sex performed on her? Now you can give it a shot first, and try your best, and see if what you know works for her… Or you can just have an open conversation.
She may think you 're great with your tongue… Or she may be quite aversive to oral sex altogether.
You don't want to be going down on her, assuming that she loves it, when maybe because of a past experience she hates that more than anything.
Does this all makes sense?
The same thing with penetration. Does she need 15 or 20 minutes of foreplay, before she even wants any form of penetration whatsoever?
Does she need lubrication? Or does her body produce enough of it?
I'm going to keep saying this over and over and over again, many men, get themselves into terrible situations in their sexual relationship, because they're not willing to ask questions.
They're just going on their past experiences which may be great when you were dating Diane, but it's never going to work with Patricia.
4. Ask her about her likes and dislikes about the after sex routine
What does she love about the after sex routine? Does she love to cuddle? Does she hate it? Does she need to sleep in another bedroom even after two hours of passionate lovemaking, because she needs her downtime?
These are questions to ask, to explore together, and once again, men take notes!
Especially if it's early in a relationship, there is so much data being thrown at you if you're asking the right questions, don't assume your brain is going to remember everything.
As I tell everyone, never trust your brain, even take notes outside of her presence to make sure you're truly paying attention to what she's telling it.
Final takeaway
The above four stops are just the start, we want the emotional connection, we want the physical connection, we want the after play connection… We want it all.
But let me repeat this: you could be with three, four, 10 different women in your life and they could all want different things regarding the above information.
If you think you're a stud, because your last girlfriend loved how aggressive you are, the new girlfriend may absolutely hate it, even without you knowing it.
Get clear. Communicate. Take notes. Yes, it's almost become a clinical experiment in order to figure out what's the best way to approach your lover.
But trust me, it will be worth it.
Share this article on
Want to have a happier, healthier marriage?
If you feel disconnected or frustrated about the state of your marriage but want to avoid separation and/or divorce, the marriage.com course meant for married couples is an excellent resource to help you overcome the most challenging aspects of being married.
More On This Topic
You May Also Like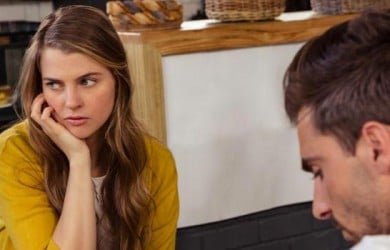 Popular Topics On Married Life