Importance of Sex in Marriage: 15 Physical & Psychological Benefits
Is sex important in married life? Is sex important in a relationship? How important is sex in a marriage? How important is sex in a relationship? How important is intimacy in a happy marriage?
These age-old quandaries are still controversial. In my attempt to answer it, I will break it down into its fundamental parts, asking this:
In what ways does sexual intimacy contribute to a happy marriage?
While each person probably has a unique answer to this, I think of intimacy as both an accessory and a necessity to marriage.
What I mean by this can be described in a simple metaphor: Would most people, who like cupcakes, prefer a cupcake with icing or without icing? Well, it's obvious, isn't it?
And, while the icing is only one part of the cupcake, it is a very important part. Some would even argue that the cupcake is not a cupcake without the icing. This is the importance of sex in marriage.
Having said that, there are all kinds of marriages, some with minimal or no sexual intimacy. This is not to say that marriage is not a marriage without sex.
But the absence of sex, especially in the years of youth can cause frustration in one or both partners and a feeling of emptiness. The importance of sex in marriage, in no way, can it be overemphasized, but a marriage can be sustained without sex.
What is sex?
Sex is an intimate physical activity where people arouse their partner or themselves by way of words or touch. For some, sex might only mean the act of sexual intercourse and for some, it might mean touching the genitals or kissing and cuddling.
Human beings are programmed to seek sex. It is a desire innate within all of us, and we tend to fulfill this desire with our partner. Sex is an important part of marriage. It carries numerous emotional and physical benefits for both the husband and the wife as well as their relationship. Sex is a necessity for a happy married life for the following reasons.
How often should you have sex?
When you and your life partner put sexual closeness higher on the stepping stool in your marriage, you will both be more joyful and more advantageous.
Most people will probably agree that sex is vital for a happy marriage. For sure, sex and intimacy help draw the couple closer and understand each other better.
Know more about it here:
How Often Do Married Couples Have Sex?
Importance of sex in marriage
Why is sex important in marriage? Sex and marriage go hand in hand. If you can buy this argument, you can most likely understand why is sex so important in a marriage. Given that, not much is said about the importance of sex in marriage.
All I know is that intimacy enhances long-term relationships. Sex does not have to happen with any specific measure of frequency or abundance necessarily; but the more it happens, the more it enhances a relationship, and the better you both feel.
By this logic, it would stand to reason that a complete lack of physical intimacy would be detracting from the relationship – just as a lack of icing detracts from a cupcake.
If you're not sure about this, I would suggest adding some sexual intimacy into your relationship (more than one go-round), creating romance, and taking stock of whether doing this enhances, detracts, or does nothing for you as a couple.
We do know that healthy sex in marriage is one of the most commonly cited traits among happy couples when asked how they make it work. These couples have managed to maintain marriage intimacy for years while understanding the role of sex in marriage, still enjoying their bond and maintaining the fondness they have for one another.
Another reason why sex is important in a marriage is that it has been shown that intimate activity causes the release of powerful endorphins that flow through reward pathways in the brain, inducing euphoria and feelings of love.
Couples who exercise good sex in marriage also gain the added benefit of aerobic workout; which is the best type of workout for weight loss – not to mention a great investment in your health.
Body and mind are both affected by this powerful release. If you want to know more about this aspect of intimacy, read a book by Olivia St. John, or pick up a copy of the Kama Sutra, or any other manual that uses the term "tantric" in its description.
15 physical and psychological benefits of sex in marriage
How important is sex in marriage?
Sex in a happy marriage is important, and just as important is open communication. Communication that offers a compromise, discusses the desired frequency of sex, likes, dislikes, and preferences, are discussions that can improve things that otherwise would stay unchanged for years.
The importance of sex in marriage is immense, and if there are problems prevalent in your sex life, proper communication can help. The importance of sex in happy marriage cannot be marginalized, through communication, the roadblocks to healthy sex life can be overcome.
The importance of sex in marriage is very comprehensive.
1. Anti-aging benefits
Sex has some anti-aging benefits associated with it, having sex releases anti-inflammatory molecules in our body, which aids the repair work in our bodies. Our bodies continuously experience damage and repair. Boosting the repair process can slow down the aging process and in turn, make us look youthful for longer.
2. Improves self-esteem
Apart from improving your mood and increasing happiness, sex is known to work as a stress relief. It also helps to improve an individual's sense of self-worth or self-image.
Related Reading: 

Self-Esteem Makes Successful Relationships
3. Increased levels of commitment
Sex, in all, is about intimacy, pleasure, and sexual expression. Sex helps build a stronger bond between the couple and develop a deeper sense of intimacy in a loving relationship.
The loving physical contact releases endorphins that help induce a feeling of well-being and the feeling of being loved. These endorphins also increase the desire to bond between spouses, resulting in cuddling and holding each other specifically right after sex.
They feel the attraction towards each other and being aware of the fact that your partner is attracted to you helps boost self-esteem. It makes them feel desirable and much more confident in their daily lives.
Moreover, being able to satisfy each other sexually, spouses tend to connect emotionally. Sexual satisfaction is closely related to the overall quality of life.
4. Elevated moods
Physical intimacy brings about a positive attitude. Both the partners feel good about themselves as well as realize that their partner is still very much interested in them. This helps reduce insecurity, especially among women, and makes the spouses want each other more.
Having an attraction for each other results in no tension among the spouses and sex is never considered a responsibility but rather an act of pleasing and attaining pleasure. Moreover, sex is known to relieve depression and reduce levels of stress.
5. Improved lifestyle
Sexual activity has numerous health benefits. According to research, people who have sex regularly lead healthier lifestyles than others as sex helps improve overall fitness.
6· Better skin and appearance
It is has been proven by countless studies that regular sex can make you look younger. Sex makes you sweat a lot that leads to flushing out the toxins from your skin, leaving behind a dewy glow.
Your heart also beats fasters during sex, improving blood circulation and leaving behind a flushed effect on the skin. Moreover, we usually use our facial muscles to express ourselves during a sexual encounter resulting in decreased wrinkles.
7. Improved immunity
Physical intimacy also leads to the release of an antibody called immunoglobulin A.
This helps protect the body against diseases. It also helps release other anti-inflammatory chemicals in the body that repair worn out and damaged tissues in the body and hence, enhance immunity.
8· Lighter periods in women
This is an added benefit of sex for women. Most women experience severe cramps during their menstrual periods. Regular sex can help reduce cramping because of the frequent contraction of the uterus.
This helps expel pain-causing toxins and tissues from the body, leading to a lighter period that ends quickly.
9· Better sleep
Oxytocin is released during orgasm achieved through sexual activity. Oxytocin carries a calming effect and the ability to promote a much peaceful sleep for both partners.
Related Reading: 

10 Health Benefits of Having Sex with Your Spouse Frequently
10· Relieved bodily pains
Oxytocin is also responsible for relieving body pains such as headaches, etc. The compound is also known for reducing cardiac issues.
11. Family extension
Many couples decide to have children post-marriage and tend to have them within a few years of getting married. With children, couples tend to come closer to each other, and their love for each other only grows.
Not only the joy of becoming parents from their union is what knits them together, but it is also seen, husbands tend to take care of wives much more during pregnancy.
12. Sex is a stress-buster
After a long day at the office, or in these times of Covid-19 lockdowns dealing with work, household chores, children, and a grumpy spouse all at the same time, most of us are not only tired but also stressed.
The benefit of having sex is that sex helps us to better cope with stress because it releases feel-good endorphins in our bodies. It also makes you relax, which is why most of us so easily fall into a deep sleep after sex.
Check out this video to learn about sex positions to relieve stress and anxiety:
13. Sex is an excellent workout
A study found that during 30 minutes of sex your body would typically burn around 3.6 calories per minute. That is equal to climbing a flight of stairs or doing some brisk walking. So, if you don't have time for the treadmill, regular sex could be a fairly good (and much more enjoyable) substitute.
14. Releasing happy hormones
Frequent sex is known to release endorphins that help to make you feel good, fight off depression, and lower irritability.
Another importance of sex in a relationship is that during sexual stimulation the hormone oxytocin is released, which aids with bonding and feelings of connectedness and security. It's not difficult to see how this alone can benefit your marriage.
15. It improves heart health
Frequent sex is known to release endorphins that help to make you feel good, fight off depression, and lower irritability. Another importance of sex in marriage is that during sexual stimulation the hormone oxytocin is released, which aids with bonding and feelings of connectedness and security. It's not difficult to see how this alone can benefit your marriage.
How to have better sex in marriage
Although sex can be pleasurable with anyone, the emotional need can only be fulfilled with someone you love. This may only be achieved when you are in a long-term relationship such as marriage. Sex is essential in marriage to thrive and carry that 'spark' for years and years.
Check out how you can improve your sex life:
How to Have Better Sex in Marriage
A word to the wise
Finally, the question still prevails- is sex important in a marriage? Sex for a happy married life is important, if not necessary. Sex is the key to a happy marriage. If there are problems in your relationship, they may manifest in your sex life.
Some couples' marital issues start in the bedroom, even though they may have little to do with their married sex life. The importance of intimacy in marriage cannot be overemphasized. Having problems in sex life further increases problems in relationships. It is like a vicious cycle.
Bear in mind that if there are sudden changes in intimacy, it may be a sign that it's time to schedule a therapist. You and your partner may have un-processed, undivulged issues to deal with. Resolving whatever it may be is of utmost importance for a happy married life.
Don't be shy in asking for help, preferably some professional help. Be it marriage counseling or intimacy counseling, you are bound to learn new things about your relationship which in time would help you build a stronger marriage.
Share this article on
Want to have a happier, healthier marriage?
If you feel disconnected or frustrated about the state of your marriage but want to avoid separation and/or divorce, the marriage.com course meant for married couples is an excellent resource to help you overcome the most challenging aspects of being married.
Learn More On This Topic
You May Also Like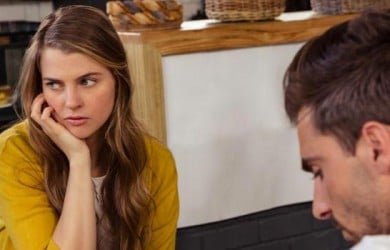 Recent Articles
Popular Topics On Married Life