What Makes a Woman Insecure in a Relationship?
Believe it or not, even the most beautiful, self-confident women experience relationship insecurities from time to time.
All women have their days or moments when something their partner says or does triggers a memory or an experience that brings on feelings of insecurity.
What makes a woman insecure in a relationship? What causes insecurity in a woman?
The reasons are diverse so let's dive right in and look at what makes a woman insecure in a relationship.
Why are women so insecure?
You don't have to look further than the media to know what contributes to a feeling of insecurity in a woman. From an early age, women are bombarded with images of the most perfectly photoshopped of females.
Whether in print, television, movies, on the 'gram, YouTubers, …what women see when they look for representations of how they "are supposed to look" are images that are absolutely unobtainable in the real world.
Being surrounded by these perfect pictures can make anyone feel like they are not good enough.
So using that knowledge as a baseline, let us look at how this feeling of "not being enough" can impact a relationship.
What makes a woman insecure in a relationship? How can you identify if the woman you are interested in may be insecure?
Related Reading: 

Signs Indicating Insecurity in Relationships
15 Signs of insecurity in a woman
Let us make it clear: all women have moments of insecurity. A bit of insecurity is manageable. But there are some women who are deeply insecure.
Here are signs that can tell you if a woman is insecure:
1. She is jealous
A little bit of jealousy is normal. It shows she is into you.
But when she needs to constantly check on where you are, who you were with, and resents any contact you have with female co-workers, this is a warning sign that the woman is too insecure.
2. She looks through your phone
If you happen to leave it out and in the open, she picks it up and goes through your email and text messages.
Not only is this completely inappropriate, but it definitely one of the signs of an insecure woman.
3. She goes through your internet search history
Again, not cool! The sites you visit should not be anyone's business but your own.
If she constantly browses through your internet search history, it is a red flag that you mustn't avoid.
Related Reading: 

Why Women Should Respect Cell Phone Privacy in the Relationship
4. She constantly seeks your validation
Not a day passes that she does not ask you if you love her, think she is beautiful, intelligent, the best girlfriend you've ever had.
Women seek validation, but if it happens consistently to the level that it starts irritating you, it isn't healthy for the relationship. And these are the obvious signs of her insecurity!
5. She wants you to see her and only her
Does she want you to see her and only her? Does she frequently foil your plans of catching up with your family or friends?
Driving wedges between you and your friends and family is one of the signs of an insecure woman.
6. She is clingy and needy
Do you feel that your partner is too clingy?
At first, this might make you feel special like she cannot live without you. But after a while, her clinginess is suffocating.
Related Reading: 

Is My Partner Clingy or Just Affectionate?
7. She gives up her friends, hobbies, and passions
Insecure women in relationships tend to abandon their own lives to conform to their partner's life.
It may be subtle at first, but eventually, you will see that she no longer hangs out with her friends, goes to her gym, or indulges in all the activities that attracted you to her in the first place.
8. She needs you to reply instantly to her texts
Woe is to you should you be in a meeting or just have your phone off. You will turn it back on to see a stream of "Why aren't you answering me?" texts.
This is typical insecure women's behavior.
9. She complains of everyone letting her down
If she shares loads of stories of how the world has disappointed her, be wary. One of the traits of an insecure woman is complaining about how many wrongs have been done to her.
All these letdowns are part of what makes a woman insecure in a relationship.
Related Reading: 

How to Stop Complaining in a Relationship
10. She over-apologizes
Let's say you and she has had a small conflict. No big deal, in your eyes, things have been resolved. But for an insecure woman, this conflict means much more, and she fears losing you.
So be prepared for endless apologies, notes, texts, even small gifts appearing. This is disproportionate to the small issue at hand but shows insecure women's behavior.
11. She expresses her love for you non-stop
At first, you may think this is a cute quirk. But hearing I love you all the time? It renders the term meaningless and shows her insecurities.
If you don't say, I love you right back to her? Watch out!
12. She holds a grudge
You may think that your issue has been resolved, but rest assured, one of the signs of an insecure woman is her ability to hang on to a grudge and pull it out in the event of a future argument.
You will be marvelled by her ability to remember things and old issues and use them to hurt you the most.
13. She will always blame others
An insecure woman cannot take responsibility for her actions and will point the finger at others before admitting fault.
If you notice her always blaming others and always finding faults with things, these indeed are the signs of an insecure woman.
14. Constantly critical
Another of the traits of an insecure woman is her constant belittling of you and others. By putting you and those around her down, she tries to boost her low self-esteem.
You will rarely hear anything positive come out of the insecure woman's mouth.
15. She demands your undivided attention
If you even glance at your phone while she is talking to you, she will become angry.
To this type of woman, being even slightly distracted is what makes a woman insecure in a relationship.
Related Reading: 

Insecure in Relationship Quiz
5 things men do that can make a woman feel insecure in their relationship
Guys, you may not even be aware you are doing these things. But read on if you are wondering what makes a woman insecure in a relationship!
1. Commenting on other women's appearance
Even if you remark on other women "in all innocence," that fact you are looking at other women while in the company of your partner can stir up signs of insecurity in a woman.
In her mind, she should be the center of attention, so special and unique that you literally cannot be distracted by any other woman in the room.
There is no point in taking your partner to a fancy restaurant if you are going to comment on the other women instead of complimenting her. This will just add to what makes a woman insecure in a relationship.
In addition to making your partner feel "less than," offering comments on another woman's physical attributes is rude. It is viewing women as objects, commodities to be rated.
So not only are you contributing to what makes a woman insecure in a relationship, you are showing a side of the male personality that is better left hidden and silent.
Even if you think that stranger walking past you two is hot, keep it to yourself. And put into practice saying uplifting, positive things about your love partner. This can counterbalance what makes a woman insecure in a relationship.
Related Reading: 

How Keeping Secrets Can Destroy a Marriage
2. Keeping secrets from her
Everyone has the right to their own secret garden.
But when that secret garden extends to hiding your phone or keeping it on silent every time you are with your partner, or never checking your texts or emails when she is around, or having gaps in your timeline where she cannot reach you.
These behaviors contribute to what makes a woman insecure in a relationship.
What these behaviors convey to her is that you have something to hide. She wonders if this is why you always turn your phone off when you are together.
If you are frequently unreachable with no or lame excuses, this will also set off insecurities, especially for a woman who has been cheated on.
3. Dismissing your partner's contributions to a conversation as "dumb" or "stupid"
Of course, if you are dating her, she is intelligent and witty. But even the most educated woman can have an off day and say something that isn't the smartest comment ever made.
Do not jump in and criticize her. Do not say, "OMG, how could you even think that?" You do not need to assert your own braininess. It will only contribute to what makes a woman insecure in a relationship.
Women grow up thinking they are not as smart as men. If your love does make a comment that seems a little, well, off base, just let it slide. Or ask her why she is thinking that? You may be surprised at her answer.
Related Reading: 

Why Is It Hard for Men to Commit in a Relationship?
4. Playing hot and cold and making excuses for committing
You may think playing hot and cold will keep the woman on her toes, but it doesn't.
There is nothing more insecurity-provoking than a man who is alternately very present, loving, and communicative, followed by no phone calls, texts, emails, or even a brief "sorry I'm super busy right now" on WhatsApp.
This indeed is crazy-making, gaslighting behavior. If you want a good healthy relationship with your partner, check in with them.
If you aren't ready to commit, be transparent with your partner about your feelings. Don't lead her on, only to pull back when she starts asking about the status of the relationship.
Honesty and authenticity is the best way to deal with an insecure woman.
5. Way too much talk about your ex
It's one thing to share with your new partner a brief overview of why you are no longer with your ex.
It's another, more insecurity-provoking thing to constantly bring up your ex. Or interact with them on social media.
While a friendship with your ex may indeed be completely innocent, this lingering relationship adds to what makes a woman insecure in a relationship.
Insecure women in relationships need tidy endings to your past relationships. Otherwise, they imagine that they could lose you to an ex or that you are still secretly sleeping with an ex while dating them.
Related Reading: 

Tips to Stop Being Insecure in a Relationship
5 ways to help her avoid being insecure in relationship
If you find yourself attracted to an insecure woman and want to combat what makes a woman insecure in a relationship, here are five ways you can help her avoid feeling insecure.
1. Publicly talk about how great she is
Nothing helps prop up a person who feels insecure than hearing their partner brag about them in front of friends and family.
Seek occasions to talk about how wonderful she is, how well she does at her job, how much you value her, whether on social media or when out with friends.
It will go a long way in helping negate what makes a woman insecure in a relationship.
2. Don't play games
Be on time for dates. Call her when you say you will call her. If you need to have your phone off, let her know beforehand.
This will all contribute to helping her feel cared for and secure with you.
3. Touch her
Be tactile, even if not leading to sexual intimacy. In fact, spend a night just cuddling.
A strong, tight hold all night long can really up the security level in your relationship.
Research suggests that in addition to providing your partner with feelings of comfort and security with physical touch, the love-bonding hormone oxytocin is also released in response to skin stimulation, such as stroking your partner's arm.
All of this can help diminish what makes a woman insecure in a relationship.
Related Reading: 

How to Compliment a Girl- 15+ Best Compliments for Girls
4. Be generous with your compliments
Remind her that you love her, you find her sexy, beautiful, attractive, exciting, intelligent, generous, all the things that attract you to her.
Also Watch:

5. Small gestures
It's the little things that can help reverse what makes a woman insecure in a relationship.
Offer her unexpected small gifts: from a little note on her bedside table telling her how happy she makes you to a box of her favorite chocolates.
These small gestures go a long way in building security in the relationship. Know that light insecurity is manageable. However, too much insecurity is a recipe for disaster.
The guidelines outlined here can help you make the distinction between "way too insecure for relationship material" and "we can fix this together and have a happy relationship."
Working as a team, both of you can counterbalance what makes a woman insecure in a relationship so that you can build a loving, harmonious bond together.
Related Reading: 

How to Deal With Physical Insecurities In A Relationship
Wrapping up
Now you know what makes a woman insecure in a relationship and what you can do to avoid it.
Of course, not every reason for a woman to feel insecure is justified.
If you find the woman in your life to be unreasonable or having irrational expectations, you must talk to her openly about her behavioral traits that are bothering you. Honest communication can help you unveil the root cause of the lingering issues.
Also, do not shy away from seeking professional help if you feel that the problems persist despite making an honest effort to sort them out.
Insecurity can indeed plague a fulfilling relationship. You must try by all means to avert all the possibilities that make a woman insecure in a relationship and pave the way for a happy and healthy connection.
Share this article on
Want to have a happier, healthier marriage?
If you feel disconnected or frustrated about the state of your marriage but want to avoid separation and/or divorce, the marriage.com course meant for married couples is an excellent resource to help you overcome the most challenging aspects of being married.
Learn More On This Topic
You May Also Like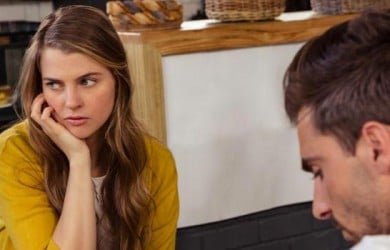 Popular Topics On Married Life