8 Tips on How to Deal With Physical Insecurities In A Relationship
Everybody has got some sort of insecurities when it comes to being in a relationship. Some have emotional insecurities, while others may suffer from physical insecurities.
Physical insecurities occur when someone is constantly under the impression that they have a lot of flaws in their appearance.
Moreover, a sense of paranoia or a lack of trust regarding your partner may continually haunt you. Also, your physical insecurity might make you feel jealous when your partner talks casually with someone of the opposite gender.
The question is how to deal with insecurities in a marriage and overcome them to continue a healthy relationship with your partner?
The following are tips and advice on how to deal with physical insecurities.
1. Find out the source of your anxiety
It is not a surprise that anxiety often leads to destructive ends. In a relationship, the main cause of your physical insecurity could be your anxiety.
Are you worrying unnecessarily about your partner's conduct? Or is there something that is making you feel insecure?
When dealing with insecurities, you need to figure out an answer. And if there is something your partner has done, then talk it out with them. Sort out the problems to have a happy relationship.
2. Stop being paranoid
This is the first step in gaining your partner's trust.
You need to show that you have a firm trust in your partner and that you know that they will not do anything that could make you upset.
Do not constantly annoy them by questioning them about their whereabouts or by going through their cell phones.
If you are insecure in a relationship, the first step for managing insecurities in a relationship is to quit forcing things on yourself.
Now and then, you become so hesitant that you start considering yourself liable for everything that turns out badly about you. Furthermore, its a chain response that pushes you into a mix of emotional and physical insecurities.
Ensure that you're self-introspection it doesn't turn into a fixation for you that further heightens your emotional and physical insecurities.
3. Recognize your qualities
Each person has their traits and qualities. Similarly, you should be confident about yourself, your appearance, and your body. Even for a moment, never have doubts that you lack something, or you do not look appealing enough for your partner.
It is important that you change your way of thinking and appreciate the qualities you possess, instead of being shy about them.
This way, your feelings of physical insecurity towards your partner will be lessened.
4. Stop comparing yourself
Comparison always results in a lack of self-confidence in a person.
A study designed to test the effects of physical appearance social comparisons and perceived attainability of an ideal body on body dissatisfaction revealed that appearance comparisons were positively associated with body dissatisfaction over and above the effects of body mass index and self‐esteem.
Another study trying to determine the association between social media use and perceptions of physical health found that due to social comparison, participants exhibited symptoms of anxiety and depression.
Believe that you are beautiful in your own way possible. Do not always seek out for your partner's reassurance.
You must believe that every aspect of who you are is the best. Cultivate an appreciation for your body.
Think about all the astounding things that your body accomplishes for you every day. You can move, use it to work out. You can lift things, stroll to work.
Record five things you can thank your body for, paying little heed to what it looks like, and allude back to it when you are feeling unreliable.
Recollect that you don't have to feel negative about your body by any stretch of the imagination — not when there are such huge numbers of unimaginable motivations to be appreciative of.
5. Build self-trust
In a relationship, you must trust yourself with everything you do. Do not take it this way that your partner may stop liking you or regret having you if you do something against their will.
No, you do not need to be that insecure. Both the partners must keep in mind that each individual has the right to choose their path of life. Even after marriage, your partner has no right to control you.
Also watch: 7 psychology tricks to build unstoppable confidence.
6. Be more independent
Having somebody to embrace, kiss, snuggle, make love to, and share your existence with is great. In any case, before you walk off into the dusk looking for adoration, you have to figure out how to cherish yourself.
Much the same as you shouldn't welcome a companion to your home when it's a muddled wreck, you shouldn't welcome a partner into your life while it is in disorder. Learn to take care of yourself before you invite someone else into your life.
On the off chance that you let go of your physical insecurities, you can expect to feel less pressured and more satisfied in your relationship.
7. Talk to a close friend
If nothing seems to work out, then, you can open your heart out in front of someone you trust deeply. It could be your friend, parents, or a relative.
Tell them how you feel a sense of insecurity while you are with your partner and how it is affecting your relationship. Let them know about the things bothering you.
Consequently, you may end up receiving a life-changing suggestion from them. Hence, do not pent everything up inside and let it all out. It may be effective.
8. Pen everything down
Yes, you read that right. And no, it does not feel weird but is considered as one of the ways to cope with physical insecurities.
At the day's end, write down everything that bothered you regarding your partner throughout the day. This may sound childish at first, but keeping a journal truly works wonders.
As you jot down your thoughts and emotions, you are emptying your mind of them. Later, when you read them, you will know exactly what you did wrong.
You will realize that your reactions were not appropriate, and what you thought was not exactly true. Therefore, this way, you will begin to develop trust towards your partner.
Share this article on
Want to have a happier, healthier marriage?
If you feel disconnected or frustrated about the state of your marriage but want to avoid separation and/or divorce, the marriage.com course meant for married couples is an excellent resource to help you overcome the most challenging aspects of being married.
Learn More On This Topic
You May Also Like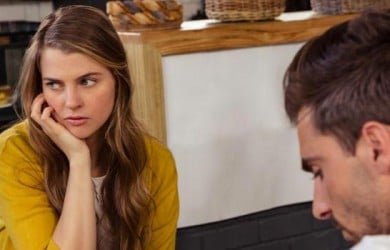 Popular Topics On Married Life