10 Ways to Stop Complaining in a Relationship
Complaining on and off is completely normal because there are definitely some things you will not like about your partner or your relationship.
However, it becomes a problem in a relationship when you find yourself complaining all the time. It can become hard to remember when the last time was when you didn't complain about the relationship or your partner.
Therefore, knowing how to stop complaining in a relationship becomes important. It is also important to understand that to stop complaining in a relationship in no way means to stop voicing your concerns or expressing your needs. No complaints mean communicating effectively.
Is complaining toxic in a relationship?
Contrary to popular opinion, complaining in a relationship may be healthy. If you complain or tell your partner what is bothering you, you might be able to avoid a lot of resentment and other negative feelings.
When we complain, we feel heard. Our partner will likely understand our point of view, and both of you can resolve it. If you do not complain, it could be because you think your partner does not care or won't do anything about it. These feelings may be unhealthy for your relationship.
Related Reading: 

How to Deal When Your Spouse Complains
How does complaining affect your life? Watch this video to know more:
10 Ways to Stop Complaining in a Relationship
Wondering, "How to stop nagging?" There are a few ways to fix the way you handle the relationship so that you find yourself complaining less and accepting and enjoying things more.
1. Be productive
How to stop complaining in a relationship? After all, you do not want to be known as one of the people who complain all the time.
First, you need to realize that it is not productive to complain so much. Instead of complaining about the problem, try to find solutions.
It might not seem insightful, but once you realize that you are needlessly complaining, you should immediately stop and consider what you can do to make the problem disappear.
2. Ask for advice
The difference between constant complaining and asking for advice is pretty simple. If you are looking for ways on how to stop complaining in a relationship, change the narrative.
When you complain, you only want to vent your feelings and let your frustration out. You are not looking for a solution. Instead, you look for someone to direct your anger towards.
When you ask for advice, you value the opinion of the person you are talking to and are sincerely looking for an answer, not always complaining.
Doing so will get you advice from people who have been in your position before, and they might have some insight into what is causing all the complaining, and therefore they might have a solution that you haven't thought of yet.
3. Listen more
Does your husband or wife complain all the time? How to tell someone to stop complaining? An essential skill in any relationship is communication, and it can be the answer to 'How to stop complaining in a relationship?'
You need to realize that communication goes both ways. To be effective at communicating, you need to be willing to listen to what the other person has to say. To do that, you should try to listen more and speak less.
You might be surprised at what comes out of listening more. You understand the other person's point of view and, therefore, can understand how the other person is feeling.
4. Meditate
Listening helps, but understanding more is even better when you wonder, 'How to stop complaining?'
Sometimes you just need time to yourself to think and make judgment calls based on what you have seen and heard.
To do that, you should try to meditate daily to calm yourself and collect your thoughts. This is especially helpful in times of stress or anger.
When you feel like you are about to blow up with anger, it is helpful to remember that nothing good comes from that, and it might be better to cool yourself down and let your other half cool down.
Related Reading: 

Improve Your Relationship with Mindfulness and Meditation
5. Forgive and apologize
When talking about how not to complain, we must understand how complaining affects others. It might be hard to be the bigger person in a relationship, but you must remember that sometimes it falls to you to ensure no one goes to bed angry or hurt.
You need to be able to forgive when the other person asks for forgiveness, and you need to be able to ask for forgiveness even when it is not your fault. This doesn't mean that you are wrong; it just means that you value the relationship more than your pride or ego. This is also an effective way how to tell someone to stop complaining.
Related Reading: 

Learning To Forgive: 6 Steps to Forgiveness In Relationships
6. Talking instead of just speaking
Does your wife or husband complain all the time? It could be because you are not communicating correctly.
The best thing you can do if you are having problems in your relationship is to air things out.
To do this, you need to get your point across and understand the other person's point of view. Talking with your partner and letting them know what is bothering you helps more than you think.
Don't let things like ego or pride get in the way of your relationship, and let the other person know that you value the relationship and want to do anything in your power to do this.
To do this, you need their help, and it will be impossible to be happy in a relationship if you both are not putting in the same amount of effort.
7. Acknowledge your complaint
What is one of the most effective ways of 'how to complain less?'
One of the first things we tend to do as human beings when we feel like we want to complain about something is to dismiss our feelings or tell ourselves that we are overthinking them. However, to stop complaining in a relationship, it is essential to acknowledge the complaint yourself and understand why you think this is a matter of concern in the first place.
Does it trigger an old unmet need in a relationship? Does it bring up issues from a previous situation? Answering these questions may help you understand what you need to communicate to your partner.
8. Take your space and time
When you feel upset about something, instead of complaining, take some space and time just to breathe and reflect. When you have calmed down, you might realize that some of the things you were feeling are not even true. When you have calmed down, you will know what you want to communicate with your partner.
Related Reading: 

15 Signs You Need Space in Your Relationship
9. Ask for what you want
Very often, we make the mistake of assuming that since this person is our partner, they can read our mind or should know what we want. However, it does not work like that in reality.
Instead of not getting what you need from your partner or your relationship, and complaining about it, try to have a conversation where you tell them exactly how you feel.
10. Have a solution-oriented approach
Even when you complain to your partner about whatever is bothering you, have a solution-oriented approach so that you do not have to complain about the same thing twice.
For instance, if your complaint is about your partner not helping you with the chores, create a plan where you both can divide them equally and take responsibility respectively.
How does complaining ruin a relationship?
Complaining can ruin a relationship in many ways. It can cause tension and anger, it can make the other person feel like they're always wrong, and it can lead to a rift between the two people.
If a man or a woman is complaining, all of these factors can ultimately lead to a breakup. So if you're feeling down about something and want to talk to your partner about it, try doing so in a constructive way instead of complaining.
Also, relationship counseling can help both of you find solutions to improve your relationship. So, quit complaining and find a solution instead. The goal is to help you and your partner have a better relationship than you have now.
Is it normal to complain about your partner?
If you wonder, "Why do I complain so much?" Know that it's normal to feel upset and frustrated from time to time. But for people who complain all the time, the relationship deteriorates. It can start to wear them down.
And even if your partner is actually at fault, they might start to feel like they can't do anything right.
Takeaway
Complaining is not unhealthy. It is how you communicate that makes all the difference. Complaining without finding a solution can be futile. So, quit complaining. However, if you feel that you or your partner have too many complaints from each other, you might want to speak to a professional and seek help.
Share this article on
Want to have a happier, healthier marriage?
If you feel disconnected or frustrated about the state of your marriage but want to avoid separation and/or divorce, the marriage.com course meant for married couples is an excellent resource to help you overcome the most challenging aspects of being married.
More On This Topic
You May Also Like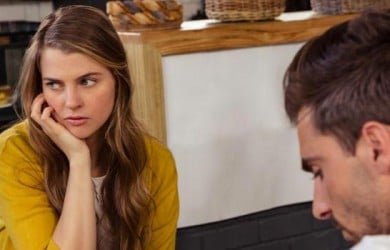 Popular Topics On Married Life