15 Signs Your Spouse Is Hiding Something From You
Your marriage was based on sharing and caring, but things have changed lately. Are you wondering whether your spouse has become a little secretive all of a sudden?
If you've started doubting them or yourself and wish you could know the signs your spouse is hiding something from you, then you are at the right place.
When people stop being honest, for some reason, they usually have some surprises planned, or they need some more privacy in their lives, or there really could be something that they wish their partners wouldn't know, as it would put the relationship in trouble.
Is hiding things in a relationship normal?

Does your spouse have the right to keep things from you?
Yes and no!
Having an honest relationship doesn't mean you have to share every single secret.
Your spouse has a right to privacy in your relationship, as do you. You can both keep conversations, thoughts, and feelings private. However, if your spouse is doing something behind your back, they need to learn that hiding things from your partner will stunt communication and growth.
If you see signs your spouse is hiding something from you, it can leave you feeling confused and upset. You may be wondering what your spouse is keeping from you.
Common secrets partners keep include:
Keeping a serious illness a secret

Secretly meeting up with friends, family, or associates

Legal troubles

Lending communal money or

lying about finances

Employment issues
If you find yourself searching "my wife" or "my husband is keeping secrets from me," keep reading to find out the signs your spouse is hiding something from you.
15 signs your spouse is hiding something from you
Here are listed fifteen obvious signs your spouse is hiding something from you.
Watch out for these common signs to identify if something is going on behind your back secretly. Depending on what your spouse is hiding, you can take appropriate action.
1. Your intuition is telling you something
Sometimes the easiest way to learn how to tell if someone is hiding something from you is to listen to your gut.
You know your partner better than almost everyone. Is something gnawing inside telling you that they are keeping secrets? Do you see the signs your spouse is hiding something from you?
If so, don't write off the feeling as pure paranoia. You were born with a natural hunch that lets you know when something feels off. Don't ignore it.
2. They have become secretive
You used to know everything about your spouse – now you don't even know when they've taken their lunch break.
One of the signs your spouse is hiding something from you is a sudden change in their schedule.
Has she changed her daily habits?

Does he stay later at work than usual?

Has she changed her likes and hobbies seemingly at random?
If so, your spidey senses may be tingling, and for a good reason.
3. Emotional intimacy is lacking
One sign she's keeping secrets in a relationship is if she seems emotionally distant.
Emotional intimacy is a bond you and your partner share. It was carefully built through communication, experiences, and shared vulnerability.
Do you still feel that strong emotional connection, or does your partner seem emotionally unavailable these days?
If it's the latter, take it as a warning sign your spouse is hiding something from you.
4. You're hearing rumors
Rumors aren't always the best source for true relationship details. Someone could easily be spreading false rumors about your spouse out of jealousy or misinformation.
That said, rumors shouldn't be entirely dismissed. They may point to some interesting signs your spouse is hiding something from you.
Match up the information you're hearing with your personal suspicions.
For example, your boyfriend came home three hours late on Friday night. You then hear a rumor that your boyfriend was out looking flirty with a new girl from his work on Friday night.
This rumor matches up with part of your reality and may be worth a listening ear.
5. They've become hard to reach
Did you use to have the kind of relationship where you were always in contact throughout the day? Maybe you made a habit of sending sweet and romantic messages to one another via text or called to say hello when you had a spare moment.
One sign that your husband keeps secrets is if he is suddenly unreachable.
If you can never seem to get a hold of your spouse and he hasn't given you any convincing reasons why it may be a sign that he has something to hide.
6. Sexual intimacy is lacking
Research published by the Journal of Sex and Marital Therapy found that emotional and sexual intimacy are some of the highest predictors of relationship happiness.
Without these important bonds of intimacy, you may start to feel insecure about your connection, and with good reason.
One sign he is hiding something is a sudden lack of interest in being intimate with you. This could be because he's having a sexual relationship with someone else.
7. Sexual intimacy is different
One of the signs your spouse is hiding something from you or is secretly seeing someone else may manifest in your sex life. She may be trying new things that she seems to have learned from someone else.
8. They're making a lot of plans without you
You and your partner used to do everything together, but now they seem to be regularly making plans without you. Is this something to worry about?
It could be.
Your partner has every right to alone time or time with friends, but if this seems like out of character behavior, it may be something worth bringing up to your spouse.
Ignoring the signs your spouse is hiding something from you could cost you a big deal later. So, don't be paranoid, but don't choose to stay ignorant too.
9. Money is unaccounted for
One of the huge warning signs your spouse is hiding something from you is if he can't account for the sudden loss of money in your accounts.
This could be a sign that he (or she) has trouble with money, is secretly spending without your knowledge, or is spoiling someone else with your shared finances.
10. They're picking random fights with you
People who are having affairs or keeping secrets tend to become defensive at the smallest things. They may even accuse YOU of being unfaithful.
This is done partially out of guilt, partially as a way to try and manipulate you into submission.
11. Eye-contact is lacking
They say the eyes are the window to the soul, so what does it mean if your spouse won't meet your gaze?
The Iranian Journal of Psychiatry and Behavioral Sciences reports that eye contact between partners creates a heightened sense of intimacy.
If your partner is keeping secrets in a relationship, they may manifest their guilt through a lack of eye-contact. This is one of the commonly observed signs your spouse is hiding something from you.
12. They are changing their appearance
"Why does my husband hide things from me?" you ask yourself.
"Is she going to the gym to better herself, or is she trying to impress someone new?"
If your partner wants to treat their body better and pay closer attention to their diet, these are positive changes that should be celebrated.
That being said, changing one's appearance could be one of the signs your spouse is hiding something from you.
13. They are obsessed with their phone
People love their phones, and likely you and your partner are no exception.
A 2019 smartphone study published by the Pew Research Center reveals that 34% of partners admit to checking their partner's phone without their permission.
Is there a reason to be paranoid about what your partner is doing in the privacy of their phone?
Maybe.
The survey goes on to show that 53% of survey participants said they check on their ex on social media.
One of the top signs your spouse is hiding something from you is if your spouse can't seem to leave the room without their smartphone and seem downright paranoid about you getting their hands on it.
14. Their timelines don't make sense
Your spouse tells you about their night out, but their timeline is all over the place.
Is this something to be concerned about?
It could be that your spouse is simply forgetful, but it may also be a sign that they can't keep up with their lies.
15. You aren't feeling the love
One of the easy signs he or she is hiding something from you is how you feel in your relationship.
Do you feel love, trust, and comfort when you are with your spouse, or are you racked with concern?
Your answer will make it clear whether something bad is going on behind your back.
How do you deal with a secretive spouse?
One of the signs your spouse is hiding something from you is if they are being secretive.
What should you do about it?
Collect your feelings and take some time to address your feelings privately.
How do you feel about what is potentially going on in your relationship?

Has your partner truly done something to make you lose trust in them?

Are you onto their secret, or are you overreacting to a situation out of insecurity?

Talk to your spouse
If you've seen all the signs that someone is hiding something from you, it can be tempting to snoop through their phone to gather evidence for a surprise attack, but resist this urge.
Instead, confront your partner about your suspicions as soon as you begin to ask, "Is he or she hiding something from me?"
Be calm, and don't let your emotions get the better of you. Cool heads prevail.
Open with honest and open communication. Let your partner speak without interrupting or accusing them. If you don't believe their explanation of things, calmly explain why and give them a chance to defend themselves.
If there are issues in your relationship, give yourself time to decide what you want to do next.
If your partner has been unfaithful, surround yourself with loved ones that you can confide in.
Studies show that emotional support from understanding friends and family can significantly lower psychological distress.
Conclusion
There are only two people who know what really goes on behind closed doors: you and your partner.
If there are signs your spouse is hiding something from you, take time to figure out whether your suspicions are accurate or if you are just being overly sensitive.
Keeping secrets from your spouse doesn't feel right, no matter which side of the coin you are on.
Open the lines of communication and talk to your partner about how you're feeling.
If your suspicions are correct and something underhanded is going on, confide in a close friend or family member you can lean on for support.
Also Watch:

Share this article on
Want to have a happier, healthier marriage?
If you feel disconnected or frustrated about the state of your marriage but want to avoid separation and/or divorce, the marriage.com course meant for married couples is an excellent resource to help you overcome the most challenging aspects of being married.
Learn More On This Topic
You May Also Like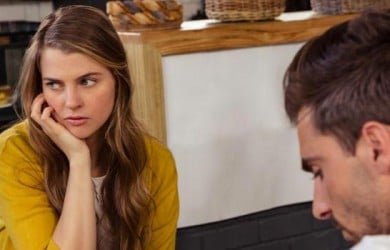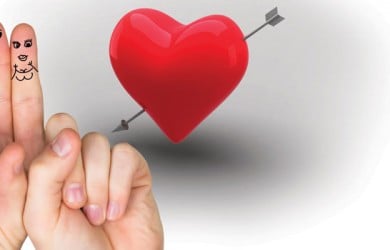 Popular Topics On Married Life