What is Faithfulness in Marriage & Ways to Strengthen it
Why is it that when you are in a relationship, temptation lingers? It's like testing the faithfulness definition of a couple. Nowadays, we are seeing more and more married couples leading to divorce because of issues, and one of the most common problems here is faithfulness.
It's not like we intend to be unfaithful to our spouses. No one plans this ahead, so it's a surprise when it happens, but can you call it an accident?
Is it really fate to meet someone else, or just poor choices and lack of fidelity to your vows? Do you know that there are many ways to define fidelity, and there are also ways to strengthen it?
What is faithfulness in marriage?
Faithfulness means being faithful or having fidelity in marriage and to your vows.
We may know the word and have even said it many times, but what does it really mean to be faithful to your spouse? Most often, we use this term to define a spouse or a partner that will not commit adultery, but did you know that there is so much more to this word?
3 definitions of faithfulness in a marriage
In marriage, faithfulness definition isn't limited to not committing adultery. In fact, we can group the real meaning of being faithful in 3 categories.
Let's see the different ways on how you can be faithful to your spouse –
1. Faithfulness definition (duties as a spouse)
A faithful spouse will wholeheartedly fulfill his or her duties and obligations to his or her spouse.
When we marry this person, one of the things that we would include in our vows is how we would be able to take care of them, to do our best so we can fulfill our duties and responsibilities as their spouse.
This doesn't just end in providing financially for our family. It includes loving, sharing life together, and, most importantly — respecting that person.
Marriage doesn't just revolve around certain responsibilities like providing food, mortgage, bills, and being there physically. It includes respecting your spouse as a person and giving importance to your partner's ideas, suggestions, and feelings are also our duties as partners.
This is one way on how you show your faithfulness to your spouse.
2. Faithfulness definition (Being trustworthy)
Our vows were said committedly, but as the months and years pass by, this is the true test of your faithfulness of words.
Being trustworthy with the littlest promises to the biggest tests of fidelity is something that everyone should be ready for.
Do you say white lies? Are you a faithful partner to your spouse that can keep all of your words and promises? Without anyone looking, can you remain faithful not just with actions but with your mind and heart?
Most often, people think that it's only with the actions of adultery that faithfulness is destroyed but lies, the so-called harmless flirtations and deceptions are already actions enough to break one's trust of fidelity.
3. Faithfulness definition (being loyal to your spouse)
This is the most popular meaning of faithfulness definition when it comes to marriage.
Aside from being loyal to your vows, you, as a married person, shall no longer try to commit to another relationship and will resist any temptation that you will encounter.
When we are married, it's our responsibility to be faithful by law and by heart. We should not entertain any actions that we know would lead to flirtation or any provocative actions and words that will put us in a situation that can lead to committing infidelity and sin.
While some may say that it's merely human nature to be tempted, there are also arguments to support that no matter what the situation is, we are always in control.
What we choose will lead to either faithfulness to your spouse or infidelity to another.
Why is faithfulness important in marriage?
The importance of faithfulness in marriage cannot be overstated, as it forms the foundation of trust, commitment, and lifelong partnership.
Faithful marriage is built on trust- something only achieved through faithfulness towards each other as partners. Betrayal breaks down this foundational aspect significantly, leading to destabilization- emotional turmoil that one would not wish upon anyone enduring it.
To show our love and respect for them as better halves', we must commit ourselves wholly to fidelity – staying true in mind and body without wavering in our efforts.
A lasting benefit derived from building your love based on unwavering genuineness towards each other is that it allows for an established sense of both emotional and physical security concerning your spouse- ultimately creating a stable environment where happiness thrives.
Such devotion breeds intimacy while also contributing to ensuring that the marital bond endures over time by sharing fulfilling experiences together as well as overcoming adversity unitedly.
How to be faithful in marriage- 10 ways
Faithfulness is a cornerstone of a healthy and successful marriage. Here are 10 ways of how to stay faithful in marriage.
1. Open and honest communication
Being faithful in marriage requires effective communication. Create a safe and open space for both partners to express their needs, desires, and concerns. Transparent communication helps build trust and minimizes misunderstandings, fostering faithfulness in marriage.
2. Nurture emotional intimacy
Develop emotional closeness with your spouse by actively listening, empathizing, and understanding their emotions. Emotional intimacy strengthens the bond between partners, making it less likely for them to seek emotional fulfillment elsewhere.
3. Prioritize quality time together
Make time for regular date nights, weekend getaways, or activities that you both enjoy. Quality time strengthens the emotional connection and reinforces your commitment to each other.
4. Cultivate trust
Trust is the foundation of faithfulness. Be reliable, keep your promises, and demonstrate your trustworthiness through your actions. Avoid behavior or situations that could erode trust in your marriage.
5. Respect boundaries
Respect and honor the boundaries set by your spouse. Boundaries serve as safeguards in a relationship and demonstrate your commitment to honoring each other's needs and wishes.
6. Be mindful of your actions
Recognize the impact of your actions on your spouse and marriage. Avoid behaviors that could compromise the trust and commitment you share. Consider the potential consequences before making decisions that may put your faithfulness in marriage at risk.
7. Stay committed during difficult times
Marriages go through ups and downs, and it's during challenging moments that the strength of your commitment is tested. Stay devoted to your spouse even during difficult times, working together to find solutions and support each other through tough periods.
8. Foster a healthy sexual relationship
Sexual intimacy plays a significant role in a marriage. Prioritize your partner's needs and desires, and ensure that both of you feel satisfied and connected in this aspect of your relationship.
9. Seek professional help when needed
If you encounter significant challenges or feel disconnected from your partner, consider seeking the assistance of a professional marriage counselor. They can provide guidance and support in navigating difficult times and strengthening your bond.
10. Be accountable and transparent
Maintain open lines of communication and be accountable for your actions. If you make a mistake or are tempted, have the courage to admit it to your spouse, seek forgiveness, and work together to rebuild trust.
5 ways to strengthen faithfulness in marriage
Being unfaithful is never an accident, it's a choice.
So, if we can choose to give in to temptations, we can equally choose not to and instead work on how we can strengthen our faithfulness to our spouse.
Here are ways on how you and your partner can strengthen your relationship with faithfulness.
1. Understand each other
If you and your spouse understand each other, then you will know your place in your marriage. Your union won't be all happy and perfect. There will be trials and misunderstandings.
If you are weak and you only think about getting even or that you don't deserve what's happening, then you are very susceptible to being unfaithful. You'll see the "what ifs" of life, and you will look elsewhere instead of focusing on how you can fix your marriage.
That is the start of being unfaithful.
2. Respect each other
If you love and respect your spouse, can you really lie to this person? Can you endure the pain you'll give your partner once you commit adultery or once you start telling lies?
No matter what justification you will have, small as it may seem, a lie is a lie, and it grows.
Respect binds your marriage even when there are trials.
3. Take responsibility for your life
If you see that your marriage isn't working out, what do you do? Do you find comfort with someone else? Play the blame game? Or maybe ignore the need to fix your marriage and just look for someone to give you what you need?
This will not work. Sooner or later, you'll see how these actions can destroy your marriage. You have to know that marriage is for two people, and both of you will need to work on it – together. If you don't have the courage to take responsibility, then don't expect your marriage to work out.
In this video, check out what Oprah has to say about taking responsibility for your own life:
4. Regularly express love and appreciation
Demonstrate your love and appreciation for your spouse through words, gestures, and acts of kindness. Regularly remind them of your love and the value they hold in your life. This strengthens the emotional bond and encourages faithfulness.
5. Prioritize quality time together
Dedicate uninterrupted time to connect with your spouse. Engage in meaningful conversations, engage in shared activities, and create lasting memories together. Quality time reinforces the emotional connection and reaffirms your commitment to each other.
Is it possible to be faithful in a marriage?
Yes, it is absolutely possible to be faithful in a marriage.
Faithfulness in a marriage is a conscious choice and commitment that requires trust, open communication, emotional intimacy, and mutual respect. With dedication, effort, and a strong foundation of love, couples can maintain faithfulness and cultivate a thriving, fulfilling, and lasting marriage.
Faithfulness is different for different people
We may have different definitions of faithfulness in marriage and may also be experiencing our own trials and tests of how faithful we are.
Yes, there will be temptations, and most of these are the "easy way out" of marital problems or can be the "go-to" solutions for some. However, it is crucial to remember that seeking marriage counseling can provide valuable guidance and support during such challenging times.
Share this article on
Want to have a happier, healthier marriage?
If you feel disconnected or frustrated about the state of your marriage but want to avoid separation and/or divorce, the marriage.com course meant for married couples is an excellent resource to help you overcome the most challenging aspects of being married.
You May Also Like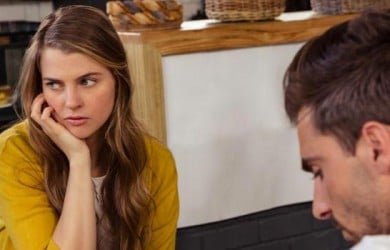 Popular Topics On Married Life