Faithfulness Definition in Marriage and How to Strengthen It
Why is it that when you are in a relationship, temptation lingers? It's like testing the faithfulness definition of a couple. Nowadays, we are seeing more and more married couples leading to divorce because of issues and one of the most common problems here is faithfulness.
It's not like we intend to be unfaithful to our spouses, no one plans this ahead so it's a surprise when it happens but can you really call it an accident? Is it really fate to meet someone else or just poor choices and lack of fidelity to your vows? Do you know that there are many ways to define fidelity and there are also ways to strengthen it?
What is faithfulness?
Faithfulness means being faithful or having fidelity in marriage and to your vows.
We may know the word, we may have even said it a lot of times, but what does it really mean to be faithful to your spouse? Most often, we use this term to define a spouse or a partner that will not commit adultery but did you know that there is so much more to this word?
3 faithful definitions of marriage
In marriage, faithfulness definition isn't limited to not committing adultery. In fact, we can group the real meaning of being faithful in 3 categories.
Let's see the different ways on how you can be faithful to your spouse –
1. Faithfulness definition (Duties as a Spouse)
A faithful spouse will wholeheartedly fulfill his or her duties and obligations to his or her spouse.
When we married this person, one of the things that we would include in our vows is how we would be able to take care of them, to do our best so we can fulfill our duties and responsibilities as their spouse.
This doesn't just end in providing financially for our family. It includes loving, sharing a life together and most importantly — respecting that person.
Marriage doesn't just revolve around certain responsibilities like providing food, mortgage, bills and being there physically. It includes respecting your spouse as a person, giving importance to your partner's ideas, suggestions and feelings are also our duties as partners.
This is one way on how you show your faithfulness to your spouse.
2. Faithfulness definition (Being Trustworthy)
Our vows were said committedly but as the months and years pass by, this is the true test of your faithfulness of words.
Being trustworthy with the littlest promises to the biggest tests of fidelity is something that everyone should be ready for.
Do you say white lies? Are you a faithful partner to your spouse that can keep all of your words and promises? Without anyone looking, can you remain faithful not just with actions but with your mind and heart?
Most often, people think that it's only with the actions of adultery that faithfulness is destroyed but lies, the so-called harmless flirtations and deceptions are already actions enough to break one's trust of fidelity.
3. Faithfulness definition (Being Loyal to your Spouse)
This is the most popular meaning of faithfulness definition when it comes to marriage.
Aside from being loyal to your vows, you, as a married person, shall no longer try to commit to another relationship and will resist any temptation that you will encounter.
When we are married, it's our responsibility to be faithful by law and by heart. We should not entertain any actions that we know would lead to flirtation or any provocative actions and words that will put us in a situation that can lead to committing infidelity and sin.
While some may say that it's merely human nature to be tempted, there are also arguments to support that no matter what the situation is, we are always in control.
What we choose will lead to either faithfulness to your spouse or infidelity to another.
Ways to strengthen faithfulness
Being unfaithful is never an accident, it's a choice.
So, if we can choose to give in to temptations, we can equally choose not to and instead work on how we can strengthen our faithfulness to our spouse.
Here are ways on how you and your partner can strengthen your relationship with faithfulness.
1. Understand each other
If you and your spouse understand each other, then you will know your place in your marriage. Your union won't be all happy and perfect. There will be trials and misunderstandings.
If you are weak and you only think about getting even or that you don't deserve what's happening, then you are very susceptible to being unfaithful. You'll see the "what ifs" of life and you will look elsewhere instead of focusing on how you can fix your marriage.
That is the start of being unfaithful.
2. Respect each other
If you love and respect your spouse, can you really lie to this person? Can you endure the pain you'll give your partner once you commit adultery or once you start telling lies?
No matter what justification you will have, small as they may seem, a lie is a lie and it grows.
Respect binds your marriage even when there are trials.
3. Take responsibility for your life
If you are seeing that your marriage isn't working out, what do you do? Do you find comfort with someone else? Play the blame game? Or maybe ignore the need to fix your marriage and just look for someone to give you what you need?
This will not work — sooner or later, you'll see how these actions can destroy your marriage. You have to know that marriage is for two people and both of you will need to work on it – together. If you don't have the courage to take responsibility, then don't expect your marriage to work out.
Faithfulness definition of marriage is different for different people
We may have different faithfulness definition of marriage and may also be experiencing our own trials and tests of how faithful we are. Yes, there will be temptations and most of these are the "easy way out" of marital problems or can be the "go-to" solutions for some.
There can be many reasons and excuses why someone can't be faithful but all of these are still choices. Remember your vows, remember your dreams and most especially — do your best to be faithful.
Share this article on
Want to have a happier, healthier marriage?
If you feel disconnected or frustrated about the state of your marriage but want to avoid separation and/or divorce, the marriage.com course meant for married couples is an excellent resource to help you overcome the most challenging aspects of being married.
More On This Topic
You May Also Like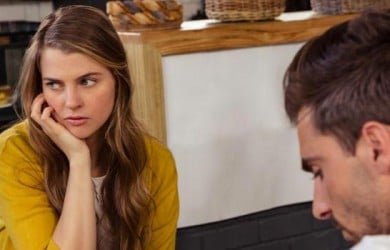 Popular Topics On Married Life