20 Signs You Are Spiritually Connected With Someone
All of us want to share our lives with our partners – our other half, the person with whom we share a deep connection. However, realizing the signs, you are spiritually connected with someone doesn't come easy.
As we face adulthood, we learn to socialize and meet people. In this process, we learn to love and be loved by another person.
Almost all relationships start beautifully, but as time goes by, the flame of intimacy and connection starts to fade away.
Soon, you find yourself seeing your partner's flaws, and you don't seem to be as happy as you were before. Over time, you end up parting ways because you just don't connect anymore.
This is very common, and almost all of us would experience this type of relationship in our lives. However, life will also give us a chance to meet someone really special.
What is a spiritual relationship?
What is a spiritual relationship, and how does it happen?
Have you ever met someone where you have felt that you've known this person for years? You instantly connect, and you feel as though you are meant to be together?
It's something that you can't explain. It's like an unknown force that connects you to this person, and you just know that you belong together.
If you have felt this wonderful feeling, then you might have found the person with whom you share a deep connection.
How do you define spiritual love or spiritual connection?
Spiritual connection is when the relationship of two people is based on respect, communication, authenticity, and growth.
Also Try:

 Is Yours A Spiritual Marriage?
20 Signs to know that you share a spiritual connection
When you share a connection that is spiritual with someone, you are at peace. You are happy, and you will find yourself on the path of wisdom and growth.
Some call it soul connection or even finding your soulmate.
We all want to know the signs you are spiritually connected with someone, right?
You feel it inside, but you also want to know the deeper meaning of the emotions that you are experiencing. Here are 20 soul connection signs that you should know by heart.
1. You respect each other
We would all agree that respect is an integral part of any relationship.
But if you share a spiritual bond with your partner, you would feel that it is more prominent in your relationship.
Soul mates have this deep understanding of respect for each other. When someone is talking, the other listens intently and without judgment.
Spiritual love connection also means that you are still able to respect your partner's beliefs and opinions.
2. You happily do things for each other
When you share spiritual compatibility, you find yourself enjoying the little things you can do for your partner.
You just don't do it because it's your responsibility or because you don't have a choice.
You do it because it makes you happy, and you want your partner to be happy as well.
Ever find yourself waking up early in the morning just to cook your partner's favorite dish, even if it would take hours to prepare?
Have you ever seen yourself smiling as you take the laundry basket to lessen your partner's chores?
3. You feel comfortable with this person
One of the most beautiful signs from God about relationships that share a deep spiritual connection is when you feel comfortable with your partner.
Believe it or not, some people don't feel 100% comfortable with their partners.
Why is this so?
Some people still overthink, have a deep feeling of fear and uncertainty.
But in a spiritual partnership, couples can be comfortable being themselves when they're together. It just comes naturally.
You can lower your guard and enjoy your moment together.
Related Reading: 

Check Spiritual Compatibility with Your Partner Before Tying the Knot
4. You share an undeniable connection
Did you know that a spiritual bond doesn't just limit itself to a spiritual connection between man and woman?
It's much more than that, and that is the beauty of it.
Picture yourself entering a stadium, and you suddenly notice someone, and then you just feel this undeniable connection.
Looks like some script from a teen movie, right? It's not.
It's a real thing, and those who have found their soulmate can attest to this amazing experience.
It's an unknown force, a feeling that you need to get to know this person because, for some reason, they're really familiar.
Trust your instincts.
5. You can be yourself with this person
When you share love and spirituality with your partner, then you can be yourself around them.
No pretensions, no fear, just pure honesty are the grounds of your relationship.
Can you imagine how liberating this feeling is? When you feel you're at home with this person, you're not scared, and all your doubts would be erased.
6. You can talk about everything and anything
Communication is the best bond that will strengthen any relationship.
Most couples might share so many things, but they lack meaningful conversations.
When you are with your soulmate, then you can talk about everything and anything under the sun.
It doesn't matter if you have been together for a few months or even a decade; you can still talk with this person and enjoy every moment of it.
Related Reading: 

10 Effective Communication Skills in Relationships for Healthy Marriages
7. You have each other's back
Your spiritual partner is also the person who will support you all the way.
All you want is to see each other succeed, and if something brings them purpose and happiness, you are with them all the way.
That is just one of the beautiful reasons why having a spiritual connection with your partner can be life-changing.
8. You share the same values and morals
Sharing your life with someone with whom you share the same morals and values can bring so much happiness and contentment.
While you may disagree on the color of your house, you still share the same morals in life.
This can also help you and your partner raise your children in harmony.
9. You understand each other even without talking
Do you ever feel that you know what your partner is feeling or thinking without them saying it to you directly?
That's not a sign that you have superpowers; rather, it's a sign that you might share a deeper bond with your partner.
You are in tune with your partner's feelings and what they think even if you are not together.
For some, it's enough to make eye contact to understand each other.
Also Try:

 Do You Feel That You Understand Each Other?
10. You feel like you've known your partner for a long time
You have been together for just a few months, but you feel like you've known your partner your whole life.
This is one of the signs you are spiritually connected with someone, and you must not take this for granted.
11. You can sense when something is wrong
The spiritual connection between lovers also means that you can feel when something is wrong.
It's when you just feel that you have to comfort your partner without knowing the reason why; only to find out that your partner is experiencing some sort of sadness.
A hug from this person can do so much.
12. You trust them
Trust is very important, and you just don't give it to everyone. However, if you share a spiritual bond, you just feel that you have to trust them.
Remember that this isn't the same trust that a naive person would give.
It's deeper than that. It's a connection that you have with someone with whom you share a spiritual bond.
Also, your spiritual partner would make sure that your trust never gets broken.
Related reading: 

Building Communication, Respect, and Trust in Your Relationship
13. You understand yourself better
Sometimes, too much love for another person can cause you to lose yourself.
It's the opposite when you get to experience spiritual love.
With this type of love and partnership, you will find someone who will accept and understand you wholeheartedly. You will also begin to accept and understand yourself better.
They can even help you move on, explore, and have the urge to be a better person.
14. You move forward with your life
It's normal for us to have things or experiences that keep us from moving forward, but when you finally meet your soulmate, you would be able to let all these things go.
You will realize that you want to grow and move on with your life.
You will start to feel that you have a deeper purpose in life, and you will start to pursue that.
15. You enjoy each other's company as well as your alone time
Did you know that one of the signs you are spiritually connected with someone is when you equally value your time alone?
That's correct. Even if you enjoy every minute you spend with each other, you also love to be on your own sometimes, and both of you are okay with it.
This space also means respect, and this time alone can give you time to breathe, a time to meditate, and a time to reflect.
Related Reading: 

Let There Be Some Space in Your Relationship
16. You aim for personal growth together
Now that you are comfortable with yourself and your partner, you seek to improve in every way possible.
This is where the process of growth comes in.
Both you and your partner start to plan for the future and support each other as you experience personal growth.
17. Your relationship together feels like freedom
No one wants to be trapped in a relationship where you feel like you can no longer breathe.
A spiritual partnership will feel like freedom.
You are finally free from judgment, pretensions, and negative emotions. It's where you and your partner can call each other home.
18. You feel unconditional love
Another amazing feeling when you are with your soulmate is that you learn how to love unconditionally.
Sometimes, love can be selfish, and this causes us to hate, be jealous, and be insecure. If our relationship is based on these negative feelings, can we truly be happy?
With your spiritual partner, you can let all those negative feelings go. You start to grow mature and learn about the beauty of loving unconditionally.
To understand more about unconditional love, watch this video.

Related Reading: 

Signs of Unconditional Love in a Relationship
19. You become one
Finally, you will just realize that you and your partner have become one.
It's when you know that you are better together and that you are best when you are with this person.
It's the feeling of completeness and happiness. It's where everything makes sense, and you can picture yourself growing old with this person.
Then, you are home. You are with your soulmate.
20. You can be honest with your partner
The spiritual partnership that you share means that you can be honest with your partner. You are honest because you care and love the other person, and that's a part of growth.
Related Reading: 

Why Honesty in a Relationship Is So Important
Ways to grow more spiritually connected with your partner
It's not impossible to develop a spiritual connection with your partner. Learning how to grow spiritually with your partner is something that we could work on.
You could start by following these simple ways on how to deepen your emotional bond with your partner.
1. Learn to commit to each other
Everything starts with the willingness to commit. Not just with each other but also for a common goal and to a higher power.
This means you will hold each other's hand and support each other in the process of learning spiritual love.
2. Be your ideal partner
We all have our criteria of what an ideal partner would be, right?
Instead of looking for those traits in your partner, try to develop these traits yourself.
If you want a confident partner, you need to become confident yourself. This doesn't only attract positivity, but it will lessen your disappointments.
3. Clear your thoughts and emotions about the past
Do you still carry excess baggage from your past? Are these dragging you down?
Learn to forgive and let go. If you do this, you will become 100% available in your present relationship, and you will embrace growth.
Related Reading: 

The Gift of Forgetting the Bad Memories
4. Embrace change and grow together
As you heal and learn to let go of the things that weigh you down, you start healing.
As you evolve into a better person, your partner will do the same. Your spiritual bond will get stronger as well. Change is not scary; it's a part of life.
5. Practice mindfulness
We've seen and heard of the amazing benefits of practicing mindfulness, and all of these studies are very promising.
When you learn how to achieve mindfulness, you become aware of the present moment. You can acknowledge and accept change, feelings, thoughts, and even sensations – you start gaining tranquility.
Over time, if you and your partner accept the benefits of mindfulness, your connection with your partner strengthens and deepens.
6. Communicate with each other
Lastly, communicate with each other. Sometimes, it can take a long time to establish that deep spiritual connection, so don't give up.
Learn to trust and learn to talk.
Have meaningful conversations and be each other's best friends. From there, everything else will start to follow.
Check out this book titled Mindful Relationship Habits by Barrie Davenport, a certified coach and self-improvement thought leader who talks about healthy communication and other essential factors that make a relationship strong.
Related Reading: 

How to Improve Communication with Your Spouse
Conclusion
Having a spiritual connection with another person is such a wonderful experience.
Being familiar with the signs you are spiritually connected with someone can help you deepen your relationship with your partner.
Also, developing a spiritual connection with another person is not easy but not impossible. You can start by building the foundation of respect and understanding. Together, you can strengthen not just your love but also your spiritual connection.
Share this article on
Want to have a happier, healthier marriage?
If you feel disconnected or frustrated about the state of your marriage but want to avoid separation and/or divorce, the marriage.com course meant for married couples is an excellent resource to help you overcome the most challenging aspects of being married.
Learn More On This Topic
You May Also Like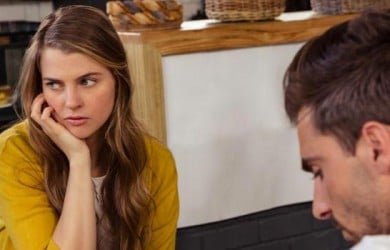 Popular Topics On Married Life