10 Ways to Make Memories & Stay Connected This Holiday Season
The holiday season is a time for family, love, food, fun, and fellowship. It's during the holidays when couples cuddle the most, cook together, plan travels and activities together, and enjoy being with each other the most.
The holiday season brings out the best in some couples.
Couples make memories together and create their sense of shared meaning. They also enjoy watching movies and listening to holiday music together.
But for some couples, this is not the case, and their holiday season is a little different. Many are even forced to be apart during the holiday season.
This can include couples who live in different states, military couples, couples whose spouse or significant other is deployed, and couples who may live in the same state but are many miles away from each other. They have a difficult time staying connected during the holidays.
It can be tough to smile, be happy, have holiday cheer, and stay positive when you and your mate are not together. The holiday season is a time for families to be together. It can often cause couples to feel down and lonely about not physically being together.
But there is hope, and times have changed.
You and your mate can still be connected and stay connected during the holiday season.
It's much easier to handle being apart nowadays than it used to be, and you don't have to allow distance to put a strain on your relationship.
Just because you may be separated during the holiday season doesn't mean you can't be connected. Here's why:
The role of technology in bridging the gap during festivities
One of the biggest changes that have occurred over the years is the use of technology.
Almost everyone has access to a cell phone, desktop, laptop, notebook, smartwatch, cameras, microphones, headsets, webcams, or has access to one or more of these devices, which makes it possible to stay connected during the holiday season.
There are so many different ways to stay connected. Don't get caught up in feeling down and out about you and your mate not physically being together.
Start now and think about ways you can stay connected
Keep this in mind — being connected with your mate is about making memories, having activities that you do together, spending quality time together, and being creative when you're apart.
Being connected is about making time for each other and deciding and agreeing on ways to stay connected during the holiday season.
It's about being creative and giving your time; it's about doing things that you both like that bring you closer, and being there for each other, especially when either one is feeling down because you're apart.
When you're not physically with your mate during the holiday season, you have to be as creative as possible – I know I've mentioned being creative many times, but it's true.
10 ways to stay connected this holiday season
Here are ten simple things to help you plan and do things so that the time spent apart during the holiday season helps you stay connected and make special memories.
1. Communicate and create schedules

Decide how you will communicate and create a schedule that blocks off days and times just for you and your mate.
2. Prepare a contingency plan during emergencies
Create a schedule for dealing with emergencies and changes that may prevent you from communicating on your scheduled day and time.
You want to make sure you have another plan in place in case changes or emergencies occur.
3. Plan out the medium to use for communication
Decide if you will communicate via a particular calling service such as Skype, communicate more via social media or use text messaging in case the network is sketchy at either end.
4. Create a care package for your partner
Create a care package for your mate and fill it with all their favorite items.
Examples – Homemade baked cookies, favorite foods, gift cards, books, ornaments, pictures, and other items that put a smile on your mate's face and warm their heart.
Schedule time together to watch your mate open the care package or ask your mate to create a video of them opening the package and send it to you.
5. Plan out a movie date
Find a movie you both like or haven't seen and watch it together via Skype, Facetime, webcam, or use other types of technology.
6. Send a personalized video
Create a funny or romantic video expressing your love, appreciation, and support, and send it to your mate.
7. How about a singing telegram?
Send your mate a singing telegram to their home or workplace.
But, yes, send it to their work only if you are sure of not causing them any embarrassment.
8. Create a YouTube video
Create a YouTube video singing your mate's favorite holiday song.
They are sure to get overwhelmed by your gesture. Moreover, they would flaunt the video if you sing really well. So, good luck with that!
9. Create a gift basket
Create a gift basket and deliver it that includes your mate's favorite things to do and favorite things to eat during the holiday season.
This loving gesture is bound to win their heart. At the same time, they might get inspired to do something similar or even more to express their love and gratitude.
10. Send them romantic messages
If you can't do much this holiday season, the least you can do is express your love and care to them.
It isn't necessary to always invest in tangible things to keep the spark in your relationship alive. Honest words from your heart can do wonders for your relationship!
So, send your mate an email, text, or picture every day that expresses your love, care, and appreciation. This way, you can enliven each day of the holiday season.
Also watch:
Distance matters less to stay connected and make memories
There are so many ways to stay connected and make memories together during the holiday season, and just because you're apart doesn't mean you can't do things to stay connected and do things that bring you closer.
You have to be creative, willing to do something different, and come up with meaningful ways to show your care, appreciation, and love.
Distance doesn't have to lead to feelings of loneliness.
If you and your mate work together, you can make this holiday season a success for you both, even though you're apart.
Takeaway
So, plan an amazing festive season, and add light to your relationship with these useful ways to strengthen your bond during the Holidays!
Share this article on
Want to have a happier, healthier marriage?
If you feel disconnected or frustrated about the state of your marriage but want to avoid separation and/or divorce, the marriage.com course meant for married couples is an excellent resource to help you overcome the most challenging aspects of being married.
More On This Topic
You May Also Like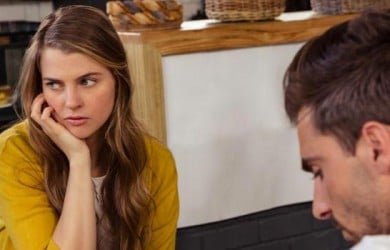 Popular Topics On Married Life