6 Virtues That Will Make You Treat Your Partner as You Want to Be Treated
It's a saying as old as time – "Treat each other as you want to be treated!"
So, if you expect certain behaviors from your partner, you need to behave accordingly. There are six different ways by which you can act or mold your approach that will draw a similar kind of behavior from your partner in return.
1. Smile
Mirror for your spouse the beauty of your smile.
Just as you smile at a little baby and want him to smile back, do the same for your spouse! I'm sure you did this early on in your relationship, so continue to do it now!
After all, facial affect is feedback from your partner as to how he is feeling. So, if your Sweetheart is constantly grimacing and frowning, look him in the eye and smile at him often. Eventually, your loving smile will be mirrored back with gratitude.
2. Trust
This is the most important and respected virtue one can practice in a relationship, and it definitely shares the foundation with love for a long, successful marriage.
Just like love, trust continues to grow between husband and wife and among families.
We count on this trust to keep us safe and secure. This trust is a sign to the outside world that our family protects and honors each other all the days of our lives. It's like a shield of respect that is meant for our eyes only.
It is an oath we have made with God and NO man shall divide it! And, the longer you're married, the trust grows deeper and stronger!
3. Affection
Be affectionate with each other often.
Usually, one or both in the relationship enjoy the love of touch. So, if you're not getting the amount of physical touch that you need, then it's time that you model this behavior for your partner.
Reach for your partner's hand on a whim, steal a passionate kiss, dance for no reason or give a surprising neck rub. Love well and love often!
4. Communicate
Communicate! Communicate about everything! Communicate about the good, the bad and the ugly! If you don't, you or your partner will harbor resentment, and it will seep out into your relationship like poison. If the issue is not fully addressed, it will come out through sarcasm, resentment, or walking on eggshells.
Talk about it, work through it, and get busy living!
5. Intentional
Be "Intentional" with your spouse! After all, he is the 'greatest commitment' that you have made for the rest of your life!
Priest (or deacon): Since it is your intention to enter into the covenant of Holy Matrimony, join your right hands, and declare your consent before God and His Church.
Groom: I, (name), take you, (name), to be my wife. I promise to be true to you in good times and in bad, in sickness and in health. I will love you and honor you all the days of my life.
Bride: I, (name), take you, (name), to be my husband. I promise to be faithful to you in good times and in bad, in sickness and in health, to love you and to honor you all the days of my life.
6. Encouraging
Always be encouraging to your partner. Lift him up. Compliment your special someone as to how handsome he is. Tell him how much you appreciate how hard he works to support your family.
Make sure you make it clear to your love how priceless he is to you!
A small piece of advice
At the end of the day, if none of the above tips work, just get back to the basics and remember why you fell in Love. You will get your answer.
Share this article on
Want to have a happier, healthier marriage?
If you feel disconnected or frustrated about the state of your marriage but want to avoid separation and/or divorce, the marriage.com course meant for married couples is an excellent resource to help you overcome the most challenging aspects of being married.
More On This Topic
You May Also Like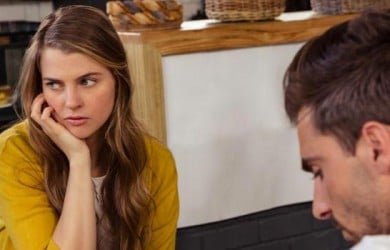 Popular Topics On Married Life