The Most Important Need of a Married Man
Guys have a level of insecurity and vulnerability that's exponentially bigger than you think. With the primal urge to be alpha comes extreme heartbreak. The harder we fight, the harder we fall. – John Krasinsk
We all step into relationships with a host of needs and wants. Trusting that our partner knows us well enough to provide companionship, excitement, intimacy and the like, we jump into committed relationships eager to have the union flourish in hope and good tidings. However, strong relationships don't happen on a whim and a prayer. Strong relationships thrive on good communication, honesty, and generosity. Further, men and women bring differing needs and wants into the relationship. To make the union work, partners must be extremely attentive to the other.
In this piece, we take a look at the most important need of a married man. Using a case study as our foundation for exploration, we explore what men desperately need in a healthy partnership, and yet are often unwilling to admit. As you peruse this piece, ponder your own relationship dynamics. Does this story and application ring true to your experience?
A case study
George was a patient at a local hospital, and while he wasn't dying, he was seriously ill. The social worker introduced himself to his patient and then asked if George wanted some company. George nodded to the unexpected visitor so the social worker pulled a chair over to George's bedside for a chat. It turns out that George had never before been hospitalized, so the whole experience was threatening to him. For some time, the social worker explored George's social history with him, learning about his parents, his siblings, his children, and his friends.
Eventually the social worker asked the pressing question of the day. "George," she inquired, "have you ever been married?" George's suddenly sullen expression spoke volumes about his relationship history. "Yes," George replied, "I am married right now." The social worker was stunned by George's admission of marriage, because no one in the hospital had indicated that George had a partner. George's wife had not yet visited her husband, and the hospital charts made no mention of a spouse.
George broke down. "It's been a horrible relationship since I got sick," George declared. "I cannot work. I cannot help around the house. I cannot support my wife in a manner she deserves to be supported." "But you're sick," the social worker reminded George, "you're the one who needs support at this very moment." For the next hour, the social worker asked George probing questions to learn more about his situation. She gleaned that George's wife was absolutely angry with her husband because he could no longer contribute in the manner she was accustomed to. George's wife was at home, living on her husband's disability income, while George continued to physically and emotionally decline in the hospital setting.
Men need emotional support too
Men, like their female counterparts, need emotional support from their partners. While men may be unwilling to admit that they carry emotional heaviness, they most certainly do carry these "loads" from time to time. Partners must be equipped to probe through the smoke screens significant others may create to discern how they may walk with them with the valleys of life approach.
Here are a couple suggestions for those who would like to provide the sort of emotional support their male partners desperately need in their lives:
Safety
Men's partners must help to create a relationship teeming with safety. Men should be afforded opportunity to express their fears and frustrations in a nonjudgmental context. Often, it is helpful to summarize what your hurting male partner is sharing with you to be sure that his struggles are clearly understood.
Space
If you want to be emotionally available for you partner, it is important to afford him space to process his "baggage." While you may want to swoop in and rescue your beloved, he may not be ready to open the tent of his heart in the given moment. Give him ample physical and emotional space to process before he speaks. Be available when he is ready to talk.
Forgiveness
In your husband's quest for emotional support, you may be asked to forgive a misstep that he continues to carry in shame. Be open to hearing your partner's depiction of regret and be willing to accept the act of contrition when it arrives.
Final thoughts
Men, like all people, desire for their relationships to flourish in mutual respect and trust. What men need the most in a relationship is the emotional support that can only come from a strong, attentive partner. Provide emotional support to your husband and articulate your needs if you feel as if you would benefit from additional emotional support as well. When support is "available" for one another, the relationship should continue to flourish and grow.
Share this article on
Want to have a happier, healthier marriage?
If you feel disconnected or frustrated about the state of your marriage but want to avoid separation and/or divorce, the marriage.com course meant for married couples is an excellent resource to help you overcome the most challenging aspects of being married.
More On This Topic
You May Also Like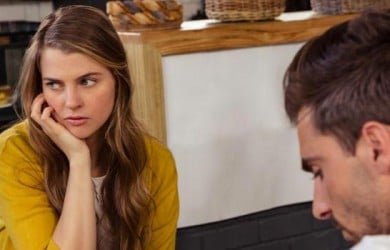 Popular Topics On Married Life