What to Do When You're Married to a Passive Husband
It's given that a man's masculinity comes naturally amongst men. A woman could also find this trait very attractive.
The way a man expresses his assertiveness, leadership, opinion, independence, and beliefs. Even in science, women will look for a masculine partner.
Sometimes, dating a passive man may mean that this guy does what pleases the girl he likes. However, it becomes totally different when you have a passive husband.
In fact, having a passive husband can lead to dissatisfaction, loss of interest, and frustration.
You want your husband to be the man of the house, to take charge, and to take the initiative, but what if he doesn't?
How do you define a passive husband?
What is the meaning of a passive person? Passivity comes from the word "passive," meaning lack of initiative to act or just allowing things to happen.
Let us not be confused between being quiet and being reserved to being passive, as they are very different. Some very masculine men are quiet, but when the situation requires them to act, they would.
We expect men to be productive, show leadership skills, be action-oriented, and be protective. Now, then you're in a passive relationship where your husband is the one passive, then you won't see any of these traits.
When one partner is active, and the other is passive, this could cause relationship problems.
In a passive relationship, the passive partner would usually just wait for the active partner to initiate and solve the problem. They would rather watch and observe, not even showing any sign that they want to contribute or help.
Of course, women would want a husband who is active and masculine. Women want someone who can take charge of any situation and someone who knows how to handle problems and look for a viable solutions.
Even if we are in the age where women are independent, able, and smart, we still need men to be men. We all want a partner in life who can help in decision making, a partner to have in building a family, and someone who will work in the relationship.
10 ways to deal with you have a passive husband
Having a passive person in a relationship could lead to problems. Resentment, lack of connection, and many other things could cause the active person to feel tired of her passive husband.
If you have been seeing signs of a passive man in your husband, then it's time to do something about it.
Don't just feel sorry for yourself or your passive husband. Instead, try these 10 ways on how to deal with your passive partner.
1. Take time to understand why your husband is being passive
Knowing that you have a passive husband and seeing the signs is not enough. Before you can do anything, you must first learn why your husband is passive in your relationship.
Has he been like this ever since, or did he become passive later in the relationship?
Remember that a marriage is a work of two people in love. This means you have to reassess yourself as well. Are you causing your husband to choose passiveness over assertiveness?
If your husband is really passive, it could have been caused by several factors, but there are also men who succumb to passiveness because their wives became overbearing or are always criticizing their every move.
Once you realize the cause of your husband's passiveness, you can move on to other tips.
Related Reading

: 

How to Understand Your Partner Better
2. Address the issue of passivity
A passive person may not realize that he's already being passive. In some cases, a man may try to avoid conflicts and criticisms or just want his wife to be happy, thus allowing her to take charge.
Some men may not even realize that they have these traits, so communication plays an important part in finding a solution to this dilemma.
Talk and explain how your partner has become a passive husband in your relationship. You can cite examples and ask questions, but also don't forget to listen to him as well.
Remember, one of the best ways to find a solution it to communicate with each other.
3. Allow your husband to realize his passiveness
Even after you have had the 'talk' and you've explained to your husband about his passiveness, don't expect to see changes soon. Let him realize his passiveness and don't demand an immediate change.
Remember that in this process, both of you could realize many things. It's not just about him and his passiveness. It's also the role you play in your marriage and the things you both need to change for the better.
4. Learn to deal with different emotions
One of the most causes, why men choose to be passive is that they don't want to be a part of the conflict. This may be because you're both challenged to handle different emotions.
Some passive men in relationships would just allow their wives to decide what she wants to avoid long discussions, criticisms, and debates. Bring this up when you're having a conversation.
Being able to talk with each other and learn how to accept suggestions, learn how to handle stress, and set healthy boundaries will help you and your partner react and deal with different emotions.
Related Reading

: 

What is the Difference Between Emotional Love and Physical Love

?
5. Allow your partner to make decisions
For most women, passive men become unattractive because they have lost their masculinity. It's frustrating to know that when you have problems, you are the one who needs to take the first step.
A man's ego and self-esteem deteriorate. Try to work things together by allowing your husband to decide.
Give him a chance. Again, some men stop trying to decide and solve problems because it only brings discussions and criticisms.
If you talk to him, explain the problem and allow him to stand and do something, then his self-esteem will come back. It may take a while, but it works.
6. Trust your partner and show it to him
Part of solving your problem with a passive husband is to trust him. Allow him to flourish and show that to him. A passive husband may have lost the will, the confidence, and the eagerness to be the man of the house.
He may not show it, but he's aware of this, and can you imagine the pain that he's feeling knowing that he lacks the masculinity that he once had?
If this is because of trauma or feeling inferior, then you can both work together. Instead of criticizing his decisions, trust him. He may not get to solve the problem, but how you treat him will help a lot.
Related Reading

: 

15 Ways on How to Build Trust in a Relationship
7. Acknowledge the effort and support him
When you are working with your spouse, know that a passive person, it takes a lot of effort to be assertive. Be sure to appreciate those efforts and support him.
More than ever, your husband needs you. Like a child who's trying to navigate his world, be the person who supports him, understands him, and the one who cheers him.
This is the time when you can show him your love, support, and loyalty. It's easy to give up when the situation gets tough, but that wasn't the promise you made.
Be there for him and support him through this journey. This would be such a great help for him to develop a sense of masculinity.
8. Have more patience with him
One common mistake when trying to help a passive husband is impatience. There will be times when your husband will be passive, especially in situations that are unfamiliar to him.
Instead of getting irritated or throwing hurtful words at him, give him more time. Be more patient with him and talk with each other. Once he learns how to open up, you'll understand him and know how to help him.
You have to understand that change will not happen overnight. It could take months or even years, depending on the methods used and the willingness to change.
Related Reading

: 

15 Ways to Have More Patience in a Relationship
9. Allow him to set his own goals
As you see your passive husband improving, you will notice that he would already try to make his own set of goals. They may not relate it to your family and can be all about him first. This is perfectly fine.
Look at this as a stepping stone for him. Soon, you'll see how he grows. When this time comes, don't be a micromanager wife. Instead, allow him to show you he can do it.
How do you start establishing goals? The Milton H. Erickson Foundation with Jeff Zeig explains how you can effectively establish goals:
10. Seek the help of a professional
What if you can't seem to do it on your own? What if your passive husband has been too comfortable being passive that he wouldn't cooperate?
There are also scenarios where you might feel like giving up on your spouse. This is where marriage counseling comes in.
A licensed therapist could help you pinpoint the cause and allow both of you to be ready for the upcoming changes.
In each session, you'll understand not just what your passive husband is dealing with but you will also understand the important part that you're playing in your marriage.
What causes men to be passive?
Most men are proud of their masculinity. In fact, it's also one of the bases of attraction with women.
There are, however, men who are passive, and we can't help but think about what caused this behavior. Why would a man choose to be passive in their relationship?
You'd be surprised to know that there are many reasons a man becomes passive.
1. Low self-esteem
A man with low self-esteem can become a passive husband, especially when they are married to an independent and strong-willed woman.
He may feel like he is not worthy enough to have a 'say' in the relationship and would think that his wife has a better chance of solving problems.
Instead of giving opinions, he would rather agree and watch how his wife takes care of situations.
2. Past trauma
A person who has been bullied may lose the will to stand up for himself and be assertive. There are men out there who wouldn't be open to their traumatic past, but you'll see it as they mature.
His lack of willingness to take part, being afraid of criticism, and being afraid that their decisions might cause a bigger problem can cause a man to be passive.
These are just some things that your passive husband might think and would just let you handle everything.
3. Codependency
Many men who are passive have been experiencing this all their lives. You may have been raised in a home where you grew up thinking that your parents were always correct and would punish you if you stood up for yourself.
It could also be the fact that they have given you everything you need, and you wouldn't need to be assertive as you were growing up. A lack of experience can cause a man to think that it's okay to be passive.
Related Reading

: 

What Is Codependency
4. They want their wives to be happy
Codependency could also cause passivity in a relationship. It's when the passive husband's time and energy will be focused on making their wife happy.
In this process, they might not realize it, but they are already ignoring their needs to where they can't even voice their thoughts.
They also don't realize that their partner doesn't feel happy with a passive husband and, in turn, might even feel resentment towards him.
Takeaway
Whatever caused the passivity of your husband, this person doesn't believe in himself anymore. He may think he's not good enough or incapable of being the man of the house.
This has got to stop, and only you and your partner can do something about it. Thinking that it's a lost cause won't help. Instead, you can use the techniques mentioned about to help your passive husband get over this phase.
Changing your mindset, talking and listening to each other, and compromising and supporting each other can make a big difference in your lives.
Soon, you can help your passive husband regain his masculinity, and you can work towards your goals together.
Share this article on
Want to have a happier, healthier marriage?
If you feel disconnected or frustrated about the state of your marriage but want to avoid separation and/or divorce, the marriage.com course meant for married couples is an excellent resource to help you overcome the most challenging aspects of being married.
More On This Topic
You May Also Like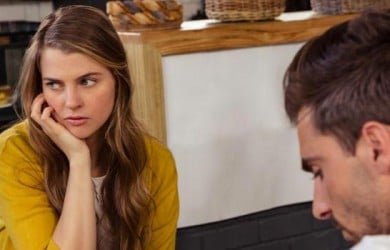 Popular Topics On Married Life