10 Causes for Resentment in Marriage & How to Deal With Them
One day, everything is cool and fine. The next day, things go sour, and resentment issues begin to spring forth. This leaves a lot to be desired.
What is resentment in marriage? What causes resentment in relationships? What are the reasons for resentment in a marriage? What are the steps to overcoming resentment in a marriage?
If you have had these questions or experienced resentment in your marriage, this article will equip you with everything you need to know.
What is resentment in marriage
Wikipedia defines resentment as a
"complex, multilayered emotion that has been described as a mixture of disappointment, disgust, anger, and fear."
Simply put, resentment is deep-seated anger or indignation directed toward a person or situation as a result of being treated unfairly or badly.
Within the context of marriage, resentment in a marriage occurs when one or both spouses begin to feel or express deep-seated anger toward themselves as a result of internalized emotional battles they may be going through.
So, what causes resentment in a marriage? Usually, resentment comes up in the marriage because one or more people have emotions they may have bottled up, and they may feel that they have no power over these negative feelings they are experiencing.
Related Reading: 

Recognize The Red Flags Of Resentment In Your Relationship
Let's learn what causes resentment in a marriage further in detail.
What causes resentment in a marriage
Considering the complicated nature of resentment in marriages, there are several reasons why resentment may spring up in a marriage. Usually, these are tiny and independent factors that have stretched out over a long time. Here are some of them.
1. One-sided feelings
One of the most common causes of a resentful spouse is one-sided feelings. When one person keeps making all the love gestures in the marriage while the other just keeps receiving (and making little or no efforts to return the love), presentment may begin to creep up in the heart of the other spouse.
2. Unfulfilled expectations
During the honeymoon stage of relationships, most spouses have high expectations of themselves. Some of these expectations can be unattainable by the other spouse at times.
The challenge with this is that when the novelty of the relationship wears away, and you begin to see that your spouse may not be able to live up to the high expectations you had for them, you may find yourself becoming that resentful spouse in the marriage.
3. Betrayal
If you have ever suffered the painful punch of betrayal in the relationship (from financial betrayal to sexual, and emotional betrayal), this could be a potent sponsor of resentment in marriage.
Betrayal usually turns to resentment if the act of betrayal and the results were left unattended or brushed under the carpet by both spouses.
4. Low performance
When one spouse consistently performs at a low level (with household responsibilities, social responsibilities, and other responsibilities), the other spouse who has to overcompensate for their lapses may find themselves slipping into resentment.
5. Feelings of being ignored
Every once in a while, you want your spouse to be there for you. Maybe, you've returned home after a long day at work, and you need someone to talk to. Or, you've changed your hairstyle (after spending hours at the hairstylist's place), and you want your spouse to appreciate the new look.
What happens when your spouse is emotionally unavailable, leaving you feeling as though they are ignoring you?
Over time, feeling ignored by your spouse or partner can cause resentment in a marriage.
When one person constantly feels as though they need to put in a lot of work or swim across a sea full of piranhas to get their spouse to notice them, they may slip into their shell and begin to feel resentful instead.
6. Lack of adjustment
For any relationship to thrive, both partners must be willing to make adjustments and compromise on some things. If one person has to bend over backward to please the other (who does nothing to return the gesture), resentment can begin to build in the relationship.
Related Reading: 

20 Effective Ways To Put Effort In A Relationship
7. Unsatisfied sexual desires
One of the important aspects of a marriage is the sex life of both spouses. Married people are supposed to find sexual fulfillment in their marriage and their spouses.
If, in your marriage, you start feeling as though your spouse no longer satisfies you sexually or leaves you hanging and sexually frustrated once they are satisfied, resentment toward your spouse may begin to creep in.
What are the signs of resentment
Not sure how resentment in marriage presents itself? Here are a few signs to look out for.
1. You always find faults with each other
One of the primary signs of resentment toward your spouse is that you always find faults in each other. At some point, it may begin to feel as though they aren't good enough, and you'd always require something more from them. As a result, all their efforts will prove to be inefficient.
Related Reading: 

15 Ways On How To Stop Finding Fault In Relationship
2. You begin to withhold intimacy with them
One of the major ingredients of a healthy relationship is intimacy. Intimacy is a result of trust and caring. These, however, will be jeopardized if resentment begins to spring up in the marriage.
When you resent your spouse, you would find yourself beginning to pull away from them.
This includes trying to shorten the time you spend with them, coming to bed later than usual (even when you have no apparent reason for doing so), and skipping anything that requires you to spend time with them.
Whenever you find yourself pulling back from your spouse, it may be that you are dealing with resentment in marriage.
3. You are emotionally detached from the relationship
Take stock of the things that used to excite you before now. Do they still excite you when you do them with your spouse? If the answer is negative, it may be that you need to start figuring out how to fix resentment in a marriage.
The dangerous thing about this is that it rarely happens immediately. It usually happens over time and can be difficult to spot as a result.
4. At some point, you begin to feel hopeless in the relationship
This could be the result of the fact that you feel as though talking to your partner about the deep-seated emotions you are feeling will yield little or no results.
If left unattended, this feeling of hopelessness will begin to drive you away from your spouse, and as a result, the relationship/marriage may begin to decline.
Wanting out
This is probably the apex of resentment in marriage. When things get to a point where either yourself or your spouse would rather end things than try to keep the marriage/relationship alive and work things out, it could be because resentment has taken its toll on the relationship.
6. You quarrel over the same issue multiple times
This is usually because either of you isn't listening or because your feelings are beginning to get into the way of rational and effective communication.
If you find yourselves quarreling over the same issue multiple times, you may want to take stock of the marriage and determine if either of you has become a resentful spouse.
7. Unhealthy comparison
"Can't you just be more like…?"
This statement can sometimes be another expression of resentment in a marriage. When you start comparing your partner or relationship to another person, scenario, or circumstance, it is usually because there is something about that person that you want them to adopt.
Resentment may creep in if, after a while, you discover that your partner or relationship cannot fit that mold you have created in your mind.
Unhealthy comparisons will ultimately leave you resentful and bitter, especially in your marriage.
8. You have increased difficulties with letting go
"To err is human, but to forgive is divine," right?
This statement holds until resentment in marriage begins to set in. When you begin to resent your spouse, letting go of their past hurts, and mistakes become a huge problem. You hold onto their mistakes and wave them in their faces with every opportunity that presents itself.
The result of this is that your spouse may begin to put up a front as well. If this doesn't get any special attention from you, you may end up with a marriage that has been tossed to the winds.
Related Reading:

 How To Let Go Of Regret And Start Forgiving Yourself - 10 Ways
Can resentment destroy a marriage
It is not enough to know what resentment is and how it presents itself in marriage. Knowing if resentment can destroy a marriage and proven strategies for healing resentment are vital as well.
So, can resentment destroy a marriage?
The simple answer is "yes." If unattended, resentment can kill the feelings of love you have for your partner, and it is only a matter of time until the reins that we're holding your marriage in place begin to unravel.
If allowed to run its full course, resentment and bitterness can turn the sweetest people into insufferable humans who find it impossible to interact with and build meaningful relationships with others.
The good thing is that you do not need to permit resentment to ruin your marriage. There are proven strategies that can help you to nip this plague in the bud and do so quickly.
Tips to prevent resentment from destroying your marriage
Resentment can destroy marriages, yes.
However, this doesn't have to be the case for you. If you or your spouse have been bitter/resentful toward yourselves, here are some proven tips to prevent resentment from destroying your marriage.
How to cope with resentment in marriage
After figuring out what causes resentment in marriage and determining whether yours is plagued by resentment, you need to take active steps to cope with resentment in your marriage.
Here are a few ways to cope with resentment issues in your marriage.
1. Acknowledge your feelings
The first step toward coping with resentment in marriage and even dealing with it is to acknowledge the presence of those emotions in your heart. It is impossible to rectify anything you haven't yet admitted to yourself is present.
2. If possible, pinpoint why you feel that way
Early on, we discussed how resentment is an interplay of multiple emotions accumulated over time. One of the strategies for overcoming resentment in marriage is to identify (in clear terms) the reason why you feel the way you do.
Is there something your spouse did that hurt you? Is it how they treat you? It is vital to identify these in clear terms.
3
.
Communicate
Communication is a powerful tool for dealing with resentment in marriage. When you have identified the reason for the resentment, take out some time to sit down and have a heart-to-heart with your spouse.
Let them in on everything that is going on with you and as much as possible, don't keep anything back from them.
4. Remind yourself why you shouldn't hold a grudge
Sometimes, it may feel as though you're indulging yourself when you do this, but you need to remind yourself of the reasons why you mustn't hold grudges in your marriage. Also, think about the health implications of grudge-keeping as you make this list.
5. Have empathy
When you start communicating with your spouse, be open to listening to them and understand their perspectives on relevant issues. When you bring up a scenario, allow them to talk and try to see things from their perspective. With empathy, it is easier to kick resentment away from your marriage.
Related Reading: 

How To Build Empathy In Relationships
6. Seek professional help
Sometimes, it is impossible to completely let go of resentment on your own. At this point, you would need the help of experts. Here's how to figure this out.
When to get professional help for resentment in marriage
If you have tried all the steps outlined in the last section of this article and you still find it difficult to let go of your spouse (even after they have understood their flaws and apologized to you), you may need to enlist the help of professional marriage counselors to help you.
Seeking the help of a counselor or therapist doesn't mean you are broken or mentally unstable. Just think of it as the price you may have to pay for the health of your marriage.
Notwithstanding where you are in America, you can easily access a qualified marriage counselor by finding a therapist.
Suggested video: Why it's okay to compromise in love.

Conclusion
What causes resentment in a marriage?
If you have been asking this question before now, you can now see that there are many causes of resentment in marriages. If left unattended, resentment can grow into something much bigger and completely ruin the marriage.
To prevent this, follow up on the steps we have covered in this article. If you need to, do not b ashamed to seek professional help on this journey.
Share this article on
Want to have a happier, healthier marriage?
If you feel disconnected or frustrated about the state of your marriage but want to avoid separation and/or divorce, the marriage.com course meant for married couples is an excellent resource to help you overcome the most challenging aspects of being married.
More On This Topic
You May Also Like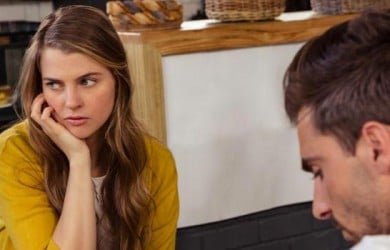 Popular Topics On Married Life