10 Pros and Cons of Husband and Wife Working Together
Modern-day couples always complain about how they do not have enough time left to spend with each other. Sometimes different work shifts; if not, there's always post-work exhaustion. The only time they're left with is the weekend, which always seems to fly by instantly.
These problems lead to the classical (and somewhat cliched) issue of maintaining the right work-life balance. And most couples, much as they try, never seem to hit that sweet spot between work and life. The one solution to this modern-day crisis in romance is working with your spouse.
Whether it is opening a business together or finding a job in the same company, husband and wife working together, or spouses/ partners working together have more time to spend with each other.
Of course, the workplace roles are different than inside the home, but you still have that added advantage of spending time with your better half in some way or another. However, just like everything else, this too has its pros and cons.
Can married couples work together? Watch this video to know more.
Tips for married couples working together
What are some ways you can work with your spouse and maintain a healthy professional and personal relationship with them?
Read these tips for working together in a relationship. If you happen to share the same occupation with your partner, you can go into the relationship with your eyes open.
How to work with your spouse? Here are a few tips and valuable pieces of advice to help married couples or couples in a relationship. Know what it is like working with your spouse in the same company and maintaining a healthy work-life balance.
Champion each other

through professional highs and lows

Value and

prioritize your relationship

Know that you have to

leave work-related conflicts at the workplace

Strike a

balance between spending too little or too much time together
Take up an activity together

, outside of work and household chores

Maintain romance, intimacy, and friendship

to fortify your relationship and overcome professional hiccups together

Set and maintain

boundaries within your defined professional roles
Work towards a

healthy work-life balance.

Make sure you and your partner have a life that is just beyond work, especially since you may take work home as you work with your spouse
Keep your

personal life out of the workspace.

Do not let your dynamics affect your professional decisions in any way
Create separate workspaces.

If both of you work from home, make sure you have separate workspaces to keep some division.
Most importantly, you must determine if the arrangement works for both of you.
10 pros and cons of husband and wife working together
Here are 10 pros and cons of husband and wife working together, or spouses working together.
The pros of husband and wife working together, or spouses working together
Is it good for a couple to work together? Here are some pros that advocate so.
1. You understand each other
When you share the same field as your partner, you can unload all your complaints and queries.
Moreover, you can be sure that your partner will have your back.
In many cases, when partners don't know much about each other's professions, they can become agitated about the time spent at work. They don't know about the job's demands and can, therefore, make unrealistic demands of the other partner. However, in the same profession and especially the same workplace, couples are likely to have better understanding.
Related Reading: 

How to Understand Your Partner Better: 15 Ways
2. You have each other's back
Sharing the same profession comes with a host of perks, especially when it comes to doubling up your efforts to meet a deadline or finish a project. One of the best perks is being able to shift the load when one is sick.
Without too much effort, your partner can jump in and know exactly what is expected. In future, you also know that you will be able to repay the favor.
Related Reading: 

 20 Steps to Becoming a Supportive Partner
3. We have more time together
Couples who don't share the same occupation often complain about the time that they spend apart due to work.
When you share an occupation and work for the same company, you have the best of both worlds. A job which you love and someone who you can share it with.
It definitely makes those long nights at the office worthwhile if your partner can join you.
It takes the sting out of overtime and gives it a social, and sometimes, romantic feel.
Related Reading: 

11 Ways to Spend Some Quality Time With Your Partner
4. Better communication
The best part about working in the same office as your spouse is the commute to work. What otherwise would be a long, mundane ride now becomes a ride full of conversations. You will be able to discuss everything that you need as a couple.
From sharing countless ideas about outer space and politics to discussing the new maid or renovation work that has to be done in the bedroom, communicating while commuting is just the best thing that could happen to you.
After the work hours, you can discuss how the day went and the challenges that you faced. You can vent all the frustration that might be accumulating in you due to the work pressure. Just the assurance that you have someone who'll listen to you and share your problems is a great consolation in the face of adversities.
After you let out your frustration in the car, you can go home in a more relaxed state of mind to play with your kids/dogs/cats/or each other.
Related Reading: 

 The Importance of Communication in Relationships
5. Your spouse can relate to all your problems
This is kind of an extension of the first point. Earlier, if you two had a good rapport and smooth conversation, you would still only relate to each other's personal problems. After you start working together, your lives truly merge.
Now you can understand each other's problems in a better light. You will know the kind of professional problems your spouse is facing, and they'll know about you. Similarly, you can give them more informed professional and personal advice, which you couldn't have if you weren't working together.
The cons of husband and wife working together, or spouses working together
Why husband and wife should not work together? Here are some disadvantages of husband and wife working together.
6. All you do is talk about work
Although there are upsides to sharing the same field of work, there are also some significant drawbacks.
When you share a particular field of work, your conversations tend to become centered around it.
After a while, the only thing you can talk about is your job and it becomes less meaningful. Even if you try to refrain from it, work always creeps into the conversation.
It becomes difficult to keep at work and focus on other things if you aren't deliberate about it.
Related Reading: 

 Balance in Relationships, Life, and Everything In-between
7. Financial troubled water
Sharing the same field of work can be financially beneficial when the market is right.
However, when things start going south, you could find yourself in a financial predicament if your industry is badly affected.
There will be nothing else to fall back on. One or both of you could lose your job or get a pay cut, and there will be no way out other than trying different avenues of occupation.
Related Reading: 

 Facilitate Your Understanding of Types and Ways to Handle Financial Issues in Marriage

8. It becomes a competition
If you and your partner are both goal-driven individuals, working in the same field can turn into some serious, unhealthy competition.
You start to compete against each other, and it is inevitable that one of you will climb the ladder faster than the other.
When you work for the same company, you could even become envious of each other. Just think about that promotion that both of you were gunning for. If one of you gets it, it could lead to resentment and bad vibes.
9. No personal space
Obvious, isn't it? Well, it is one of the first cons that come with the territory. You just won't have any personal space. It is as self-explanatory as it gets. If you're one of those who need their warm, personal space, working with your partner is not the best idea for you.
10. You will take your work home
Suppose you have an argument in your office premise regarding work. If you were mere colleagues, the argument would cease to exist outside the office premise. But since you are a couple, you'll invariably take the conflict home. This can disrupt the positive energy in your home. Since the lines between work and home become so blurred, separating the two is almost impossible.
Related Reading: 

 Achieving Work Life Balance for a Healthy Relationship
The bottom line
Everyone is different, and some people would love to work with their partners. Others are not so much inclined to sharing fields of work.
Either way, you will be able to weigh up the pros and cons of working with your spouse while following tips for couples working together and figure out what will work in the end.
Share this article on
Want to have a happier, healthier marriage?
If you feel disconnected or frustrated about the state of your marriage but want to avoid separation and/or divorce, the marriage.com course meant for married couples is an excellent resource to help you overcome the most challenging aspects of being married.
More On This Topic
You May Also Like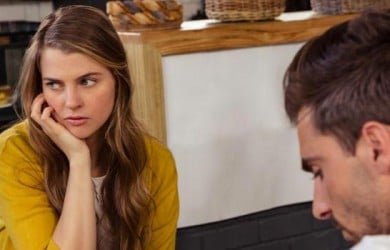 Popular Topics On Married Life