What Are the Types of Attraction and How Do They Affect Us?
Many romantics strive for that ideal relationship where the partner meets each little box on an imaginary checklist to satisfy the different levels and types of attraction. In the perfect world, that might just happen.
But the world isn't meant to be perfect, and partnerships are supposed to be messy, even those that meet most of the checklist. If we're going to be honest, no one truly wants perfectionism.
It's not authentic and no fun. Attraction is something not often planned, nor does it follow any kind of list. It instead happens when most of us least expect it and in different contexts.
Being attracted to someone can result in very different relationships from what you might initially imagine the outcome.
Some will become romantic partners, others might result in best friendships, and some could remain mere acquaintances who cross your path, with you checking back fondly periodically. What makes you attracted to someone – let's learn together.
Defining attraction
Attraction is an unintelligible individualistic blend of perhaps psychological, biological concepts from a formal standpoint. There's not always an explanation or defining factor as to why one person feels drawn to another or a reason someone has difficulty turning their thoughts away from an individual they might have only just met.
It's all very subjective, with no two people having the same notion regarding what makes someone attractive and those qualities that do not.
The power is beyond our control when there is an unexplained development of desire, like, or interest. The only thing we can do is pursue it to see where it takes us.
What is the psychology of attraction?
When attempting to determine why we are attracted to someone or what evokes interest or level of "like" for a specific person, it's vital to understand what factors influence the reaction; what makes us drawn to particular people.
The psychology of attraction studies the reasons for our attraction to specific people instead of others. There are many factors of attraction, including physical attractiveness, having similarities, and being in proximity.
Typically, a romantic attraction begins due to finding someone physically attractive. When asking someone out to start to date, individuals are often attracted to mates they find physically appealing.
According to the matching hypothesis, most people will choose partners they believe in matching their degree of physical attributes since that perception plays a role in finding a romantic partner in the "same league" as themself.
Friendships are more likely to develop based on geographic location since people become closer to the ones they see repeatedly. Another factor contributing to attraction is similarities such as race, age, social class, religion, education, and personality.
That's not merely for romantic connections but also new friendships.
However, there's the suggestion that opposites attract in these partnerships and friendships. That sometimes happens more often than those having the same traits since opposite connections can prove more interesting.
Many other factors can play a part, but, again, it's different from person to person.
Related Reading: 

Essentials to Cultivate Physical and Emotional Attraction
7 Types of attraction explained
Usually, when people discuss attraction, the first thing that comes to mind is romantic or sexual appeal. Few people are aware there are many different types of attraction, some with nothing to do with romance.
Sometimes you can be drawn to someone's charisma but have no interest in them sexually.
Finding another person attractive doesn't have to mean anything except friendship or even mere acquaintance with the person, only crossing your path once for a brief encounter.
A few types of attraction include:
1. Aesthetic attraction
Finding someone aesthetically attractive means the person is exceptionally good looking like in the case of a celebrity. Some people might confuse this with physical attraction.
But people who view someone in this category don't necessarily have a desire to reach out to the person physically or sexually, for that matter.
The person is someone that you admire for their appearance. You find them pleasing to look as you would a material object. That's not saying there can't be a physical or sexual attraction in combination, but that isn't absolute.
2. Emotional attraction
You can feel an emotional attachment with numerous people, whether friends, family, or a significant other. These are people with whom you want to be emotionally present, meaning you share your thoughts and feelings on every level.
That level of attraction is essential in any healthy relationship for which you should have many allowing a robust support group. Experiencing emotional attraction keeps each of these connections, regardless of romantic or otherwise, open, honest, and authentic.
Related Reading: 

What Is Emotional Attraction and How Do You Recognize It?
3. Sexual attraction
Sexual attraction is the one that most people think of when the word attraction pops up. It's like seeing someone across a crowded room or running into someone out in public and being drawn to them sexually.
It can be a feeling you get with a partner and one with whom you realize you want to marry. It's not limited to these individuals, though. It's possible with anyone with whom there's a draw to perform sexually or touch someone sexually.
What makes you sexually attracted to someone will vary for each person. It can increase or wane or change altogether from what it once was, depending on the situation.
Related Reading: 

What Is Sexual Attraction
4. Physical attraction
Physical attraction or sensual attraction is a desire to surround yourself with people who love, respect, and physically handle your needs. While this is typically in a romantic partnership, that isn't always the case.
Some people we touch in many ways that are not sexual or meant to be romantic, including our kids, friends, or immediate family members.
Those who are aromantic/asexual develop this attraction since they enjoy touching. Still, the individuals don't necessarily experience other behaviors anticipated by society as a generalized assumption, creating confusion for some people.
A critical component, as will always be the case, is to communicate to establish the other person's consent before any physical contact to determine feelings before automatically making your conclusions and having that contact misconstrued.
Related Reading: 

Signs of Physical Attraction and Why It Is so Important in a Relationship
5. Intellectual attraction
When interacting with others on this level, you find more of a "cerebral" or, perhaps, a mentally attractive connection. That can mean you enjoy spending time with them discussing varied topics or since the person makes you consider things from fresh, new, and challenging perspectives.
In some instances, people need the intellectual component to have romantic or emotional attraction, but not everyone feels that way. Everyone in our life plays a different part and fulfills unique needs.
6. Romantic attraction
A romantically attractive person is entirely different from being sexually attracted to someone, although you could feel each of these for someone. When experiencing a connection of this sort, you want to develop a relationship with the other person.
You could want to have a romance without the element of a sexual component, but it won't be merely a friendship. The feelings will be on a more profound level than that since you'll be looking for a romantic partnership with this person.
When it comes to romantic and physical attraction, you'll find that physical attraction doesn't necessarily involve romance. Many people enjoy physical touches like hugs, handshakes, pat on the back, and various gestures with friends and family members that have nothing to do with romance.
In a romantic relationship, touch will be more than mere friendship. Some individuals are aromantic, still having needs socially that are readily met with platonic partnerships, but there's no need for dating, marriage, and so on.
Related Reading: 

Signs of Romantic Attraction 
7. Reciprocal attraction
Reciprocity of attraction is also referred to as reciprocal "liking," it is the development of an attraction for someone only after finding out that person has affection or attraction for you.
In other words, "people like those who like them."
4 Things that might influence the psychology of attraction
Science, biology, psychology, or maybe we have a little hand in drawing the eye of that person we're hoping to attract. There might be a tip or trick (or two) that we can use to help the psychology of attraction work its magic with the various types of attraction.
Let's look at a few things that might have a bearing on whether someone gives you a second look.
1. Pets
There are a lot of animal lovers in the world. Many people will take the opportunity to stop and speak with someone walking a dog when they're out exercising.
It's an ideal excuse to meet someone you feel drawn to but didn't know how to approach. Once the person meets you and sees there's an attraction on your end, they'll have the chance to reciprocate.
2. Signals
It's a fallacy that any one person needs to make the first move. If you have an attraction, there are signals you can offer to let the other person know.
That can include prolonging your eye contact, opening up your body language to show your receptiveness if they want to engage in a conversation, and giving a few small smiles. If the signals don't work, say hello.
If you wonder if someone is attracted to you or not, here are some signs or signals to look out for.

3. Smile bright!
People enjoy a bright, cordial smile, finding the gesture exceptionally attractive, except there are rules set aside, specifically for males and females, it would seem.
Men shouldn't produce too much of a broad, toothy grin instead opting for more of a smirk, while women need to go all out with a big bold (Julia Roberts-esque) friendly flasher.
4. Facial traits
Specific facial characteristics draw certain people to others. For instance, there might be symmetry, or it can also be a unique or unusual quality like perhaps a crooked nose or huge eyes or a lovely beauty mark creating a stand-out feature.
The most attractive faces are simple yet average, notably because these "regular" faces present more varied genes.
Are genetics a factor when determining attractiveness?
There is some tendency to be drawn into the similar. That's part of the psychology of attraction, similarity. Often, when people are comparable with things like age, background, intelligence, social status, etc., we're drawn to them.
But there's also the notion that people who resemble the ones we love like a parent or grandparent will catch the eye, plus those who have a familiar look to an ex or friends that you might be attracted to but not sexually or romantically.
The person triggers a subconscious reaction of familiarity or recognition that's naturally attractive.
Related Reading: 

How Attracted Are You To People Of Your Own Gender?
FAQs
1. What are 5 factors of attraction?
Below are the five factors that contribute to finding someone attractive.
Proximity

: the nearness of two people

Reciprocity

: liking someone simply because they like you

Similarity

: people with many shared traits are attracted to each other

Physical attraction

: being drawn to someone based on their good looks

Familiarity

: seeing the person on a repeated basis.
2. What are the stages of attraction?
There are mainly three stages of attraction, defined as
Attraction to physical appearance:

The first thing others notice is the outward appearance. Something about the way they look will captivate you. That includes the way they dress, carry themselves, and their overall brio.

Attraction to personality:

I liked the reference and will likely quote what I read on this while researching. This is like taking the initial meeting or a "black and white photo and filling it in with color."
You get to see if you have a chemistry that blends with your attraction. Often, the person will be similar. Still, there are quite a few opposites that attract since what one lacks, the other contributes.
Attraction to intellect:

A growing attraction to how individuals think and translate those thoughts into words. To learn the person's specific views on varied topics or concepts, you will have had numerous healthy conversations leading to this stage.
3. What do women find attractive?
There are various things that can attract a women, the best ones are:
Exude a sense of comfortability within yourself:

Confidence is primary with a keen awareness of your primary attributes and no fear in addressing your weaknesses, plus the ability to make fun of yourself in a healthy way.

Confidence in your appearance:

Display a fit appearance with a wardrobe that fits the part and follow through by ordering a wholesome meal for dinner.

Speak well of what you do:

No one wants a negative Nancy. Try to love your job, hobbies, talk about interests, speak passionately about your life. Women find these things attractive.
4. What attracts a man?
To attract a man here are some things one should keep in mind:
Be who you are with optimum confidence:

It'll be evident and not attractive if you don't have healthy

self-esteem

. Present with your best attributes and have fun with them.
If you have a quirky side or unusual features, play them up because
these are the ones people will draw to most.
Have a grip on where you've been, your present state, and where you plan to go:

A woman with goals, ambition, hobbies presents with an exuberance for life, and that charisma is contagious, creating lively conversation and a good time.

Use positive body language:

Make eye contact, open up the body language, and if things go well, be expressive instead of subdued about your interest and attraction.
5. Can asexual people feel attracted to someone?
An asexual person can experience a few of the various types of attraction.
Simply because someone has no desire for sex doesn't mean they can't have stimulation in other areas of affection they experience each of the others.
The common misperception is that attraction equals sex, and that's simply not true.
6. Do asexual individuals declare a sexual orientation?
An asexual person absolutely can be bisexual, straight, queer, or gay.
Sexual attraction is merely one component of attraction. The individual doesn't experience sexual attraction, nor do they desire sexual contact. That doesn't hinder any of the other elements of attraction.
Final thoughts
The automatic thoughts that come to mind when someone speaks of attraction are either sex or romanticism. That's ingrained in society. No one considers the fact there are so many different types of attraction responsible for the various relationships we carry in our lives.
Many individuals rest on the notion that it's better not to attach too many labels for individual ideologies. Still, understanding how the mind works and why it reacts the way it does can ultimately guide us toward more healthy and happy interactions.
That makes a strong case for why we need these separate designations like the types of attraction.
Share this article on
Want to have a happier, healthier marriage?
If you feel disconnected or frustrated about the state of your marriage but want to avoid separation and/or divorce, the marriage.com course meant for married couples is an excellent resource to help you overcome the most challenging aspects of being married.
More On This Topic
You May Also Like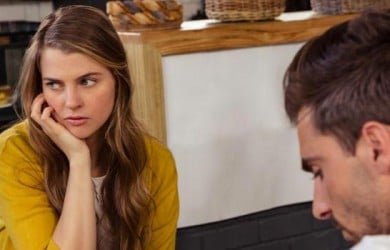 Popular Topics On Married Life