When Should I Take a Pre-marriage Course?
A pre-marriage course is a great way to reinforce your bond with your partner and grow as a couple before tying the knot. For better understanding and results, the sooner the course is started the better it is. The courses themselves are barely a few hours long but the completion time can vary depending on your schedule so it makes sense to not begin it a few days or weeks before getting hitched.
Engaged couples or those contemplating marriage can think about it considering these benefits of an online pre-marriage course:
Taking a pre-marriage course will help you go into your marriage being able to navigate the challenges that come from years of marriage. These self-paced programs also allow partners to go through each lesson at their leisure.
Related Reading: 

What Is a Pre-marriage Course?
Watch this video to learn more:

If you're wondering, 'Should I do pre-marriage courses before tying the knot?' then these are some reasons to consider:
Reason #1 When you don't know how to address difficult topics
In a report published by investment advisor Acorns, 68% of couples surveyed said they would rather admit how much they weigh than tell their spouse how much money they had in savings.
This study highlights that no matter how much you love someone, there are just some topics you aren't going to feel comfortable talking about.
Some tricky topics include:
How you'll handle money matters once you are married

Mental health struggles

Sexual intimacy

Expectations
Deciding when to bring up the discussions around such topics and what all needs to be discussed, and how it needs to be done requires good communication skills.
Not all couples are well-versed in the art of communication.
Yet communication is the very backbone of a successful marriage!
This is where online premarital courses come into play.
By taking an online course, you and your spouse will learn different communication techniques that will be invaluable throughout your marriage.
Reason #2 When you want to get on the same page about your future
A marriage is a partnership, and a partnership goes better when you have the same goals in mind. Things to be discussed include:
Where you will live

Money matters such as sharing a bank account, tackling debt, or buying a home

Attending a religious institution

Long-term career plans and work-life balance

Starting a family

How do you plan to

handle conflicts

What type of parents you want to be

How friends and family will factor in the marriage
These are all important topics to discuss before you make your marriage official. By opening the lines of communication via a pre-marriage course, you will be on the same page about these future events and bring peace into your relationship.
Related Reading: What Is Offered in an Online Pre-marriage Course?
Reason #3 When there's something you want to get off your chest
Another sign that you need to take marriage classes before wedding fever hits is if you have something you want to talk to your spouse about. It could be about a previous relationship, something about your family values, or some secret you've been keeping.
Taking a pre-marriage course opens up the lines of communication to help you and your partner develop empathy like never before. This will make it easier to tell your partner whatever you need to get off your chest.
The next reason pretty much puts a timeline in the answer to the question – "When should I do a pre-marriage course" since it clearly requires you to start at least a few weeks before the wedding is to take place.
Reason #4 When your religious institution requires it
If you and your spouse are a part of a religious institution, it may be suggested that you either do some form of pre-marriage course on your own or attend Pre-Cana, which is premarital counseling required by the Catholic church.
You do not have to do Pre-Cana, but it is often preferred for couples wishing to use the place of worship as the venue for their ceremony.
Related Reading: 

Best Pre-marriage Course of 2020 That You Can Take Online
Reason #5 When you argue about the same things over and over
Do you and your partner have constant disagreements?
It's normal for couples to argue every so often, but if it has become a regular part of your relationship, even as you are thinking about marriage and you're still wondering, "When should I do a pre-marriage course?" – Now is the time!
A pre-marriage course helps couples to identify triggers, resolve conflict, and express themselves in a way that is respectful during disagreements.
Enroll in a pre-marriage course today to build a relationship that you've dreamed of!
Reason #6 When the wedding is bringing stress into your engagement
Your wedding is supposed to be something you look forward to, not something to dread.
Still, planning a wedding can be stressful for some – especially the bride. There are social settings, venue booking, styles to choose, and finances to consider.
No wonder then that a recent survey showed that 6 out of 10 couples seriously considered eloping to escape the stress around their wedding.
If wedding planning has taken the joy out of your relationship, now is the perfect time to take a pre-marriage course.
The course will help you and your partner re-center your attention on spending quality time together. It will teach you that what is most important is not the wedding, but the marriage afterward.
Now let's take a look at another important reason that answers the question – "When should I take a Pre-Marriage Course?"
Reason #7 When you want to learn more about each other
If you're getting married, doesn't that mean you already know each other really well?
Yes and no.
Clinical Professor of Psychiatry, Robert Waldinger, published a study wherein married couples were asked to watch a video of themselves arguing.
After the video was over, each person was asked what they believed their partner was thinking during the argument. The longer the couple had been in a relationship, the less likely they were to get the answer right.
Why?
Because they stopped taking the time to get to know their spouse.
You don't stop getting to know someone just because you've tied the knot. People continue to grow and change, and couples need to keep the spark alive by staying curious about each other.
By assuming you already know who your partner is, you're robbing yourselves a chance to continue to get to know each other.
Taking a premarital course helps you and your spouse explore each other and develop a deeper bond.
Related Reading: How Much Does a Pre-Marriage Course Cost?
The time is now
If you're asking, "When should I do a pre-marriage course?" Odds are, it's time!
Even happy couples, non-distressed couples, or ones who don't believe their relationship requires any major overhaul can experience an immediate improvement in relationship quality by taking the course.
By taking a course, you will learn how to communicate, resolve issues, and develop empathy for your marriage.
Remember that your relationship will grow in many different ways after marriage. It can only benefit from taking an online premarital course since the effects of what you learn are not short-lived.
Share this article on
Planning to get married?
Just engaged or contemplating marriage? Discover how to transition smoothly into the next phase of your relationship with Marriage.com's Pre-Marriage Course. Begin your incredible journey with this guide designed by experts and lay a strong foundation for your path of togetherness - forever!
More On This Topic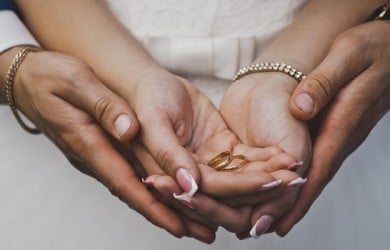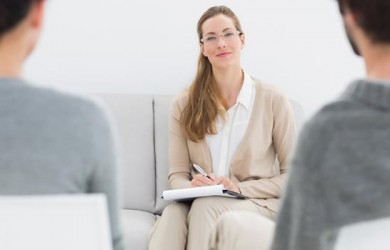 You May Also Like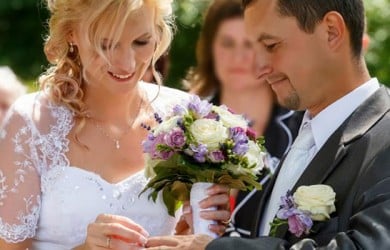 Popular Topics On Getting Married