What Is a Save My Marriage Course? 10 Benefits
All couples have disagreements, just as all couples get bored every once in a while. There are natural ebbs and flows to a marriage, but if your relationship is no longer your safe haven and is causing you more grief than happiness, it might be time to look into a Save My Marriage Program.
Don't let your marriage suffer even for a day. If you want to save your broken relationship, consider looking into an online marriage course. These courses are easy, affordable, and effective for couples who are struggling to regain the love they had at first.
This article covers why couples get divorced, what a Save My Marriage course is, how it works, and why you wish you had taken the class sooner.
What is a Save My Marriage Course?
A Save My Marriage course is designed to help those married couples who have gone or are on the brink of going their separate ways.
These courses assist couples in recognizing what's wrong in their relationship and provide a system that can help bring their relationship back on track unless it's irreparably damaged.
While such courses are best for couples to take together, even spouses who want their partners back can take them to revive the relationship.
So there's no need to feel hopeless if your marriage has hit rock bottom.
When you walked down the aisle and said, "I do," you would have never imagined that you would be contemplating divorce one day.
An online Save My Marriage course is designed to help couples on the brink of divorce or separation. Most of these courses focus on rebuilding the relationship by highlighting what's working for the relationship, changing how a couple communicates and removing the factors that toxify a relationship.
Available as e-books, video tutorials, online lessons, etc., you will find many Save My Marriage courses that enable couples to avoid future marriage crises.
Such courses provide practical steps and insights that can help a couple in difficult scenarios related to managing finances, parenthood, different views and more.
Backed by the latest studies and research, these online courses to save a marriage help spouses to:
take charge of the relationship

feel less lonely and sad

feel less scared of being rejected, neglected, panicked, betrayed, hurt

take positive actions to turn things around and bring peace
Unlike marriage counseling or in-person therapy that requires couples to be present at a certain place at a certain time, the online save my marriage courses can be taken anytime and anywhere.
For example, Marriage.com offers an easy, step-by-step Save My Marriage Online Course with four chapters that couples need to work through to find happiness. Let's have a look at them in detail:
1. Understand your marriage
You can't save your marriage unless you understand what isn't working. During this chapter of the Save My Marriage Course, couples can learn why their marriage is failing.
Chapter one of the online marriage course guide helps couples see each other's points of view, learn what to do if one person wants to save the marriage, but the other spouse does not, and identify key signs whether their marriage is worth saving.
Related Reading: 

How to Improve Understanding in a Relationship
2. Recommit to your partner
You cannot have a successful marriage without commitment.
In this section, couples can learn how to repattern their thoughts and turn negatives into positives. This chapter focuses on change, growth, and commitment.
By focusing on their wedding vows and seeking happiness, partners will be able to recommit to the love they once shared.
3. Rebuild trust
Northwestern University and Redeemer University College report that couples who trust one another have happier, more fulfilling relationships.
Trust allows a husband and wife to feel comfortable in a relationship. It allows them to feel respected and safe.
Many couples experience a decrease in happiness and trust after a betrayal. Once trust is lost, it can feel nearly impossible to regain.
Through a Save My Marriage Online Course, couples can learn trust-building techniques and focus on how to forgive and be forgiven.
Instead of nitpicking at each other's differences, couples will be taught to appreciate them.
Communication and conflict resolution skills are also heavily featured throughout the Save My Marriage Course.
4. Detox your relationship
Romance and communication are important in a healthy marriage but are friendship and laughter.
The Journal of the International Association for Relationship Research reports that shared laughter is a behavioral indicator of a happy relationship. Couples who laugh together feel more satisfied and supported in their relationships.
To get to this happy stage, couples must cure their toxic habits.
The final chapter of the course will help couples detox their relationship, create positive interactions, and build a partnership that focuses on romance and friendship.
Throughout the Save My Marriage Course, couples also have access to the following:
Motivational talks

A happy marriage cheat sheet

Transformational videos

Insightful advice

Recommended reading
5 reasons why couples get divorced?
Statistics suggest that a couple is most likely to divorce after eight years of marriage.
The Institute for Family Studies reports that the most common reasons why people get divorced often involve infidelity, addiction, constant arguments, domestic abuse, lack of commitment, and incompatibility.
People are also more likely to end up divorced if they:
1. Do not have the same goals and beliefs
We consider love and respect a firm foundation in any relationship, especially in marriage, but when it comes to a lasting and successful relationship, you need more than those two.
When a couple realizes they don't have the same beliefs and goals in life, it could be the start of falling apart.
For example, you want to invest, build your forever home, get insurance and save money, but your spouse has different goals. Your spouse might want to prioritize enjoying, traveling, and having a good time.
What happens next? Disagreements and frustrations come next. This could lead to divorce because of incompatibility.
Related Reading: 

6 Damaging Beliefs About Happiness You Are Unaware Of
2. Get married young
"I missed out on a lot of things."
Love is beautiful, and when you're in love, you want to build a family with this person. However, for those who marry young, more often than not, they would later come to realize that they are missing out on a lot of things.
Some would see their former classmates getting degrees; some have well-paying jobs, and many travel and buy what they want. These things can discourage someone who has married young.
Without the guidance of therapies such as the Save My Marriage course, couples experiencing this might start resenting their partners. Soon, they may want to get a divorce so they can pursue their dreams as well.
3. They are children of divorcees
Our childhood plays an important role in our lives. Children with divorced parents may promise that they won't get divorced, but they do it as well.
Is this a pattern? The answer, for some, is yes. Sometimes, children who grew up in homes where they see and hear yelling, arguing, and even abuse will grow up exhibiting mental health issues and even behavioral problems.
This would also lead the kids to grow up struggling to express their feelings and their thoughts.
They still carry this in their system when they enter a relationship or marry. Some can't bring themselves to work on problems, others become resentful and some would have a hard time communicating, thus repeating the cycle of divorce.
Related Reading: 

How to Move on with Divorce & Children Without Difficulties
4. Are you in a relationship with a significant age gap?
Have you heard of the saying that age doesn't matter? Well, that's true for some cases but not for others.
It's not about age but about a person's maturity.
For those who go into a relationship but are not yet mature, this would pose a great threat to the relationship. One might be ready to have kids and settle down, while the other still wants to enjoy their youth.
Even the simplest issues include differences in taste in music, clothing, set of friends, and even their lifestyle.
This may lead to disagreements and often cause couples to realize that they are not in the same boat.
5. Cared more about the wedding than the marriage
Many couples focus on the wedding rather than the years to come of being married.
Who doesn't want to fulfill a grand dream wedding?
The problem is that when you're planning this dreamy day, you feel in love and everything seems perfect.
After the wedding and when you live as a married couple, you understand that it's not easy. Budgeting, differences in priorities, and even how you designate tasks can cause issues in the marriage.
If this still needs to be resolved, it could lead to divorce.
"Can my marriage be saved even if we're facing issues?"
Marriage has its ups and downs, but the low seasons should never outweigh the good times.
Your spouse should be your lover, friend, and partner. They are part of the special club between the two of you. Both of you are responsible for achieving the ultimate goal – having a healthy marriage.
So what sets successfully married couples apart? A marriage is more likely to succeed if they:
Have parents who are happily married

Know how to communicate

Do not cohabitate until they are already married

Have a healthy sex life

Start a family within the first seven months of marriage

Have attended college

Agree on aims and goals

Have an income higher than $25,000 annually

Share the same religion
While it may not be possible to change some fundamental factors to make a marriage successful, other factors can certainly be worked upon. For such a change to take place, an online marriage course can come in handy.
10 benefits of online save my marriage courses
In a traditional marriage counseling session, couples have to set up an appointment with a therapist or counselor and attend sessions several times a month.
While beneficial, these in-person sessions can feel awkward or uncomfortable, especially if you reveal personal or embarrassing information to a near stranger. On the other hand –
1. Prelude to in-person therapy
Taking the Save Your Marriage Course online can be a great prelude to doing therapy in person because it gets couples used to being vulnerable around each other.
It gives the couple time to adjust to the questions and how they open up. For those who aren't ready to go to face-to-face therapy, save my marriage courses would be a great option.
Related Reading: 

What Is Relationship Therapy – Types, Benefits & How It Works
2. Teaches important lessons
The Save My Marriage Course online is also great because it teaches couples everything they need to know about resolving conflict, rebuilding trust, and reconnecting after relationship trauma.
There is always a reason for everything, and sometimes we fail to see that. Save your marriage by learning how trauma affects a relationship or how you can rebuild trust after infidelity. These lessons are important if you want to give your marriage another chance.
3. Convenient to start or stop
Another great feature of the online marriage program is that you can stop and start your course at your convenience.
Many couples need more time to go to therapy or have conflicting schedules. Save marriage by enrolling in these helpful courses that you can start and stop at your convenience.
4. Helps you to understand your spouse
"Is it possible to learn how to save marriage during separation? I don't understand my spouse anymore."
You can always take a Save My Marriage course if you're willing. You can meet up if you're already living in different homes or schedule a session when you have the time.
What's nice about this is that you need to understand each other to save your marriage. It's not just all about you and your resentment.
It may be time to understand your spouse's side of the story. Can you imagine how this could make a difference?
5. Learn how to communicate properly
One of the best save my marriage course topics is how you should communicate. Many times, we think we need to pour out our hearts, but the truth is communication is also all about listening.
If you want to resolve your conflicts and save your marriage, you must also learn how to listen to your spouse. In proper communication, you don't just speak; you listen and understand.
Communication can make a difference. Steph Anya, a licensed marriage and family therapist gives us ten tips for good communication.
6. Gives a safe space to open up
"How to save my marriage, but I am not comfortable opening up yet. Is there an alternative?"
Some couples still need to be comfortable opening up to therapists. This is where the Save My Marriage course comes in. Because it's an online course, you don't have to feel nervous about opening up with each other.
In this process, you don't just learn a lot about your marriage but also about yourself and your spouse.
7. Pinpoint the problem and create solutions
"Help me save my marriage because I just don't know what to do anymore."
You're not alone in this battle. Many marriages end in divorce because they don't know what to do anymore. Even if they still love each other, the stress, resentment and lack of guidance could end the marriage.
Online marriage courses help and guide couples to pinpoint their problems and guide them into finding out the solution that they need.
If you know the problem, you will know how to fix it.
Related Reading: 

30 Common Relationship Problems and Solutions
8. Gain knowledge on how you can be stronger
"How can I save my marriage, and how do I start?"
That's where a marriage course comes in. Each course is different and will guide you every step of the way.
Of course, this will take time, so enjoy each course you have, and you'll see how it all comes together.
Soon, you'll learn techniques and understand how each one works. These techniques will help you heal and become stronger as a spouse and married couple.
9. Learn different intimacy rituals
Intimacy in a relationship is important. There are different types of intimacies and each one is important in a marriage.
The different types of intimacy are:
– Sexual intimacy
– Physical intimacy
– Emotional intimacy
– Intellectual intimacy
– Creative intimacy
– Spiritual intimacy
Each one will strengthen your bond and help you and your spouse grow together.
10. Gain life-long lessons
"Can you help our marriage succeed even if we've been through so much?"
Only you and your spouse can make your marriage successful. Save my marriage courses are effective and easy-to-follow tools that could help and guide you.
You and your spouse will still have to work hard to attain the success you want.
Related Reading: 

20 Powerful Marriage Lessons for a Happy Marriage
FAQ
Is it worth trying to save my marriage course?
Many have asked if it is worth trying the Save My Marriage course.
The answer is YES. We often find ourselves lost and frustrated because our marriage is failing. No matter how hard you try, you may need to ask for guidance.
That is where professionals come in. Only some of us have the time to attend weekly sessions, right?
Therefore, choosing an online course to save your marriage is the best option that you can take. You get the benefits that you need and more.
What does it mean to save a marriage?
Saving a marriage is when a couple chooses to be mature and would to address any issues, resentment, and problems they face.
It's easier to back out and say you want to divorce your spouse, but that doesn't solve the problem. The long process of divorce, the cost of it, the stress, and even how it affects your kids is not the wisest decision.
Saving your marriage means you still have hope. It means you are willing to sit down, ask for guidance and do your best to make things work.
Conclusion
Learning how to save your marriage can be simple and you don't have to make urgent decisions such as getting a divorce.
By taking the Save My Marriage program, couples can gain a deeper understanding of one another and learn how to resurrect their broken relationship.
Many couples had the worst fights and issues, but with the proper guidance, they made everything work out. There is still a chance, as long as you're willing to cooperate and work together.
With online courses like these, many couples could work on their relationships in the comforts of their own home.
Remember that saying your vows doesn't mean you will live happily ever after. Marriage is about working together as a couple, enjoying life and learning lessons as you grow old.
Share this article on
Want to have a happier, healthier marriage?
If you feel disconnected or frustrated about the state of your marriage but want to avoid separation and/or divorce, the marriage.com course meant for married couples is an excellent resource to help you overcome the most challenging aspects of being married.
More On This Topic
You May Also Like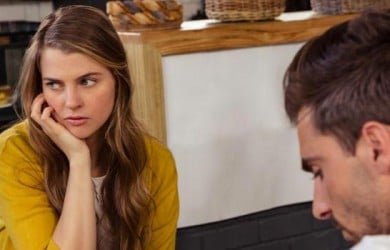 Popular Topics On Married Life