Relationship Quality Control
I know a quality froyo shop when I see one. For me, it has a wide and often rotating flavor selection. It is clean and has a fun atmosphere. The yogurt is thick and creamy. If a froyo joint meets those criteria, I consider it high quality and it will earn regular business from me.
This quality stamp has earned prestige in our society. Whether it is premium ice cream or coffee, designer shoes or gyms, or luxury vehicles, in our material lives it is natural to evaluate products, seeking high-quality ones. No matter how quality is measured, be it taste, reputation, style, or just the way something makes us feel, it is inarguable that once something is deemed high quality, its value inherently increases.
Implementing quality control metric on relationships
Now imagine if we applied quality control metrics to our relationships. In this way, early on we would be able to rationally determine if the experience was/could be valuable for us. It would force us to examine how we spend our emotional cash. Are you giving with free will and pure love in your heart, or does giving feel burdensome, laborious, agenda-ridden or otherwise icky? Does your bank continuously get replenished by the goodness in your relationship or do you regularly feel sucked dry? Or even more simply: Are you profiting from the relationship?
Related: How To Connect Emotionally With Your Partner
Now if you are thinking that the word "profit" sounds like the approach of a taker, it isn't. In fact, if you break down the word "profit," you get pro + fit. Pro meaning 'for something' and fit meaning many things such as healthy, strong or in harmony with. A woman who seeks a relationship that she can profit from – mentally, physically, emotionally and spiritually – is demonstrating her commitment to self-love. If you aren't profiting from your efforts, you are operating at a loss which ultimately results in bankruptcy.
Define the important aspects of your relationship
Ok, so that brings us to establishing reasonable and helpful quality metrics. Simply think of three criteria that you can quickly (void of the gray area) evaluate a guy/relationship as low or high quality. A couple of thought starters: respect level (do you respect this person? Do they respect you?), attraction (are you attracted to him in more than one category? Do you find yourself feeling great when you are around him?) and so on. Remember that these need to be personal to you – not what you think they should be, but what they actually are; just like some people care about ambiance in a restaurant, others could care less but are sticklers for service.
Related: Benefits of an Emotional Connection Between Two Loving Partners
The more you allow yourself to explore yourself… the more you learn to fall madly in love yourself, the more you will be able to confidently specify and honor your premium quality requirements. You will be able to do so without fear that a current low-quality opportunity may be as good as it gets because you will be confident in your options, faithful that there must be more and committed to yourself to not settle until you find it. You will be able to reach those seemingly fantastical heights without wasting time trying to transform a current low-quality opportunity because with self-love comes acceptance of others and you will know that expending energy trying to morph someone into what you want them to be instead of letting them blossom as they are is selfish and fruitless; your time is better spent on you.
Loving smart is about not staying stuck in a relationship that isn't fulfilling, that isn't propelling you forward, or in one that is sucking you into emotional debt. So if your emotional cash isn't being spent wisely, like an investor does, know when to fold him so that you can move onwards and upwards towards a higher quality, more profit-rich opportunity.
Share this article on
Want to have a happier, healthier marriage?
If you feel disconnected or frustrated about the state of your marriage but want to avoid separation and/or divorce, the marriage.com course meant for married couples is an excellent resource to help you overcome the most challenging aspects of being married.
Learn More On This Topic
You May Also Like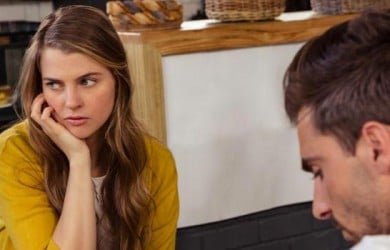 Popular Topics On Married Life