How Much Does Premarital Counseling Cost?
There is no doubt that a pre-marriage course can do wonders for your relationships. But at what premarital counseling cost – literally?
According to The State of Marriage Counseling Study, couples are more likely to attend counseling within the first 3 to 5 years of marriage than they are after 25 years together.
Why?
Because the beginning of marriage –from engagement to gaining that coveted 'newlywed' status – can be hard work.
Counseling courses can sometimes be expensive, but marriage classes don't have to break the bank.
What is premarital counseling?
Premarital counseling, as the name suggests, is something that couples undertake before their marriage.
It is a therapy that helps couples ease into being married to each other. It helps them set the right goals for their marriage and also helps resolve any issues that they may be facing before they decide to get hitched.
Premarital counseling is provided by licensed individuals or religious leaders who identify as counselors.
Some people take premarital counseling as a preventive measure. Transitioning into a marriage is difficult; therefore, couples may take premarital counseling to ensure that this change happens smoothly.
Meanwhile, others may need premarital counseling to sort out issues in their relationship so they can leave those behind in their new life phase- their marriage.
What are some questions to ask your potential spouse before marriage? Watch this video to know more.
Five factors affecting premarital counseling
Various factors may affect premarital counseling and the willingness of the couple to attend pre-marriage therapy. Some of them include the following –
1. Number of sessions
One factor that affects premarital counseling in more ways than one is the number of sessions. The number of sessions can decide if the couple would like to attend the counseling first since they may need more time, especially if the wedding is close.
The number of sessions will also determine how much pre-marriage counseling can help the couple.
Related Reading

: 

Things You Can Expect from Marriage Counseling Sessions
2. Experience of the therapist
Who you take pre-marriage counseling from is also a very important factor. How many years of experience they have and how they educate you on issues can determine how effective premarital counseling is.
3. Proximity
The proximity to the therapist is also an important factor. Therapy is expensive, and if you see a therapist that does not live close to you and needs to do sessions offline, it may be a factor to consider for pre-marriage counseling.
4. Type of therapy
The type of therapy can determine the premarital counseling cost, another factor that needs to be addressed when deciding on pre-marriage therapy.
Related Reading: 

Types of therapy
5. Premarital counseling cost
One of the last but most important factors to consider regarding pre-marriage counseling is the cost. Amidst other big expenses coming up for the wedding, couples need to consider if this is something they can undertake.
This research highlights the various factors that can affect a couple's willingness to attend pre-marriage counseling.
How much does a pre-marriage course cost?
It is a valid question if you have asked, "How much is premarital counseling?".
The average pre-marriage course cost ranges from $50 to $400 and above, depending on the course content.
Statistics show that the second most common reason couples forgo marriage counseling is the high premarital counseling cost. This situation is unfortunate because there are many benefits to taking premarital courses online.
Thankfully, there are plenty of affordable options for online courses to choose from.
Here's a deep dive into the truth behind typical online pre-marriage counseling prices.
What is the cost of an online pre-marriage course?
The prices of such courses vary from around $50 to $400 and more depending on what's being offered.
Some courses teach couples about different aspects of marriage. Others also offer fun and informative activity sheets for couples, assessments, and quizzes to help couples become more aware of each other's needs.
They may also include helpful videos, e-books, and other resources to help further them build a solid foundation for their relationship.
Some courses are available for direct signup, while others offer different packages of varying duration with more resources depending on the price.
Each premarital education course offers great lesson plans designed to help couples communicate and connect, all at affordable prices.
Now that you know the pre-marriage counseling costs, it's time to learn the benefits.
Ten benefits of choosing an online pre-marriage course
Pre-marriage courses may have many benefits regarding your relationship before and after marriage. Here are some reasons you should consider taking a premarital course.
1. Easy and convenient
One of the most prominent benefits of taking a pre-marriage course online is that it's self-paced, allowing you to go through the lesson plan at your convenience.
It can also make the process easier for you. When you are less stressed about your wedding and potential marriage, you are likely to feel better in the general sense.
2. Boosts communication
Couples who communicate are happier and interact with each other more positively than couples who struggle to open up. Online premarital courses have quizzes, activities, and questionnaires that get the right conversations flowing.
3. Gives you more time together
Research shows that couples experience higher happiness levels and a stress reduction when spending quality time together – and going through the pre-marriage course online certainly gives you a chance to get close.
Engaged couples who feel overwhelmed with the wedding preparations that sometimes take away the intimate times together can surely reconnect over such a course.
4. Builds trust
Couples who trust each other are happier and enjoy more fulfilling relationships. When you know that you can communicate openly and honestly together, you build trust and comfort in your future marriage.
The cost of a pre-marriage course is not just redeemed with immediate results but has long-term effects that come in handy till the later years of your relationship as you move towards building a better foundation of trust.
Related Reading: 

15 Ways on How to Build Trust in a Relationship
5. Gives you insights into handling different expectations
Even the happiest of couples argue now and again. A course on managing expectations will help you and your spouse resolve disagreements maturely and respectfully.
It can give rise to those tough questions that you may not have asked each other or yourselves before considering a long-term commitment and will help you identify hotspots that need to be addressed before tying the knot and afterward.
6. Sets you up for a healthy marriage
The courses allow you to build a healthy foundation for a wonderful marriage by helping you learn what it takes, why it helps, and how to put it into practice.
As evident from these benefits, the online premarital counseling cost is a small price to pay for the huge difference it makes towards making the right start.
Even if it's a couple getting married for the second time, it can help finetune the details that can help them deal with the challenges they can practically face to build a successful marriage.
7. Helps the couple plan the future
A counselor can help new couples entering marriage plan for the future. They can give you questions about a healthy marriage that you can discuss.
Financial planning, family planning, location, work, bank accounts, etc., are important topics you should discuss before getting married. Premarital counseling can help you navigate these questions.
8. It Provides an opportunity to address issues
Pre-marriage counseling can help couples address the issues they may currently be going through in their relationship.
Relationships require work, and even if you are sure you want to spend the rest of your life with someone, it may still require you to work on it.
Pre-marriage counseling also gives the couple the means to deal with issues if and when they arise later when married.
9. Helps couples understand themselves more
Pre-marriage counseling asks the right questions and provides the best possible answers.
When a counselor talks to the couple about what they need to do to transition into marriage smoothly, they ask deep and important questions.
These questions do not just help the couple understand each other, but it also helps them understand themselves better.
It helps identify one's needs and wants in the relationship, some non-negotiables, and solutions to certain problems.
Related Reading: 

15 Ways to Help Your Partner Understand How You're Feeling
10. Helps couples gain wisdom
The counselor that imparts pre-marriage counseling comes with experience and can impart important wisdom to the couple.
It allows the couple to understand the gravity of certain issues, which they may have initially considered trivial.
Practicing the things learned during pre-marriage counseling can also help avoid various issues you may have otherwise faced because you now understand the situation better.
Enroll in a pre-marriage course today to build the relationship you've dreamed of!
What to expect from pre-marriage couples courses?
Apart from a pre-marriage course for couples, several online counseling courses are available for couples at different stages of their relationship.
There are courses designed for newlyweds and long-time married partners who want the best for their relationship.
The course outlines are designed so couples can make positive changes in their marriage. Typically covered course topics include:
Share goals as a couple

Build compassion in your marriage

Learn how to communicate

Enhance intimacy to strengthen your emotional and physical connection

Create shared traditions to create a sense of identity in the marriage
Some courses also offer bonus items if you upgrade.
Then there are courses designed to save a marriage for those struggling to maintain their relationship.
Such courses help couples recognize unhealthy behaviors, restore trust, and empower couples to combat marital challenges. The courses consist of lessons that focus on
Tips for identifying why the marriage is falling apart

Learning how to find happiness and get the marriage back on track

How to restore trust, resolve conflict, reconnect emotionally, and practice forgiveness.

Detoxifying the relationship and recoupling in love.
The course material includes transformational videos, books, recommended reading, insightful articles, and motivational talks. This makes the courses, not just informational but a productive and engaging means to pave the way for a strong relationship.
Is premarital counseling worth it?
Premarital counseling may be expensive and take a lot of effort, but it is still worthwhile.
It mostly depends on the couple and how they can make it worth it.
Premarital counseling can help you resolve issues better and enter the marriage with a clean slate. It can also help you avoid arguments, conflicts, misunderstandings, and miscommunication in your marriage.
It can also considerably reduce the chances of separation or divorce.
Summing up
No matter which course you choose, you'll be certain to strengthen your marriage for any bumps in the road you encounter as a couple.
Now that we've answered, 'How much does premarital counseling cost?' It's time to take action.
Don't let a pre-marriage course fee prevent you from building the relationship of your dreams.
Go for a premarital course that allows you to strengthen communication, build goals, and boost intimacy without hurting your wallet.
Share this article on
Planning to get married?
Just engaged or contemplating marriage? Discover how to transition smoothly into the next phase of your relationship with Marriage.com's Pre-Marriage Course. Begin your incredible journey with this guide designed by experts and lay a strong foundation for your path of togetherness - forever!
More On This Topic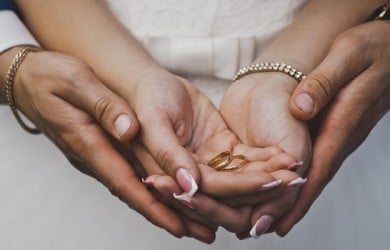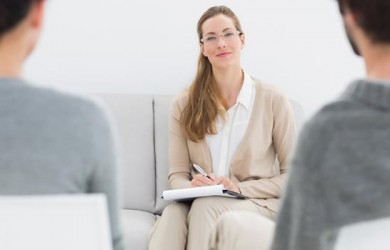 You May Also Like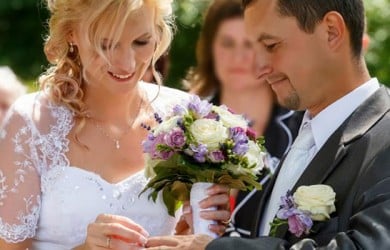 Popular Topics On Getting Married