How to Heal From the Emotional Scars of Past Relationships
Very few of us go through life without being mentally scarred in love… It might start in childhood with our parents neglecting us and continue as we choose partners that are not grounded, compassionate, or educated in the world of love.
Healing deep emotional wounds
For the past 30 years, number one bestselling author and counselor, David Essel has been helping people deal with childhood scars from a lack of love and adult scars that come from emotional abuse, affairs, and so much more.
Below, David talks about ideas and thoughts to help minimize or erase the emotional scars that you might be carrying in love.
"Emotional baggage. That's what many people refer to when we're talking about pain from past love relationships, or pain from relationships with our core family, that have not been resolved.
Everyone has baggage. Everyone. For some of us, the baggage is so intense, so deep, and so horrific that we don't even want to look in the mirror and see what we're carrying forward that we need to let go of.
Others, because of baggage that they've never released, become abusers, cheaters, addicts, alcoholics.
Many become incredibly codependent, staying in terrible relationships year after year after year because they don't have the confidence or self-esteem to move forward.
What causes mental and emotional scars in love
Number one-. Neglect. Abandonment. From our family members or A former lover. As per a study, emotional neglect in childhood is the main independent predictor of the occurrence and the course of anxiety and depressive disorders.
Number two-. Emotional abuse. Emotional affairs by our partners. Physical affairs by our partners can leave incredibly deep emotional scars that we look at as emotional abuse.
Number three-. Codependency. Afraid to rock the boat. Afraid to speak honestly and openly about our needs, wants, and what's going on that we don't like. Fear. Fear. Fear.
Also watch: How to practice emotional first aid.

What can we do about these emotional scars
Number one-. The odds of removing emotional scars from past relationships by ourselves are incredibly tiny, so we do need to reach out to a professional counselor, therapist, relationship coach to try to figure out why we have these emotional scars, where they originated so that we can slowly start to release them.
Number two– If you're single, stay single until you've done all the work to remove these emotional scars.
People who don't do the work, move forward jaded in life, and usually pack very similar partners who will continue to neglect, abandon, or abuse them.
Number three-. Self-care. Meditate. Journal. Exercise. Eat clean foods. Let go of all addictions to nicotine, food, alcohol, drugs, or more.
This is just a starting point, but if you follow the tips above, within six months to a year of working with a professional? You can release 90% of your emotional baggage.
If you need help, reach out to me at www.davidessel.com; as a counselor and more, I've been doing this work for 40 years now and look forward to helping as many people as I can, releasing emotional baggage to be free in love."
David Essel's work is highly endorsed by individuals like the late Wayne Dyer, and celebrity Jenny Mccarthy says, "David Essel is the new leader of the positive thinking movement."
His work as a counselor and minister has been verified by organizations like Marriage.com has verified that David is one of the top counselors and relationship experts in the world.
Share this article on
Want to have a happier, healthier marriage?
If you feel disconnected or frustrated about the state of your marriage but want to avoid separation and/or divorce, the marriage.com course meant for married couples is an excellent resource to help you overcome the most challenging aspects of being married.
Learn More On This Topic
You May Also Like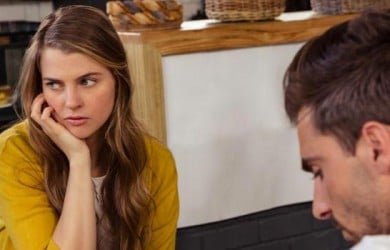 Popular Topics On Married Life