The Truth About Marital Vows in the Bible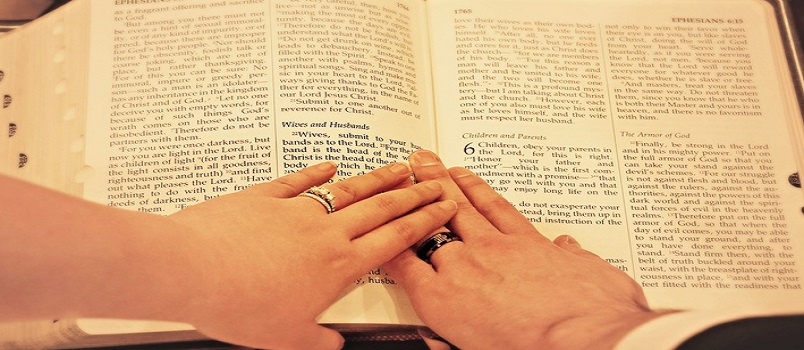 Marriage vows are an extremely common part of most modern wedding ceremonies; in a typical modern wedding, marriage vows will consist of three parts: a short speech by the person marrying the couple, and personal vows chosen by the couple being married. In all three cases, marital vows are personal choices which typically reflect the couple's personal beliefs and feelings towards another.
Christian couples who marry often choose to have Bible verses included in some part of their vows. The verses chosen—like any marriage vow—will vary depending on the couple themselves. Let's take a closer look at marriage vows from the Bible.
What does the Bible say about Marriage Vows?
Technically, nothing—there are no marriage vows in the Bible and the Bible does not actually mention vows being required or expected in a marriage.
No one knows exactly when the concept of marriage vows first developed, particularly in relation to Christian marriages; however, the modern Christian concept of marriage vows used in the Western world even today comes from a book commissioned by James I in 1662, titled the Anglican Book of Common Prayer. The book included a 'solemnization of matrimony' ceremony which is actually still used today in millions of weddings, including (with some alterations to the text) non-Christian marriages. The ceremony from the Anglican Book of Common Prayer includes the famous lines 'Dearly beloved, we are gathered here today,' as well as lines about the couple having each other in sickness and health, until death do them part.
The Most Popular Verses For Marriage Vows in the Bible
Although there are no marital vows in the Bible, there are still many verses that people use as part of their wedding vows. Let's take a look at some of the most popular verses from the Bible, which are frequently chosen for marriage vows.
Amos 3:3 Can two walk together, except they be agreed?
This verse has become more popular in recent decades, particularly among couples who would rather emphasize that their marriage is a partnership, in contrast to older marriage vows that emphasized a woman's obedience to her husband.
1 Corinthians 7:3-11 Let the husband render unto the wife due to benevolence: and likewise also the wife unto the husband.
This is another verse often chosen for its emphasis on marriage and love being a partnership between a couple, who should be bound to love and respect each other above all else.
1 Corinthians 13:4-7 Love is patient and kind; love does not envy or boast; it is not arrogant or rude. It does not insist on its own way; it is not irritable or resentful; it does not rejoice at wrongdoing, but rejoices with the truth. Love bears all things, believes all things, hopes all things, endures all things.
This particular verse is the most popular for use in modern weddings, either as part of the marriage vows or during the ceremony itself. It is even fairly popular for use in non-Christian wedding ceremonies.
Proverb 18:22 He who finds a wife what is good and receives favor from the LORD.
This verse is for the man who finds and sees a great treasure in his wife. It shows that the Supreme Lord is happy with him and she is a blessing from Him to you.
Each religion has its own wedding tradition (including marriage vows) that passes through generations. Exact phrases can have slight variation among different clergy. You can even take advice from the officiant and get some guidance from them.
Apply these marital vows from the Bible and see how they can enrich your marriage. Serve the Lord on all days of your life and you will be blessed.
Want to have a happier, healthier marriage?
If you feel disconnected or frustrated about the state of your marriage but want to avoid separation and/or divorce, the marriage.com course meant for married couples is an excellent resource to help you overcome the most challenging aspects of being married.