The Power of Eye Contact During Sex
Eye contact is a manifestation of trust and honesty in all facets of social interaction. When you make eye contact with someone you are talking with, you are showing your sincerity.
Also, when you make eye contact, you project an aura of self-confidence.
However, making eye contact during sex might be a different story. You might be wondering, why make eye contact during sex? Many say, "Eye contact makes me uncomfortable."
To most, locking eyes during lovemaking creates an awkward feeling. But why do sex therapists suggest eye contact during intercourse? Does it make a relationship stronger? Does it add more romance to the relationship?
This article will answer our questions and shed light on the importance of eye contact during sex.
What does science say about eye contact?
Have you ever experienced that kind of feeling when your crush or someone you love looks you in the eyes? Did it create a pleasant, almost heaven kind of sensation?
Did it make you look away because you are overwhelmed by that feeling? Those were the power of eye contact.
According to brain experts, eye contact has the power to stimulate a simple chemical reaction in the brain. When you look someone in the eyes, you are producing a chemical called phenylethylamine.
It is a chemical responsible for inducing excitement conducive to falling in love. Take note of this love-inducing chemical as you continue reading this article.
When not to make eye contact?
As much as eye contact creates a positive reaction, avoiding eye contact generates a negative feeling for the recipient. Avoiding eye contact means that you are not interested in what the other person is telling you.
On the other hand, it may also indicate shyness or embarrassment. Nevertheless, there are situations where avoiding eye contact is helpful, like, for example, toward a stranger, or in other cultures where eye contact is prohibited.
Also, if you are not yet ready to be intimate during a date, you must avoid eye contact because doing so may induce you to further physical intimacy. Intense eye contact may lead to low sexual intimacy.
Does the absence of eye contact correlate with lack of love?
It may sound and look like it, but not necessarily. The absence of eye contact is not the ultimate basis for love.
Although there is a saying that true love is seen through the eyes, we also have what we call an unconscious lack of eye contact.
Some people are not aware, or they are not used to making eye contact for several reasons.
Why do we close our eyes during sex?
If intense eye contact between a man and a woman induces sexual arousal, why do we close our eyes when we kiss?
Before we go deeper into the benefits of eye contact during intimacy, let us first unlock the varied reasons why in the first place, we close our eyes during sex.
It is an instinct to close our eyes when our partner kisses us. This is because we want to savor the feeling and focus on what is happening at hand? Or is there a more scientific reason for this so-called "closing the eyes phenomenon?"
According to a recent study conducted by Polly Dalton and Sandra Murphy, people close their eyes when they kiss because the brain cannot fully appreciate the physical sensation when distracted by the visual.
It makes sense; it is like focusing on one purpose at a time. Therefore, this is the reason why we close our eyes during sex. Does this mean that kissing with your eyes open lessens the sensation one feels during intimacy?
Why do people avoid eye contact during sex?
There are varied personal reasons why individuals avoid eye contact during intimate physical intercourse. According to a sex therapist, Vanessa Martin, eye contact can make people vulnerable.
To others, making eye contact means seeing through them; their true feelings, fears, insecurities, and even whatever they hide within themselves. People feel naked, and that creates a sense of discomfort.
Moreover, people who are easily distracted by even a bit of movement, sounds, or visuals choose to close their eyes to maintain focus at the moment at hand.
These may be valid reasons, but sex therapists recommend looking into your partner's eyes when making love is something one needs to get used to. It is because there are benefits of eye contact during sex.
9 Reasons why we need to make eye contact during sex
When a man looks into your eyes while making love creates a different kind of bond that cannot be expressed in words.
Let me quote someone when she said that eye contact during sex was the ultimate closeness she had ever experienced. She noted that it was one of the most sensual things she had ever experienced.
She further elaborated that their eyes met her, and her insecurity melted away and gave in total surrender. Aren't these things worth trying with our partner?
Aside from this narrative, there are several reasons why couples should engage in eye contact during lovemaking.
We need to make eye contact during sex because of the following reasons:
1. Increases trust
By making eye contact during your most intimate moment, you are revealing yourself to your partner. You are establishing a trustworthy relationship.
You can also find out through eye contact how your partner reveals himself wholly to you.
Although some exhibit unintentional lack of eye contact for lack of awareness or out of habit. But be wary of intentional lack of eye contact, like avoiding looking at you straight in the eye.
Lack of eye contact may indicate nervousness, guilty feeling, or dishonesty. If this always happens, you should be wary; this can be a red flag.
Related Reading: 

Tips to Build Trust in a Relationship With Your Partner
2. Shows interest
Looking at your partner's eyes during lovemaking shows interest. It boosts your partner's feelings, affirming he is worthy of your interest and love.
It proves that you are paying attention and are responding to his every move.
3. Boosts confidence
When you look your partner in the eyes, it delivers a certain kind of confidence to your partner.
Locking your eyes with your partner shows that you are in total surrender, allowing your partner to peek into the windows of your soul.
This kind of surrender boosts both your confidence in each other and strengthens the bond you have.
4. Maintains connection
According to Linda De Villers, a notable sex therapist, a powerful arousal trigger is connected to your partner, making you feel desired.
This connectedness can only happen when you maintain a good amount of eye contact.
5. Improves romantic chemistry
Like what's mentioned earlier in this article, sustaining eye contact for at least a minute or two causes the brain to produce phenylethylamine, a chemical responsible for falling in love.
When your brain begins to produce phenylethylamine, there is a heightened feeling of pleasure, a heart-racing sensation that can make you forget your name.
Phenylethylamine, known as PEA, is a natural amphetamine that makes one feel high. PEA also stimulates the release of dopamine, a chemical that can also add to the feeling of love and excitement.
So, to increase excitement in your lovemaking, start them off with eye contact.
To know more about the importance of eye contact watch this video:

6. Adds heat to kissing
Closing one's eyes while kissing makes you focus on the sensation at hand. But to add more passion and heat to your kissing experience, begin it with passionate eye contact.
Engaging with eye contact before kissing conditions both of you to the next few minutes of passionate kissing.
7. Stimulate intense sexual chemistry
Let me reiterate what I said earlier about scientific study. Studies show that intense eye contact between man and woman stimulates sexual arousal. Even without verbal communication, just sincere and lingering eye contact can tell them all.
It shows your vulnerability and reveals your soul to your partner, thus making him feel more at ease and confident. It's like telling him to go on without saying a word.
8. Improves relationship
Although sex is just one of the many factors contributing to a good relationship, it may play an important role.
Having satisfying sex with your partner contributes to a feeling of security, respect, and being loved. This leads to having an open and trustful relationship.
9. Improve mental health
Maintaining eye contact during sex improves mental health because of the release of dopamine in the brain. The right amount of dopamine is vital to both the psychological and physical well being.
Does making eye contact during sex improve sex life?
Yes. Definitely. When you get used to making eye contact, you strengthen your bond with each other every time you make love with your partner.
Thus, every time you make love, there is an increasing level of passion. Remember that good sex is about connection, and that connection is about love.
Furthermore, eye contact establishes that connection during lovemaking. Therefore, improving sex life begins with connecting, and connecting starts with seeing each other in the eye, heart to heart, and soul to soul.
How eye contact during sex can improve your sex life?
Eye contact during sex can be beneficial for the couple. Here are some of the benefits of eye contact during sex:
1. Builds trust and respect
Giving and receiving eye contact while being intimate builds trust between the partners. It is a way to show and earn respect. When the partners are having sex and look into each other's eyes, it helps them both build faith on each other.
2. It conveys that you understand what they are feeling
Maintaining eye contact with your spouse while having sex implies that you appreciate their feeling without verbalizing them. You are feeling the same thing your partner is feeling and it shows in the eyes.
3. Strengthens bonding
The best way to build a bond is through eye contact.
Eye contact increases empathy and tears down barriers. During sex, both the partners are vulnerable and making an eye contact help them beat the awkwardness that they might feel.
4. Reveals thoughts and feelings
We have a saying that "eyes don't lie." When you both look into each other's eyes, you both convey feelings and hiding is not an option in such an intimate situation. You are both in the same boat.
5. Shows confidence
Making eye contact also builds confidence because once you are able to see through your partner's heart through their eyes, you make an effort to satisfy them more. You figure out what they desire and work on it.
In the end, your partner feels satisfied and that builds your self-esteem that you know your partner the best.
5 Tips on how to keep eye contact during sex
For some, eye contact during intercourse is a struggle because they are not used to intimacy. It is not yet too late to learn a trick or two if this means improving your relationship.
Make eye contact a part of your

foreplay

. It has been mentioned in this article many times that eye contact stimulates sexual arousal.

While making love, practice looking into the eyes of your partner from time to time. This is assuring him that he's got your full attention.

Experiment with intimate eye contact in between breaks. This way, you will know when to make eye contact and when not to make eye contact.

If your partner's eyes are closed, ask him to open his eyes and take time to enjoy each other's gazes. This way, you will feel more connected.

Make eye contact after sex. Making eye contact after sex communicates something that more than words can say. It's like saying thank you for making me

feel wanted and desired

.
Conclusion
It is hard to keep a long relationship burning, especially if you have been together for the longest time. Everything becomes routine and mechanical, even the sex life.
Nevertheless, it is not yet too late to bring back the fire in a relationship. If you haven't tried eye contact in your bedtime stories, try it. It may rekindle that dying ember.
Share this article on
Want to have a happier, healthier marriage?
If you feel disconnected or frustrated about the state of your marriage but want to avoid separation and/or divorce, the marriage.com course meant for married couples is an excellent resource to help you overcome the most challenging aspects of being married.
More On This Topic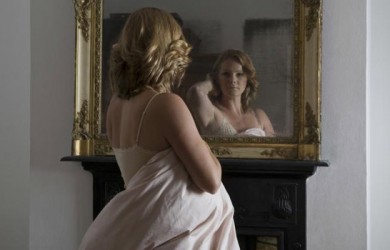 You May Also Like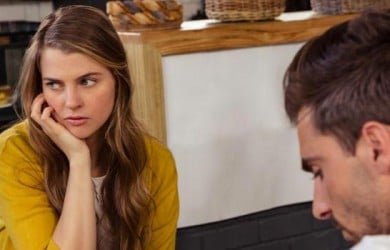 Popular Topics On Married Life