Are You a Trustworthy Spouse?
Isn't trust in relationships the most essential ingredient for a happy and healthy marriage? Experts
say
that
trust is basically that glue which will hold your marriage together for years.
The trust that you have in your partner and the trust that your partner has in you is a sort of safety net. This net will help you share your deepest feelings, struggles, fears, rejections and desires without any fear of retaliation or judgment.
When you trust your partner, it means that you rely on them for everything. So, in good times or bad, nothing would ever come in your way. With the trust in your marriage, you'll always feel safe and secure about your partner.
When you do not trust your partner, intimacy is not possible. As a result of this, communication becomes exhausting and then more than lovers, you only start behaving or living like roommates.
Many a time, when trust is lost in a marriage, one partner will constantly blame the other partner for every little inconvenience or problem. There will be a lot of shouting, bickering and pointing fingers.
This tactic is not going to help you save your marriage, rather it will only make things worse. So, what should be done from your end, if you feel that the trust has been lost from your marriage and it is making you feel hurt, insecure and frustrated at all times.
Our first suggestion is instead of finding faults in your partner, take a look at your own habits and actions. It is easy to transfer blame and point fingers but harder to look at yourself and work on yourself.
Knowing the ways to earn your spouse's trust or ways to build trust and honesty in your relationship starts by understanding the rules for a more trustworthy relationship.
So here are a set of questions that you need to ask yourself to find out are you a reliable spouse? Then, take this test a little further, and think, if my partner was asked the same set of questions about me, would the answers be the same?
Let's get started!
Are you reliable?
A lot of times, when we are in the phase of knowing each other, we make promises. Some we keep, many we don't! That's the root cause of all the problems in your relationship.
Of course, when you promise something to your partner, you mean well and wish to help your partner but if you do not follow it through, your spouse will start feeling frustrated.
A trustworthy person is always reliable, no matter what. The condition deteriorates when you have an overcrowded schedule.
When this happens, you are going to drop the ball sooner than usual and this is mainly happening because with your schedule in place, you don't really have the capacity to deliver your promises.
So, what should be done? There are certain responsibilities and activities for which you should learn to say No!
This will free you up and give you the time to catch up with your schedule and then the remainder time that you have, you need to go back to your spouse and show them that they are your priority.
Thus, in order to prove your reliability, always say what you mean and mean what you say! Keep your promises and don't make the promises that you cannot keep!
Do you admit your mistakes?
A trustworthy spouse is always someone who owns up to their mistakes. He/she will apologize without being told to do so.
We are all imperfect people and let's just face the truth, we all mess up things sometimes. So, in order to make up for it and improve things for the better, you need to look out for ways to find harmony and peace with your partner.
Ego, insecurities, pride, and simply not knowing how to make things better can all get in your way of admitting to your mistakes. So, own up and sometimes it is always better to say sorry first if you know that can bring a smile on your partner's face.
Do you gossip?
One of the most hurtful things in a relationship or a marriage is when one partner leaks out their bedroom secrets or the details about their marriage to their family or friends.
Oh that does hurt! Of course, you have some really close friends and family members, but you have no right to bad mouth or gossip about your partner or your marriage.
This is just ethically very wrong and is possibly the quickest way to break the trust in any marriage.
If you are having trouble in your marriage and you need a place to vent out, you must consider seeking help from a pastor, counselor or a safe friend.
However, whoever you choose for your help, should be supportive of your marriage and not just you or your ideals. This person needs to be objective and must always support you to work on your marriage.
We all know that there is a massive difference between gossiping and seeking advice. Gossiping often involves 'character assassination' and this can get really hurtful in a relationship.
Do you show compassion?
Close your eyes for a moment and think of one person you trust the most? Did? Now, you have most likely visualized someone, who has shown empathy and compassion to you, in your darkest days.
Such a person will always think of what's best for you without making any judgments or assumptions. Compassion can be seen and also felt at the deepest levels.
You know that this person always understands your perspective. They see you, they listen to you and they care for you, in the most selfless way possible.
This is all, these are the questions and if your answer to all these questions is yes, kudos to you! You are then, the person who anyone can trust.
However, if an answer to one or more of the questions is no, you need to take immediate steps to work on your marriage. Don't wait, till it's too late.
Share this article on
Want to have a happier, healthier marriage?
If you feel disconnected or frustrated about the state of your marriage but want to avoid separation and/or divorce, the marriage.com course meant for married couples is an excellent resource to help you overcome the most challenging aspects of being married.
Learn More On This Topic
You May Also Like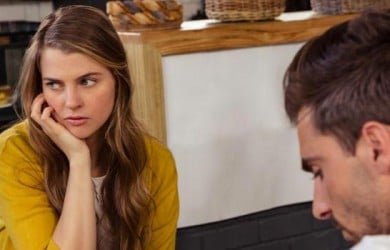 Popular Topics On Married Life