Love and Marriage- 10 Ways How Love Changes Over Time in Marriage
The first moments of falling in love with someone are, at the same time, the supreme high and the absolute deception.
You surely know that feeling when you are convinced that your world finally acquired the ultimate meaning, and you only want this emotion to last forever (even though after a few such experiences, you can hear that tiny voice telling you that it is fleeting).
It is inevitable, but understanding how love changes over time can help.
It is this elation that guides you into the desire to make this person be by your side until the day you die.
And now, the deceptive side to it all – even though being freshly in love is among the most profound feelings one can have, it cannot last forever – usually not even more than a few months, as studies show.
Does love change after marriage?
Many people complain or mention that their love life has changed after marriage. This is because partners stop wooing each other once they get married. The additional effort or going out of the way to impress your partner does not exist anymore because you are not trying to win them over.
This can be interpreted as a change of love. However, what changes after marriage is how people express their love. Initially, when one is wooing their partner, they want to put their best foot forward. They try to express their love in grand gestures.
However, after marriage, the expression of love may be in the little things such as doing the dishes, folding the laundry, or mundane activities such as cooking for your partner when they are too tired from work.
Have you ever wondered why we love? Watch this interesting video to know more.
The 5 stages of love couples go through
While some people do not realize almost everyone goes through the five stages of love.
How does love change over time?
The first stage is the process of falling in love or limerence. This is the butterflies-in-your-stomach phase.
The second stage is the one where a couple starts to build trust. This is when you start to trust your partner explicitly.
The third stage is disillusionment. This is when the honeymoon phase is over. The reality of love and life starts to hit you, and you understand that it requires effort and work to make a relationship work.
The next two stages are when you learn to fight through the troubles, emerge stronger, and finally let love take over.
Read more about the stages of love here.
Related Read

: 

How to Deal with Changes After Marriage
Infatuation versus love in marriage
The rush you get when you fall in love with someone mobilizes all your senses and causes a whirl of emotions, thoughts, and, not to forget, chemical reactions – all of which inevitably make you yearn more and more and more.
Many decide then and there to try and ensure that this won't go away, and they often do so by making their bond official in the face of law and God if they are people of faith. Yet, unfortunately, although romantic, such a step often proves to be a gateway to trouble.
Why does love change over time?
Love in marriage differs from that which made you get married in the first place, especially if you got hitched quickly.
Don't get the wrong idea; love and marriage do exist together, but it is not the sexual and romantic infatuation that you first felt when you started looking at your new partner in a certain way.
Apart from chemicals that wear off (and evolutionary psychologists level-headedly claim that the purpose of this passionate enchantment is to ensure procreation, so it needs not last longer than a few months), once the period of being freshly in love goes away, you are up for a surprise.
They say that love is blind, which might be true in the first months of it. But after the very beginning of your relationship, in which you get to know each other and feel the constant excitement of discovering your loved one, reality kicks in. And this is not necessarily a bad thing.
The world is filled with couples who live in loving marriages. It is just that the nature of your emotions and your relationship as a whole necessarily changes.
When you get married, soon the honeymoon is over, and you need to start not just fantasizing about your future but also approaching it pragmatically.
The obligations, the career, the plans, the finances, the responsibilities, the ideals, and the recollection of how you once were, all that gets mixed into your now married life.
And, at that stage, whether you will continue to love your spouse (and how much) or find yourself in a cordial (or not so much) marriage will mostly depend on how suitable you are.
This applies not only to those who tied the knot amid the impassioned dating but also to those who were in a serious and committed relationship before hearing the wedding bells.
Even in modern times, marriage still makes a difference in how people perceive each other and their lives.
Many couples who were in a relationship for years and were living together before they got married still report that getting married brought about changes in their self-image and, importantly, in their relationship.
10 ways how love changes over time in marriage
Some people may argue that love disappears as they spend more time in their marriage. However, the truth may be that love, and its expression evolves. Here are ten ways in which love changes over time in marriage.
1. The honeymoon ends
A few months into the marriage, the honeymoon phase ends. The thrill and fun of the wedding fade away. Mundane life starts to set in. life involves waking up next to each other, going to work, managing everyday activities, and going to sleep.
The thrill and excitement of seeing each other start to fade because you start spending all your time with each other. This might be a good thing, but it can get monotonous and boring.
Related Read

: 

5 Tips to Keep the Flame of Passion Burning Post Honeymoon Phase
2. The reality sets in
Life is not a party, unfortunately. However, it sure does seem like one when you start dating or are just newly married. One way love changes over time in marriage is that it gets mixed with the reality of life, which might not always be sweet.
3. Love is in the little things
Another way love changes over time is in small things such as dividing household chores, making soup when you are sick, etc.
The grand gestures take a backseat after marriage. However, it does not hurt to convey your love in bigger ways once in a while.
4. You start to settle
As you progress in the marriage, you start settling into your new, calm life. Love still exists, its essence remains the same, but you are now more comfortable and relaxed.
5. You see the bigger picture
Love after marriage is more about seeing the bigger picture and planning for the future. You start to think about building a family. If you have kids, they often take priority after marriage.
6. Co-creating
Another way love changes over time after marriage is that you work together as a team. You are now a married couple and are often considered a single unit. Whether a vote in family matters or an opinion about something, you start to work together towards a common goal.
7. You need more space
As a marriage progresses, you need more space and alone time. This is because you are constantly doing something or the other or are on the go. However, the best part about being married is that your partner understands this and gives you what you require.
8. Changes in sex drive
Another way love changes over time when it comes to marriages is the changes in sex drive. You are still attracted to your partner, but you may not feel the urge to have sex too often.
Related Read: 

How to Increase Sex Drive: 15 Ways to Boost Libido
9. You become more open
Another positive thing that happens to love after marriage is that you become more open with each other.
While you may already have a very honest, healthy relationship, being married gives you a sense of security that helps you become more transparent with your partner.
10. You become more passionate
Another way love changes over time after marriage is that you become more passionate. The sense of security helps you express yourself better and be more vocal about your passion for the relationship.
FAQs
Here are some frequently asked questions about love and marriage.
1. Does love fluctuate in marriage?
The popular answer to that question would be yes. Sometimes, even as love exists in the marriage, you might feel little in love with your partner. This could be because boredom has got the best of you or because their little quirks are starting to get to you.
However, it does not mean you do not love your partner anymore.
2. What causes love to fade away in a marriage?
Lack of appreciation, being unheard, or being disrespected can cause love to fade in a marriage or a relationship.
Love fades away when either of you constantly tries to make the other understand what is hurting them, but for whatever reason, you cannot fix it.
While every relationship or marriage goes through its set of troubles once in a while, when foundational values are challenged, love can fade away.
What awaits us on the road ahead
According to experts, the first stages of love last up to a maximum of three years.
Infatuation cannot last longer than that unless it is artificially maintained by either a long-distance relationship or, more detrimentally, by the uncertainty and insecurity of one or both partners.
Nonetheless, at some point, these emotions need to adapt to a more profound, although possibly less exciting, love in marriage. This love is based on shared values, mutual plans, and willingness to commit to the future together.
It is rooted in trust and genuine intimacy, one in which we are seen as we truly are, rather than playing games of seduction and self-promotion, as we often do during the courtship period.
The takeaway
In marriage, love is often a sacrifice, and it is often baring the weaknesses of our life partner, understanding them even when we might be hurt by what they are doing.
In marriage, love is a complete and overall feeling that serves as the foundation of your and the lives of generations to come. As such, it is less exciting than infatuation but that much more valuable.
However, if you need professional help in your marriage, try one of these marriage courses online.
Share this article on
Want to have a happier, healthier marriage?
If you feel disconnected or frustrated about the state of your marriage but want to avoid separation and/or divorce, the marriage.com course meant for married couples is an excellent resource to help you overcome the most challenging aspects of being married.
Learn More On This Topic
You May Also Like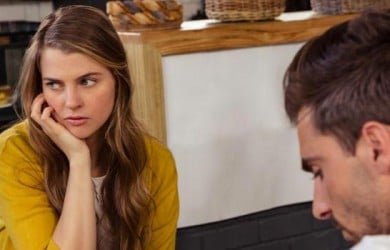 Popular Topics On Married Life