15 Lessons Love Has Taught Us
Indeed, love is a beautiful thing. As one of the world's best languages, many lessons of love can help us. Read on to learn about them.
What is the meaning of love?
The world is a big place. As you live your life, you build connections with people. Some of these relationships last, while others force you to self-reflect deeply. In all of these, you will learn to understand others better and how valuable love is.
What is love, then?
Love is peaceful and fulfilling. It is your deep affection, emotions, and concern for others. To love is to put the feelings of others above yours. That is selfless and remarkable! When you love intentionally, it opens up a door of possibility and connections.
Some events might make you question the role of love and equate it with hatred, loss, death, jealousy, or lust. But it doesn't change the nature of love. These events, like other situations in life, are bound to happen. The meaning of love doesn't change.
Regardless of what you may be experiencing, there are life lessons of love to help you navigate many challenges. Learning them will put hope into your heart and open your eyes to the great opportunity waiting for you. Learn about the lessons of love in the following paragraphs.
30 important lessons of love
There are many lessons in love if you pay close attention to your relationships. These love lessons help us appreciate life and the people around us better.
1. You need self-love
One of the most important lessons of love is that self-love is non-negotiable. One mistake many people make when building a relationship or connection with others is forgetting to love themselves.
Before you give others love, your cup of self-affection must be full. You can't pour from an empty cup. When you love yourself, you value others more and can love passionately and selflessly.
2. Make the most out of life
One of the top lessons of life is to make the most out of your life. The world is full of challenges that can make you forget how to live. Also, it's tempting to get lost in the process of having a better life and neglect your friends and family members.
However, you must learn to go back to the drawing board and sketch out your best life.
3. Focus on the most important things
Another lesson on love is to focus on the essential things in your life. Life has a way of making you ungrateful and unappreciative. This usually happens when you face issues and problems.
However, when you look at your life, there is always one thing or the other that you value.
Does your business make you feel happy or fulfilled? Is it your family, your spouse, or your children? Keep asking these questions until you arrive at a satisfying answer.
When you have them, direct all the energy that you have been exerting on specific issues to these valuable things in your life.
4. Take control of your life
One of the lessons in love and lessons for the lover is that you must learn to take control of your life. No matter what happens, you will only have yourself to deal with. You may get distracted and forget your purpose in life.
However, never forget that only you can turn your life around. Love teaches us that at the end of the day, you must put your life in place to accommodate others adequately.
5. You need to be selfless
Another love lesson you can't ignore is that you sometimes have to be selfless. What does that even mean? Being selfless means you have no concern for your feelings. But it doesn't mean you hate yourself.
Instead, you are just too engulfed in making others feel great that you forget yourself. Love is the only thing that can make you this way.
6. You need to be selfish
While this statement sounds counter-productive, you need it. Being selfish, sometimes, does not mean a bad thing. It means taking care and valuing yourself over others.
In certain situations, you might need to be selfish to help others. For instance, you need to look after yourself when you are sick before helping others in the same situation.
7. Love teaches us empathy
Empathy means understanding others' feelings. It is one of the important lessons for the lover. Also, it is part of the foundation of our ability to care and show concern for others. It is vital to building intimacy and trust.
When you love another, you place their feelings and needs above yours. Empathy is often intrinsic in humans, but it is one of the lessons of love. Love helps you nurture it until you become confident in using it.
8. Love teaches forgiveness
Although love doesn't teach you to overlook, it shows you how to forgive. When you love, you tend to understand their situation and circumstances. You may not forget what they did, but your love for them helps you forgive them. It helps you wave away any negative feelings you may have.
Related Reading: 

Help With Forgiveness in Marriage
Watch this video for some dating advice:
9. Love teaches you to let go of expectations
One of the lessons about life that love teaches you is to expect less. Indeed, we all know how we want people to act. We have our definition of affection and want others to show us.
We may want wealthy, intelligent, or ambitious people. These are all expectations that may or may not be fulfilled. However, love has no expectations. It is pure and clean.
Related Reading: 

5 Relationship Expectations That Are Harmful for Couples
10. Love shows you your friends
You may not have an idea what love is. However, the moment you experience it, it becomes invigorating. You become enlightened and see things.
You process things from another perspective. Then, you know who has been there for you. In essence, love is redemption.
11. Change is inevitable
Another important love lesson is that you can't avoid change. It is the only constant thing in life. It's often comfortable and convenient to stick to one thing, job, principle, belief, orientation, etc. But when you face rejection, you will be forced to change.
Love is beautiful, but heartbreak makes you return to the drawing board. It brings about a transformative arrangement that you can't avoid. Later, you will realize that the change was necessary to motivate you.
12. You will care about some people
Another valuable lesson about love is that you will care about some people. You may have gone through heartbreaks or experienced disappointment.
However, you will be forced to care for certain people. These include your children, spouse, parents, siblings, or friends.
13. Love is everywhere
One of the lessons for the lover is that you can find love anywhere. Rihanna's song, "We found love in a hopeless place," emphasizes this fact. Don't belittle yourself or think love is made with you.
You can experience love anywhere on earth as long as you are open to it.
14. You must be open to love
Certain experiences about love can deter you from forging ahead in life. When you experience heartbreaks repeatedly, you are bound to resist the possibility of loving again.
However, it's vital to be open to it. That way, love will find you anywhere you are without even trying.
Related Reading: 

25 Ways to Love Someone Deeply
15. You can ask for help
Another lesson in love is that asking for help is okay. There is no shame in it. It's understandable if you find it challenging to seek people's assistance, especially if you were raised to be self-sufficient.
Nonetheless, going through heartbreaks or issues alone is not advisable. Believe that there are people in life willing to help you. All you need is to ask.
16. There are silver linings
The repeated saying "every cloud has a silver lining" may sound like a cliche. But it's the truth. You will get that breakthrough eventually. However, you have to live through the heartbreak or issue.
For example, you may need to ensure the pain of losing someone to understand that you should value why you have. Similarly, a terrible heartbreak can lead you to your ideal partner. This is one of the best life lessons about love.
17. Love doesn't blame others
It can be heartbreaking when your loved ones disappoint you. It's more painful when they betray your trust.
However, you should know one love lesson: love doesn't take things personally. It forgives and allows other people's actions to be their lessons through love.
18. Love is unconditional
One of the life lessons about love is that it is unconditional" many times. It means love has no expectations or limitations. It is intentional.
Love teaches you to be content and shows affection to others without expecting anything in return. You aim to love and build around what you see.
19. Love is more of an action
Love is originally a feeling. But as you go ahead in your relationship, the real work starts. It won't be about your words anymore but more about actions. After proclaiming your feelings, it's crucial to back them up with actions geared towards proofing your affection.
20. Love compromises
One of the important lessons of love is compromise. Love is flexible, and it adjusts to the needs and satisfaction of others. While this doesn't mean neglecting your needs, it emphasizes the need to adapt to new situations.
It is also satisfying when you compromise for someone that reciprocates your love.
21. Love may mean letting go
As weird as it sounds, letting go means love. The saying goes, "If you love something, set it free. If it comes back, it's yours. If it doesn't, then it never was." Love is not coercion.
Therefore, if you have tried your best to hold on to some, but nothing works, you may need to let them go. That means you love them enough to allow them to have their wish.
22. Love is not aggressive
Aggressiveness is not a lesson in love. Love is gentle and calm. It doesn't inflict pain or make you sad.
No matter how others try to swing it, it is the mildest thing you will experience. Love cares and ensures you have the best life.
23. Love doesn't harbor fear
Love teaches us courage. It is brave and intentional. In love, you can put all your emotions on a person without assuming any consequence. With love, you have joy, contentment, peace, and satisfaction.
The other side of these emotions includes hatred, jealousy, and insecurity. When you have the best of love, these qualities are nowhere to be found.
24. Love teaches contentment
Do you seek the meaning of love? Then you should know love is contentment. It is the satisfaction that you have about your spouse. It is your belief in your partner; regardless of the circumstances, you find yourself.
Even when others feel differently, you are happy with your present experience of love. Others may have it different or "perfect." But yours feel great and refreshing.
25. Love is not desperate
What is love? Love may be one of the best feelings, but it doesn't mean desperate. Many people have different interpretations of what love should be.
One is going after what you desire and doing everything to get it. This isn't wholly true.
You may go after what or who you want and do certain things to get it. However, it doesn't teach desperation. Instead, it teaches patience and initiative – knowing when it's the right time to let go.
26. Love can bring out the worst in you
A vital love lesson is that as much as love is associated with a positive value, it can bring out the worst in people. You can love your partner with everything yet show your weakness or shortcomings.
This lesson on love is crucial as you forge ahead in your relationship. It teaches you that people can't always be perfect. The goal is to find balance or common ground to build connections.
27. Independence is as important as love
One of the lessons about love is that you need independence. Many people give up their independence because of love. However, this is a wrong move.
Love values independence. Without it, you can't build self-confidence and self-esteem. These human qualities are what you need to love profoundly.
28. Emotions can waver
One of the rare lessons of love is that emotions can be fleeting. Relationships with people over the years teach us that people change, along with their version of love.
This often happens when people experience new situations meet people or change location.
Wavering emotions don't necessarily mean a bad thing. Nonetheless, it teaches you to be watchful while building affection or intimacy.
29. Love teaches patience
When you love someone, you tend to give them many chances. Giving people opportunities to prove themselves or correct their mistakes mean you are patient.
It may take a while, but you will be hopeful. Meanwhile, patience doesn't mean enduring. It means you have the foresight to trust the result.
Related Reading: 

15 Ways to Have More Patience in a Relationship
30. Love is understanding
Another excellent love lesson is that it understands. If you love someone, you give them time. Also, you take time to understand their personality, principles, beliefs, likes, dislikes, strengths, and weaknesses.
FAQs
Here are some frequently asked questions about lessons in love.
What is the best lesson for love?
The best lesson about love is that it makes you feel better and good. It will never require you to sacrifice your happiness for the comfort of others. Under no circumstances will love to make you sad. Instead, it gives you the purest joy.
Can a person be taught to love?
Yes, a person can learn how to love. Thus doesn't necessarily mean using a pen and paper. Instead, you can teach a person to love by showing love through your actions. You must be willing to have honest communication with them about your needs. Also, let them communicate their desires.
Love is a language
Love involves a deep feeling and affection for others. Mainly, it means putting the feelings and concerns of others. The lessons of love teach us to understand life better. It helps us sail through many challenges we might face.
Also, it makes you believe in yourself and others. We hope the lessons about love in this article help you get what you want out of your relationship.
Share this article on
Want to have a happier, healthier marriage?
If you feel disconnected or frustrated about the state of your marriage but want to avoid separation and/or divorce, the marriage.com course meant for married couples is an excellent resource to help you overcome the most challenging aspects of being married.
You May Also Like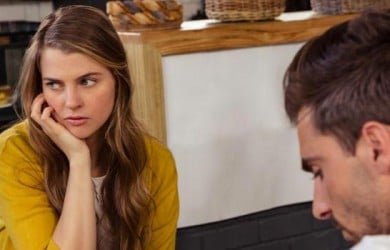 Popular Topics On Married Life