5 Relationship Expectations That Are Harmful for Couples
We all have relationship expectations; it's a natural and healthy thing to do. It helps the relationship move forward towards the direction that you would like for your relationship.
But you do have to be on the same page with those expectations.
Unfortunately, though, most people have their own innate relationship expectations or even dreams that they don't share with their partner or spouse. Instead, they just project them and unconsciously expect their partner or spouse to fall in line.
This is when relationship expectations can become unhealthy. You might have made an expectation and then assumed that your partner or spouse also have the same expectation but have never discussed it. Your partner or spouse, on the other hand, might oppose that expectation.
The problem is that none of you will have discussed that there is an expectation that exists. Which means that at some point in the future the spouse who hasn't made the expectation and who would oppose it will let their partner down.
And they will have no idea why or what happened and what happens if one of those expectations is something significant such as one day you will go to live in your Mother's home country, or that you will have five children.
This is how we create expectations that can cause damage to our relationship.
So to help you figure out the hidden expectations in your marriage or relationship here are some of the relationship expectations that you might have and should be letting go of if you want your relationship to thrive (or at least be discussing them with your partner or spouse).
1. Let go of your expectation that they should be perfect
Let's kick off this list with something that we're all guilty of – expecting our partners to be perfect.
The beginning of my first relationship was smooth sailing.
I love you's in the middle of the afternoon. Surprise lunch dates. Good morning and good night texts. Weekly dinners. We were both sweet to each other. We were so perfect. To me, he was perfect.
Until we decided to move in together. The perfect person that he once was suddenly became normal.
The surprise lunch dates and 'I love you's' have become less frequent. Suffice it to say, I was frustrated because I kept on asking myself, and even him at times, what changed?
I realized that I made the mistake of expecting him to be perfect at all times hence, my frustration.
Expecting people to be perfect at all times puts the weight of that expectation on them.
As humans, we must remember that our partner is just as human as we are. They will fail at times. They will look imperfect at times, and that's only because they're human, just like you.
2. Let go of your expectation that they're mind-readers
"Two things can destroy any relationship: Unrealistic expectations and poor communication" – Anonymous
I grew up in a family where my mother would know what is going on in my mind. In my family, we were so in sync that they always knew of my needs even if I did not utter a single word. I found out that it doesn't work in romantic relationships.
Learning the art of communicating your needs to your partner relieves both of you from a lot of avoidable misunderstandings and saves you from lots of heartbreaking arguments.
3. Let go of your expectation that you'll always agree
If you're expecting your partner to be a mirror image of yourself in all ways, your relationship is in danger.
When we're young and still naive, the expectation that you'll always agree is often a fundamental relationship expectation that we usually have. We might have considered that relationships should be free from any disagreements because you are so in love with each other.
Over time, we learn just how incorrect this expectation is because you are two different people and won't always agree.
That being said, I think that a better expectation would be to expect disagreements.
Having disagreements is a reminder that there is something worth fighting for in your relationship; that your communication system is working.
4. Let go of your expectation that you're always going to be right
One of the first things that you have to leave out of the door before getting into a relationship is your ego and along with it, your expectation that you're always going to be right.
Being in a relationship takes a lot of work, and part of the work that needs to be done is working on ourselves.
To expect that you're always going to be right is very selfish and narcissistic. Are you forgetting that you are in a relationship with a person?
You will not always be right, and that's okay. Being in a relationship is a learning process and a discovery of oneself.
5. Let go of your expectation that your relationship will be easy
I'm closing this list with a reminder that relationships will not be easy.
Too many of us forget that relationships require hard work. Too many of us forget that relationships require a lot of yields.
Too many of us forget that relationships require a lot of compromises. Too many of us expect that relationships will be easy, but in reality, they are not.
What makes a relationship work is not in how much fun you had this month nor how many dates you've gone on nor how much jewellery he has given you; it's in the amount of effort that you both put into making your relationship work.
Life isn't easy, and relationships aren't easy either. Having someone to weather the uneasiness of life with, is something to be grateful for.
Share this article on
Want to have a happier, healthier marriage?
If you feel disconnected or frustrated about the state of your marriage but want to avoid separation and/or divorce, the marriage.com course meant for married couples is an excellent resource to help you overcome the most challenging aspects of being married.
Learn More On This Topic
You May Also Like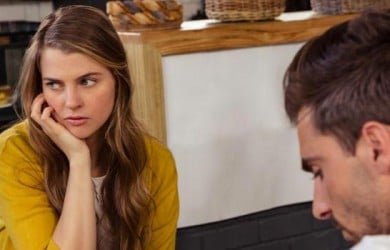 Popular Topics On Married Life