The Role of Sex in Relationships
Sexual intimacy is a healthy part of any long-term relationship, as couples in love can enjoy being with each other for years and years. But did you know there is a "right" and a "wrong" kind of sex? Yes. Specific qualities are necessary in order to have a healthy sexual relationship.
There could be a lack of sex in your relationship or you can be in an unhealthy sexual relationship and not even be aware of it.
So what are the signs of an unhealthy or potentially unhealthy, sexual relationship? I have created a list of them, which you will see below but before that let's take a look at the facts behind this.
What research says…
Sex in marriage is really important which promotes marital satisfaction and benefits your physical health. According to University of Chicago researchers Adena Galinsky and Linda J. who interviewed 732 couples aged between 57 to 85 about sexual frequency, psychological health and marital satisfaction, "to protect marital quality in later life, it may be important for older adults to find ways to stay engaged in sexual activity, even as health problems render familiar forms of sexual interaction difficult or impossible."
But the question here is how much sex is healthy in a relationship? General Social Survey says married couples have sex 58 times per year on an average. If your number is way above the approximate figure mentioned here, then this is one of the signs of being sexually active.
But, as long as you have a healthy sexual relationship with your partner, then there is no reason to worry. Instead, you should be more concerned with identifying whether or not your sexual relationship with your partner is shaping into an unhealthy one.
So, pay attention if you detect any of the following warning signs in your relationship. Also, keep-in-mind, these unhealthy sex signs can show up at any time, whether on your first date or after twenty years of marriage.
Regardless of when it manifests, dangerous or risky sexual behavior or exposure to this behavior is something that you should address immediately. In some cases, removing yourself from the relationship and/or otherwise insisting on therapy is the best choice.
Experts state that sex should never –
Feel forced, coerced, or pressured

Be deceptive

Include objects or activities with which you are uncomfortable including or using

Be painful unless pain is expressly part of the enjoyment

Be a condition of love, or devoid of love

Be obligatory

Be distant

Be denigrating (not including certain consensual role-playing activities)

Be an action one does "To" another

Be used as a weapon, nor withheld as a punishment

Be secretive

Cause a person to lead a double life
Experts agree that sex should –
Be consensual

Be a subject of communication

Be controlled and controllable

Be mutual and intimate

Be intimate, shared, and equal

Be a natural drive, never a compulsion

Be empowering

Be equal

Enhance self-esteem and confidence

Be responsible, safe, and respectful
To follow up with a few of the points listed above, the most important of these is having open communication with your partner. Now let's understand the ten different ways to have a healthy sexual relationship.
1. Good communication
Sex should be a subject that a couple can discuss with complete open honesty. There should not be secrets, shame, or judgment associated with sex or sexual activities.
Sex should include emotional intimacy and should always be fulfilling. It should be something you do to please one another in a shared way.
If any sex-related activity or aspect of sexual activity such as pornography, deceit, forcefulness, manipulation, or punishment (i.e. withholding sex), is prevailing over your relationship, or even if some aspect concerns you, discuss the problem with your partner or seek marriage advice from a licensed sex or marriage counselor.
2. Talk freely about your expectations
Never underestimate the role of sex in your marriage. If you wish to enjoy sexual intimacy with your partner, you should speak out about your expectations and wants. Unmet sexual expectations can hurt a relationship badly.
If they are unmet in your marriage, it is advisable to tactfully and sensitively present your desires –
Things that will make you feel good, and

Things that you are looking for in the bedroom.
3. Schedule your activities
Hectic lifestyle leaves hardly enough time for couples to connect. Days go by, and they rarely exchange more than a few words, and sex takes a backseat.
But, physical intimacy with your partner can prove to be a fantastic stress buster, study says. Also, there are other untold benefits of having a healthy sexual relationship. So, try not to keep sex at the bottom of your everyday to-do-list.
It is better to schedule your sex instead.
Some couples stay away from the whole idea of scheduling sex but scheduling adds to the excitement and builds anticipation. If you are planning to go hot and wild between the sheets tonight, drop hints from the morning, either through texts or flirtatious gestures.
Your partner will eagerly wait for the surprises you are likely to throw for them after lights are out.
4. Take initiatives
Don't expect your partner to broach the topic of sex or initiate love-making every time you two are together. Both are equally responsible for enjoying a healthy sexual relationship.
Hold hands, show affection, now and then, go out for romantic date nights, and engage in a few other activities to keep the flame of love and passion burning.
5. Don't compare your sex life
You cannot expect sex to be an amazing experience each time you try. And, don't expect your sex life to look as steamy as is portrayed in the movies.
There is a stark difference between films and reality. So, stop comparing your sex life with the steamy scenes in films and televisions. Your partner will never be able to meet your expectations, which are unrealistic and theatric.
6. Don't ignore your partner before or after sex
You are likely to get many tips on how to have good sex in a relationship. But, you can never enjoy a healthy sexual relationship if you keep ignoring and snubbing your partner. By the time you feel like getting cozy with them, they have already lost interest in even sitting close to you.
7. Try out-of-the-box ideas
Trying the same position over and over again can become really dull and tedious at some point in your marriage. But, you can keep your affair between the sheets engaging by going beyond your comfort areas and exploring other avenues.
Try new sex positions and role-plays to keep matters really fascinating and invigorating, at the same time.
And, there are other ways to enjoy a healthy sexual relationship. These include –
Respecting one another

Maintaining physical affection for one another

Taking care of your sexual health
Talking about sex in a new relationship is not easy and discussing sex with the person you just met is not advisable. But this is one topic that you should bring up before you decide to move-in with the person.
Share this article on
Want to have a happier, healthier marriage?
If you feel disconnected or frustrated about the state of your marriage but want to avoid separation and/or divorce, the marriage.com course meant for married couples is an excellent resource to help you overcome the most challenging aspects of being married.
Learn More On This Topic
You May Also Like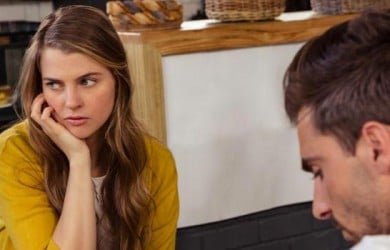 Popular Topics On Married Life